I've been interested in foraging most of my life. The problem is, except for picking wild berries, I rarely did it. But the bug has hit me hard the past year or two. I think I might love it more than gardening. And that's saying a lot.
What's not to love about being out in the woods and fields, discovering new plants, and learning how to use plants I've known forever? Fresh air, exercise, and free, healthy food all wrapped into one.
DISCLOSURE: In order for me to pay my blogging expenses, I may receive monetary compensation for my endorsement and/or link to products mentioned on this blog. I am a participant in the Amazon Services LLC Associates Program, an affiliate advertising program designed to provide a means to earn fees by linking to Amazon.com and affiliated sites.
Plus, there's that sense of adventure. A friend of mine and I recently joked about foraging being the cause of my death, and what my epitaph will say. But seriously, I'm super careful, and you should be, too.
Harvesting Bark From the Shagbark Hickory Tree
The Shagbark Hickory, Carya ovata, is a deciduous, nut-bearing tree native to much of the eastern U.S. The bark of this hickory naturally exfoliates, giving the tree its shaggy appearance, and making the tree quite easy to identify.
Surprisingly, the bark may used to make tea and a syrup similar to maple syrup. While maple syrup is made from boiled down sap, hickory bark is first made into tea, and then sugar is added to turn the tea into syrup.
Start collecting bark by first looking around on the ground for pieces that have already fallen. When removing bark directly from the tree, only remove pieces that are already very loose. Prying away pieces that are more tightly attached can leave the tree vulnerable to insect attack. You won't need a lot to make your syrup.
On to the Hickory Bark Syrup Making
The first step in this process is to clean your bark. Using a stiff brush, scrub each piece of bark on both sides under running water to remove any insects or lichen. Pat the bark dry with a dishtowel.
Break the bark into manageable pieces – 4″ to 8″ works nicely. Preheat your oven to 325°F. Spread your bark in one layer onto cookie sheets, and toast in the oven for 20 – 30 minutes, just until you begin to smell a wonderful, hickory aroma. This step really helps to impart a lovely taste to your syrup.
Now place your bark into a large pot and cover with filtered water. Bring to a boil, and immediately lower the heat. Simmer slowly for a half hour.
Strain your liquid. Go ahead and enjoy a cup of this tea if you like, sweetened with a little honey. It's rich in magnesium.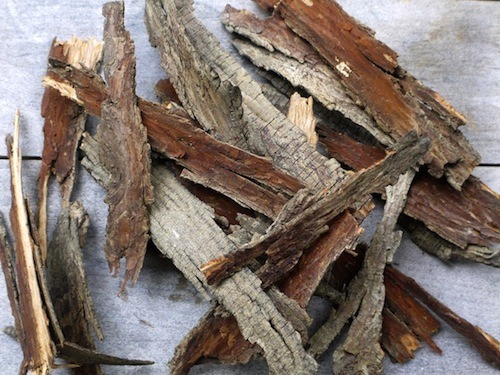 Don't throw away the bark. Save it to toss on the coals the next time you grill to give your meat a smoked hickory flavor.
Now measure your liquid and add one cup of organic cane sugar for each cup of liquid. I've experimented with using honey instead of the sugar to make the syrup, but I didn't care for the results. The honey was overpowering and it took longer to thicken.
Be sure to completely stir in the sugar to prevent it from crystalizing later on. Bring the liquid back to a boil, and continue cooking until desired thickness. It's not necessary to stir while cooking down the syrup. I used a candy thermometer and cooked mine until it reached 225°.
While the syrup is cooking, sterilize canning jars and lids. Once the syrup reaches its desired consistency, pour the hot syrup into the hot canning jars, leaving a half inch headspace, and cover with lids and rings. The lids will seal and the syrup will keep until ready to use. Once opened, refrigerate the syrup.
Use just like you would use maple syrup on pancakes and waffles. Add it to your favorite barbecue sauce. And yes, drizzle it over vanilla ice cream!
Are you a forager? What's your favorite thing to forage?
More Than Weeds
 A Foraging eCourse for Beginners
Are you interested in foraging, but a bit hesitant because you don't trust your own abilities? I created a mini eCourse just for you. In More Than Weeds: 5 Common Plants to Forage for Food and Medicine you'll learn that identifying plants is all in the details.
Using common plants with which may be someone familiar you'll learn beginner botany skills that you will be able to use as you move forward. You'll gain confidence to use these plants for your family in food and safe, home remedies. Get started now!
Hickory Bark Syrup
Print recipe
Ingredients
hickory bark
organic cane sugar
Directions
| | |
| --- | --- |
| 1. | Using a stiff brush, scrub each piece of bark on both sides under running water to remove any insects or lichen. Pat the bark dry with a dishtowel. |
| 2. | Break the bark into manageable pieces – 4" to 8" works nicely. Preheat your oven to 325°F. Spread your bark in one layer onto cookie sheets, and toast in the oven for 20 – 30 minutes, just until you begin to smell a wonderful, hickory aroma. |
| 3. | Now place your bark into a large pot and cover with filtered water. Bring to a boil, and immediately lower the heat. Simmer slowly for a half hour. |
| 4. | Strain your liquid and measure. |
| 5. | Add one cup of organic cane sugar for each cup of liquid. |
| 6. | Be sure to completely stir in the sugar to prevent it from crystalizing later on. Bring the liquid back to a boil, and continue cooking until desired thickness. It's not necessary to stir constantly while cooking down the syrup. Cook until it reaches 225° on a candy thermometer. |
| 7. | While the syrup is cooking, sterilize canning jars and lids. Once the syrup reaches its desired consistency, pour the hot syrup into the hot canning jars, leaving a half inch headspace, and cover with lids and rings. The lids will seal and the syrup will keep until ready to use. Once opened, refrigerate the syrup. |
Thank you for visiting Learning And Yearning. May "the LORD bless you and keep you; the LORD make his face shine upon you and be gracious to you; the LORD turn his face toward you and give you peace." Num 6:24-26