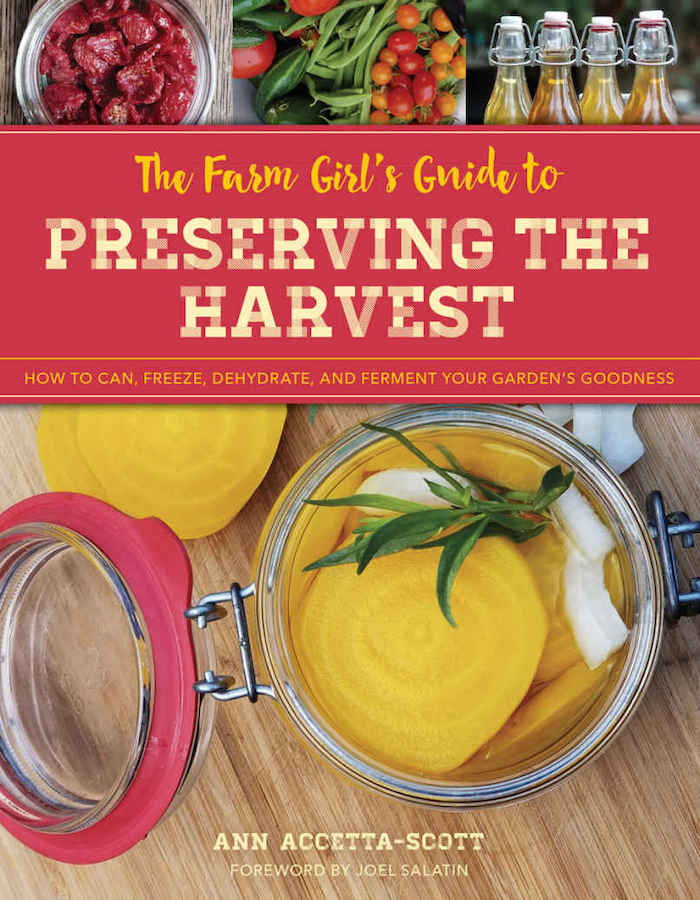 Do You Want to Learn to Preserve the Harvest?
Is one of your goals this year learning to preserve the harvest? If so, Ann Accetta-Scott's new book, The Farm Girl's Guide to Preserving the Harvest is a must-have.
Included in the book you'll find just what you need to know to get started canning, freezing, dehydrating and fermenting your garden or farmer's market produce. It really is a complete guide to preserving the harvest. There are even sections on using a root cellar, and freeze-drying.
DISCLOSURE: In order for me to pay my blogging expenses, I may receive monetary compensation for my endorsement and/or link to products mentioned on this blog. As an Amazon Associate I earn from qualifying purchases.
Learn From An Experienced Food Preserver
Reading The Farm Girl's Guide to Preserving the Harvest is the second best thing to having a trusted friend standing by your side teaching you the secrets of canning, and other methods of preserving the harvest. Ann's style is friendly; she understands the fears that often come with learning this important skill and she's there to hold your hand.
Ann started out as a suburban housewife who never dreamed she would someday be raising and preserving much of the food her family consumes each year. And now she loves to encourage others who are on a similar journey so that they don't have to make the mistakes she's made along the way.
The Details Are So Important When Learning to Preserve the Harvest
I found the section on canning to be especially informative; there's so much information there that I haven't found anywhere else. I love that she explains why certain equipment or certain methods are necessary for proper preservation.
She does the same with ingredients, going into details about sweeteners, vinegars, salt, thickening agents and more. You'll learn what to use, and what not to use so that you can proceed with confidence that your canned goods will be safe for your family to consume.
The recipe I'm most excited to try? Raspberry Jalapeño Jam! I love both ingredients and grow them in my organic garden, but would never had thought to combine them into a delicious jam. And I think it will be amazing on my homemade yogurt.
You'll also learn to make and can apple butter, pie filling, and all sorts of pickled vegetables. Your shelves will be stocked with amazing preserved food to enjoy with your family and friends this winter.
Once you master water bath canning, you'll move on to learning to can low-acid vegetables and meats using a pressure canner. Again, Ann gets into the details so you'll know which pressure-canner to choose, and how to safely use it. (Here's the pressure canner I use, and love).
Do I recommend The Farm Girl's Guide to Preserving the Harvest? You bet; go get yourself a copy!
More Posts You'll Love
A Step-by-Step Guide to Pressure Can Dried Beans
A to Z Guide to Dehydrating Vegetables
Make Your Own Fermented Sauerkraut
Thank you for visiting Learning And Yearning. May "the LORD bless you and keep you; the LORD make his face shine upon you and be gracious to you; the LORD turn his face toward you and give you peace." Num 6:24-26