Asparagus is one of those love it or hate it vegetables. I love it, as long as it is properly cooked. Overcook it and you get slime. But cooked until just tender, it's sublime. And roasting it brings out its sweetness, like it does for other vegetables like these roasted mini peppers.
Growing Asparagus
The exciting thing about asparagus in the garden is that it's a perennial. That means that you only have to plant it once and it keeps reproducing for up to 20 years. Asparagus can be planted from seeds or from crowns (plants rather than seeds).
With seeds, you should wait three years after planting before harvesting. With crowns, you may harvest the year after planting, but of course, crowns are much more expensive to purchase than seeds.
Asparagus is an easy vegetable to grow organically as it is not generally bothered by a lot of pests. The asparagus beetle can be hand picked from the plant if it shows up.
Asparagus should be planted in an area that gets at least 6 hours of sun a day. It is important that you choose an area that has good drainage – waterlogged areas will cause root rot. Also choose an area that will not shade other plants because asparagus grows from 5 – 9 feet tall.
To plant crowns, prepare a wide hole for each crown 5″ – 6″ deep, allowing the roots to spread out. I prefer planting in a lasagna garden.
Asparagus can be planted from late April through May in northern climates. Space the crowns about 1 1/2 feet apart. Fill in the hole to its original soil level.
Allow the ferns to grow and do not cut them in the fall if they are still green but rather, cut the old growth off at the ground the next spring.  Keep the plants mulched to prevent weeds from growing. As the mulch decomposes, it will feed the soil.
A year after planting crowns, you may begin harvesting your asparagus. Snap them off when they are 7″ – 9″ tall and the tips are still tightly closed. Once the buds begin to open, the asparagus will become tough. Asparagus is best eaten soon after harvest. Roasting it brings out the amazing sweetness!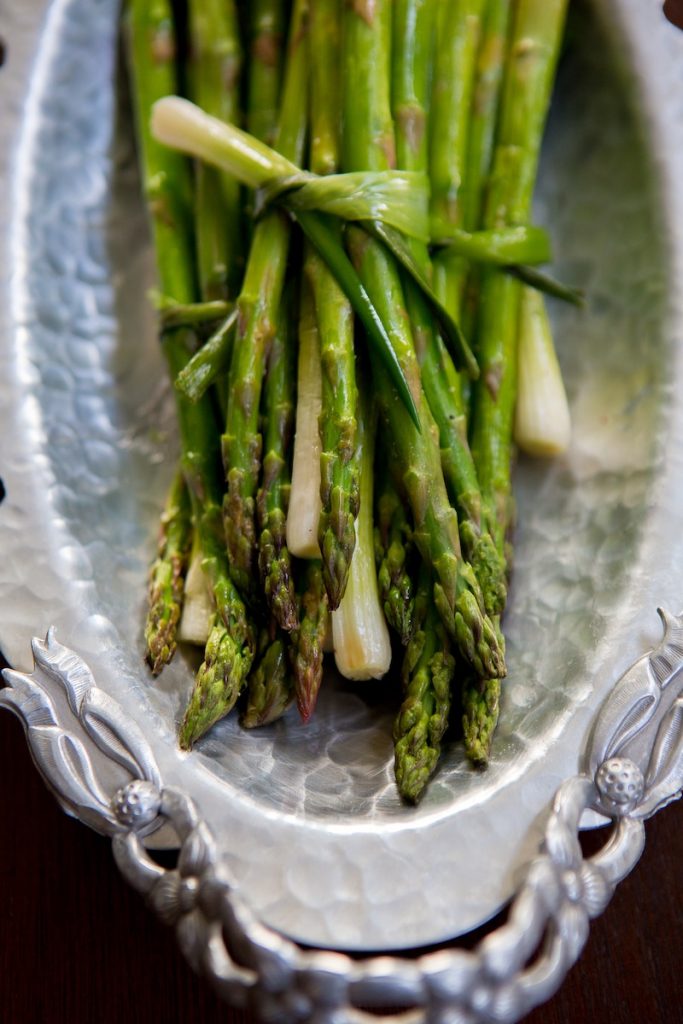 More Posts You'll Love 
Growing Asparagus from My Homestead Life
Oven Roasted Candied Brussels Sprouts from Fit As A Mama Bear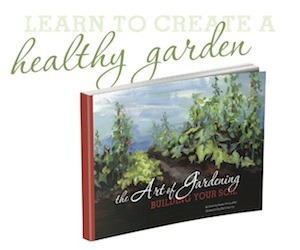 To learn how to build a garden that builds healthy soil, be sure to check out my eBook The Art of Gardening: Building Your Soil. You really can become a better gardener, and you really can grow healthy, nourishing produce. It's all about the soil! Click here to buy now.
Roasted Asparagus
Roasting asparagus brings out the amazing sweetness in the vegetable!
Print
Pin
Rate
Ingredients
1

bunch

asparagus

*

2

tablespoons

coconut oil

1/4

cup

green onions

chopped

garlic powder

1

tablespoon

freshly squeezed lemon juice
Instructions
Place coconut oil into a baking pan and place the pan into the oven for a minute to melt the oil.

Toss the asparagus and green onions in the melted oil, sprinkle with sea salt, pepper, garlic powder and freshly squeezed lemon juice.

Roast the asparagus for approximately 15 minutes, depending on the thickness of the spears, turning with tongs once or twice as they roast.

Asparagus should be tender, but not mushy. Transfer to a serving platter, and enjoy!
Notes
*Break off the base if it's woody and wash the asparagus in cold water.
Thank you for visiting Learning And Yearning. May "the LORD bless you and keep you; the LORD make his face shine upon you and be gracious to you; the LORD turn his face toward you and give you peace." Num 6:24-26