I wouldn't know how to begin a discussion on gardening without beginning with the soil. When I teach a workshop, I ask people what they think of when they think "garden". Most often, the answer has to do with the harvest. And, of course, we wouldn't garden if we couldn't look forward to a bountiful harvest.
But, I always encourage my students to think "soil" because healthy soil will result in a healthy, nutrient-dense harvest.
A garden with poor soil may produce fruit, but that fruit can't possibly contain the nutrients, or taste as good, as one grown in soil that has provided all that is needed for its health. And plants grown in healthy soil have less problems with disease and pests.
Fall is the Ideal Time to Build Healthy Soil
There's no wrong time to build healthy soil, but fall is ideal for several reasons.
leaves are falling from trees and are in abundance
your end-of-season garden plants provide a good source of organic matter
the weather is cool – ideal for physical labor
the winter months ahead will provide time for decomposition to begin
The active gardening season is winding down. You've harvested your vegetables and have been busy putting them up for the winter.
But if you want a productive garden next year, don't make the mistake of thinking your job is now complete. What you do now to build healthy soil and put your garden to bed for the winter can make or break next year's garden.
If you're new to gardening, or want to expand the size of your garden, I highly recommend a no-dig method of gardening that combines lasagna gardening with wood-chip gardening. They are both methods of sheet composting that build healthy soil. Combined, they create an amazing garden that also helps to alleviate some of the problems that new wood-chip gardens can have. My eBook, The Art of Gardening: Building Your Soil will teach you how.
Putting Your Garden to Bed
So now that you've harvested your crops, what is the best way to build healthy soil and put your garden to bed for the winter? 
Spring planting is relatively easy with our no-dig gardens. Fall is the time of year when more physical labor is involved, but even so, can't compare to the work involved in tilling a garden.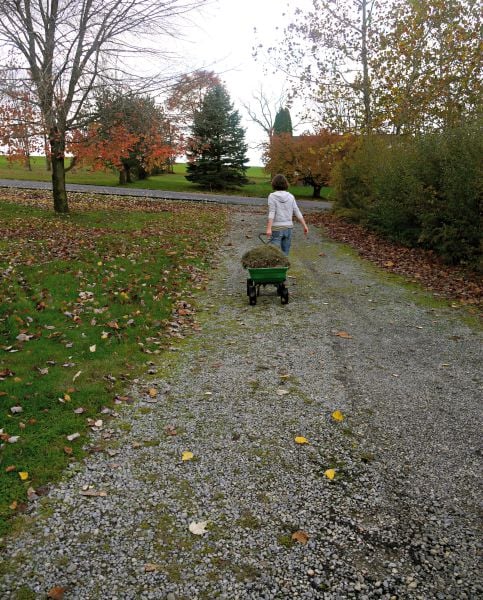 Steps to Insure Healthy Soil
Here are the steps we take to insure healthy soil:
We remove all the old plants from the garden. We do this by cutting the stems at the ground, rather than pulling them from the soil. This way, the roots are left to decompose and to add organic matter to the garden.
The plants that have been removed (excluding any that may be diseased) are chipped and added to our compost pile. If you don't have a chipper you can still compost them, but the process of decomposition will take longer.
We layer each garden bed with about 1″ of finished compost and/or manure, depending on what we have available. It's okay if the manure is fresh since it will have all winter to decompose.
On top of the manure/compost, we add mulch. Mulch has so much to offer. It assures that the soil will be protected and not be blown away over the winter. And as it decomposes, it adds valuable nutrients to the soil. This can be hay, straw, leaves, grass clippings or wood chips depending on what we can get our hands on for free or inexpensively. How much we use depends on what material we are using. About 2″ of wood chips is just about right. If we are using leaves, we like to chop it so that it doesn't mat and layer it about 2″ deep. Hay can be much deeper, and grass clippings decompose so rapidly that a very thick layer is needed.
Come spring, the garden is ready to plant without any other preparation. Any mulch that is not decomposed is pushed aside just enough to plant seeds or seedlings. As the plants emerge, the mulch is pushed back to keep weeds from growing.
Other Organic Gardening Posts You'll Love:
Using Wood Chips in a Vegetable Garden
Fall Leaves: A Valuable Soil Builder
The Easiest Way to Pick Up Fall Leaves
5 Things to Plant This Fall from Wandering Hoof Ranch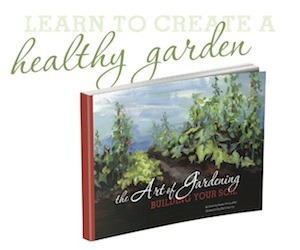 To learn how to build a garden that builds healthy soil, be sure to check out my eBook The Art of Gardening: Building Your Soil. 
You really can become a better gardener, and you really can grow healthy, nourishing produce. It's all about the soil! Click here to buy now.
Other Recommended Resources:
Healthy Soils for Sustainable Gardens
Thank you for visiting Learning And Yearning. May "the LORD bless you and keep you; the LORD make his face shine upon you and be gracious to you; the LORD turn his face toward you and give you peace." Num 6:24-26