Spring through fall is generally considered gardening season. For most of us, winter is a time to take a break, do some planning, and dream about next year's garden. But what about composting? Should we continue to compost through the winter?
DISCLOSURE: In order for me to pay my blogging expenses, I may receive monetary compensation for my endorsement and/or link to products mentioned on this blog. As an Amazon Associate I earn from qualifying purchases.
Should I Continue Composting in Winter?
If you continue to create food waste through the winter, then yes, you should continue to compost. Why send all those valuable nutrients to the landfill?
According to Colorado State Master Gardener, Joan Nusbaum, "A working compost pile has four basic needs to encourage adequate working conditions: air, water, carbon and nitrogen. Bacteria that decompose organic matter need air and water for survival, carbon for energy and nitrogen for protein. Heat is actually a by-product of the chemical process of breaking down the materials".
Tips For Winter Composting
While heat is a by-product of the chemical process that is occurring, warm weather does help to speed decomposition, and cold weather will slow or even stop it. There are a number of ways that you can help to keep some heat in your compost pile during the winter to prevent decomposition from stopping.
Volume helps to generate heat. A small pile will not do the job; building a pile that is at least one cubic yard in volume is recommended.
Shredding helps to speed decomposition by giving decomposers – microorganisms such as bacteria, fungi, and actinomycetes – more surface to work with. In winter, it helps if you can create an ideal habitat for these microbes.
Adding nitrogen-rich items such as fresh manure or blood meal will also help to speed decomposition, and adding a layer of carbon such as chopped leaves will help to insulate the pile.
Wait until spring to turn your pile. Turning it in the winter will cool your pile even further.
Build your pile in a sunny location.
Use a compost container or keep your pile covered, and insulate it by surrounding it with bales of hay, or bags of leaves.
In general, compost piles begin at ambient air temperatures, increase to about 110°F-160°F, and then gradually drop back down over a period of several weeks. These high temperatures speed decomposition and kill weed seeds and diseases.
Compost Thermometer
A compost thermometer (like this one) can help you to find out what is happening in your compost pile, but if the temperature is lower than ideal in the winter, don't fret. You may just continue adding your kitchen scraps to the top of your pile. They will likely freeze there, and then thaw on warmer, sunny afternoons. This freeze/thaw cycle will actually help the decomposition along.
In the end, I guess I'm not a purest. My view is even if your entire pile freezes solid, don't fret, all will be well come spring. Everything will thaw, and the microbes will return in full force to quickly decompose your pile.
What tips do you have for winter composting?
More Organic Gardening Posts You Will Love
How to Compost Weeds the Safe Way
Lasagna Gardening – the Best Way to Garden
Plastic Mulch in the Garden: Friend or Foe?
Using Wood Chip Mulch in the Vegetable Garden
Hay vs. Straw in the Garden: Which is Better?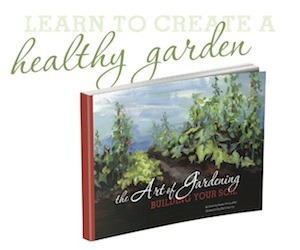 To learn how to build a garden that builds healthy soil, be sure to check out my eBook The Art of Gardening: Building Your Soil. You really can become a better gardener, and you really can grow healthy, nourishing produce. It's all about the soil! Click here to buy now.
Sources:

Thank you for visiting Learning And Yearning. May "the LORD bless you and keep you; the LORD make his face shine upon you and be gracious to you; the LORD turn his face toward you and give you peace." Num 6:24-26