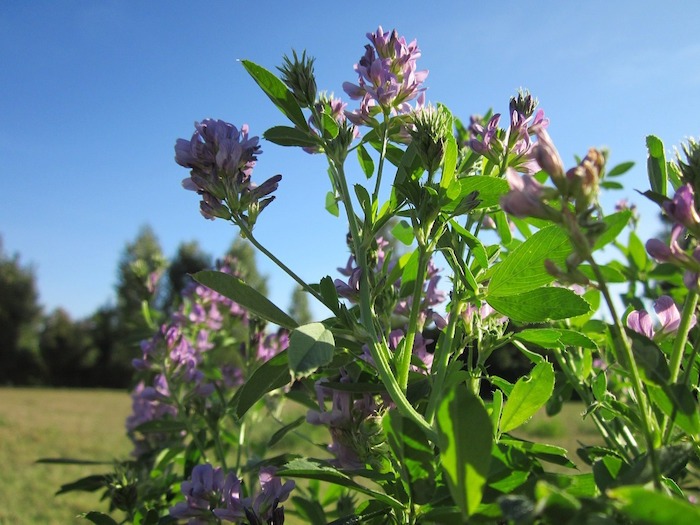 Using Alfalfa as a Supplement in Your Garden
Alfalfa, a perennial flowering legume, is mainly known as an animal feed. But I love it because it there are so many benefits to using alfalfa in the garden.
It can be used in any of its forms:
freshly chopped alfalfa – lightly dig into the soil

alfalfa hay – use as mulch, or in layers as you build a lasagna garden
alfalfa meal – this is dried, ground alfalfa and can be sprinkled around the garden
alfalfa pellets – alfalfa meal formed into pellets – check to be sure there are no other ingredients – sprinkle around the garden
alfalfa tea – brewed by putting a cup of meal into a 5 gallon bucket and filling with water. Let this sit for several days. It will get stronger and more odiferous the larger you brew it. Strain the tea and water plants with it, or use it as a foliar spray.
This plant is just one of those all around good guys! I don't garden without it.
Here are 10 great benefits to using alfalfa in your garden:
1. Good Source of Minerals
Alfalfa is a good source of nitrogen, along with several other minerals including:
phosphorus
potassium
calcium
sulfur
magnesium
boron
iron
zinc
The N-P-K ratio for alfalfa is approximately 3 – 1 – 3, depending on its source.
2. Builds Organic Matter
Alfalfa builds organic matter in your soil providing nutrients to plant roots. Its high nitrogen content helps other organic material to decompose. Organic matter also helps to prevent compaction, acts like a sponge and holds moisture in the soil, improves soil structure, and helps to prevent erosion.
3. Feeds Microorganisms
The microorganisms in your soil love alfalfa because of the protein, amino acids, fiber and sugars in its stalk – items they need to thrive. Alfalfa hay has an almost perfect balance of carbon to nitrogen (24:1) which soil organisms require.
4. Stimulates Growth
Alfalfa contains triacontanol, a hormone which stimulates the growth of plant roots, enhances photosynthesis, and increases beneficial microbes which help to suppress many soil-borne diseases.
5. Fixes Nitrogen
Alfalfa actually takes nitrogen from the air and holds it as nodules on its roots, a process called "nitrogen fixing".  This nitrogen becomes available in the soil for other plants to use when the alfalfa plant is cut down and its roots are left in the soil, or when the plant is turned into the soil.
6. Stimulates Compost
When added to your compost pile, alfalfa acts as a stimulator. It decomposes rapidly, creating heat which helps the rest of your compost to decompose. And the finished compost will have higher nutrient levels when alfalfa is used. Higher nutrient levels in your compost and soil means more nutrient-dense produce in your garden.
7. Controls Harmful Nematodes
A study in Italy showed that alfalfa pellets significantly reduced infestation of root-knot nematode on tomato plants, and cyst nematode on carrots. As an added bonus, yields for both tomatoes and carrots were increased in comparison to the control groups.
8. Provides Drought Resistance
Because of alfalfa's sponge-like ability to absorb and hold moisture, it helps plants grown in that soil to be more resistant to periods of low rain.
9. Is a Dynamic Accumulator
Alfalfa roots reach down into the sub-soil up to 8 feet, bringing valuable hard-to-reach nutrients up to the soil surface where they are stored in the leaves of the plant. Using the cut alfalfa in your garden and compost adds these nutrients to the upper layers of your soil where other garden plants can use them. Alfalfa is particularly good at bringing iron to the surface, a micro-nutrient needed for chlorophyll synthesis.
10. Is a Great Cover Crop
Leaving garden beds bare in the winter exposes them to the harsh elements of weather. They should always be mulched, or a cover crop should be planted. Also known as "green manure", cover crops are generally planted in the fall and then dug into the soil in the spring to improve soil. The crop may also be cut down at the soil level and used as a mulch, rather than digging it in. All of the above benefits would apply.
Where to Get Alfalfa
Alfalfa, unfortunately, can be difficult to find organically grown, although it may be found here in 20# packages. It is sold as animal feed, but may be used as a garden supplement.
The bales of alfalfa found at stores such as Tractor Supply are genetically modified. Because of this, we are growing our own small patch (approximately 15′ x 15′) of alfalfa to use as mulch. Alfalfa can be cut about 3 times each summer, and each cut goes to a different area of the garden, since there is not enough to cover the entire garden in one cutting.
What ways have you used alfalfa in your garden? Did you find it beneficial?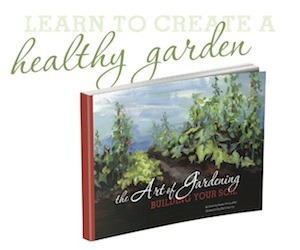 To learn how to build a garden that builds healthy soil, be sure to check out my eBook The Art of Gardening: Building Your Soil. You really can become a better gardener, and you really can grow healthy, nourishing produce. It's all about the soil! Click here to buy now.
Thank you for visiting Learning And Yearning. May "the LORD bless you and keep you; the LORD make his face shine upon you and be gracious to you; the LORD turn his face toward you and give you peace." Num 6:24-26