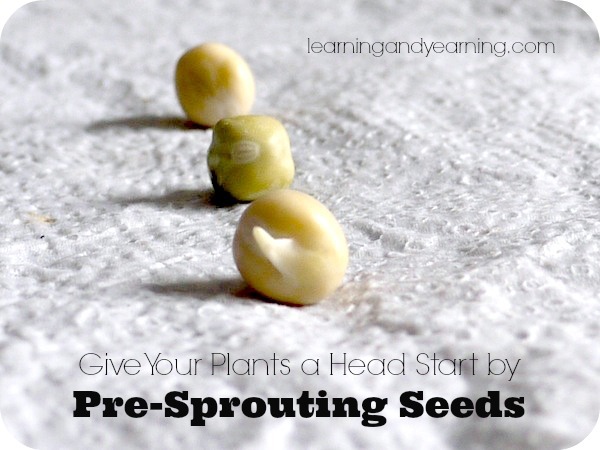 Pre-Sprout Seeds
Northern gardeners are getting excited. It's still cold out there but you can just feel that spring is coming. The days are getting longer and birds are singing. The seed packets have arrived and garden plans are in the works!
I'll be starting some of my seeds indoors in the next few weeks – plants like tomatoes and peppers, okra and broccoli. These plants have a long growing season and would never produce fruit if started outdoors here in the north. They need the extra time to grow that starting indoors provides.
DISCLOSURE: In order for me to pay my blogging expenses, I may receive monetary compensation for my endorsement and/or link to products mentioned on this blog. I am a participant in the Amazon Services LLC Associates Program, an affiliate advertising program designed to provide a means to earn fees by linking to Amazon.com and affiliated sites.
Other seeds like peas and lettuce, carrots and beans can be sown directly into the garden. While it's not a necessity, pre-sprouting seeds is another way to give your plants a head start.
The Benefits of Pre-sprouting
Pre-sprout seeds – it can be a way to save money. It often results in a higher rate of germination since few seeds are lost to environmental factors. In addition, it is generally recommended that at least 2 seeds be placed in each pot or hole when planting, in case one of the seeds does not germinate. With pre-sprouting, you already know that the seeds you are planting are viable. Therefore, you can space them precisely where you want them.
When to plant seeds outdoors should be based on soil temperature, not air temperature. (Test your soil temperature with a thermometer like this one from my affiliate partner). Plants like peas love cool weather and even tolerate light frosts, which makes them a great vegetable to sow in early spring. But if the soil is too cold, the seeds may rot before they germinate. While a seed may fail to germinate in cool soil, it will grow there after germination. Pre-sprout the seeds indoors and you've solved this problem.
Pre-sprouting is also helpful when the soil temperature may be a bit too warm. For example, spinach prefers cooler temperatures in order to germinate. For a fall harvest, spinach is often planted in late summer when the soil temperature may be too warm for the seed to germinate. Again, pre-sprouting solves this problem.
Seeds often germinate more quickly indoors than outdoors since moisture and temperature can be more easily controlled. It has the advantage of getting sluggish seeds to germinate faster than they would out in the garden. Parsley, for instance, germinates very slowly. 
Sprouting seeds before planting cuts down on the germination process drastically. It can take seeds 7 to 20 days to sprout in soil, whereas pre-sprouting  takes 2-4 days. Once they sprout, they can be planted in the ground or containers.
How to Pre-Sprout
Pre-sprouting seed is basically the same process as testing old seed for viability.
Find an area indoors with a suitable temperature. Check the chart of "Optimal Soil Temperatures for Seed Germination" below, and try to provide a temperature for the seeds you are pre-sprouting that will be most conducive to quick germination. Most seeds prefer the temperature to drop about 10 degrees at night.
Now, moisten a paper towel or cotton cloth. It should be damp, not soaking wet, so that you are not promoting fungal growth. Space the seeds about an inch apart on the damp paper towel and carefully roll it up. Place the paper towel into a plastic bag. Since seeds respirate, do not seal the bag. If you are pre-sprouting more than one type of seed, use separate bags and be sure to clearly mark the type of seed on each bag. Place the bag in the area you have chosen with optimal temperature for the specific seed you are testing. Check the moisture level daily and remove any seed which has formed mold.
Keep a close eye on the seeds, and plant them in containers or directly into the garden as soon as they sprout. Handle them very carefully – they are fragile at this stage. Sprout seeds just until they've germinated to avoid snapping off tender roots. Keep the young plants consistently moist after planting.
Which Seeds to Pre-sprout
It is not necessary, nor even desirable, to pre-sprout all of the seeds you plan to plant. Choose based on circumstances. Perhaps you're late getting your tomatoes and pepper seeds started indoors. Pre-sprouting will help speed up the process. Or, you want to get some early peas into the ground, but the soil temperature is too cold for proper germination. Or you want a fall harvest of spinach, but the soil is too warm when you need to plant. Go ahead and pre-sprout.
I purposely plant my cucumber seeds late to outwit bacterial wilt. Pre-sprouting will help my crop to catch up. And parsley and morning glory seeds are notoriously slow to germinate. Again, pre-sprouting will help.
By the way, if you are starting your own seeds, you may be interested in this post that shows you how to make your own seed starter mix, written by my friend Holly from Your Gardening Friend.
Which seeds do you think you'll pre-sprout this season?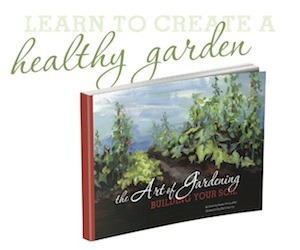 To learn how to build a garden that builds healthy soil, be sure to check out my eBook The Art of Gardening: Building Your Soil. You really can become a better gardener, and you really can grow healthy, nourishing produce. It's all about the soil! Click here to buy now.
More Organic Gardening Posts You'll Love
Plastic Mulch in the Garden: Friend or Foe?
Sub-Zero Weather Can Benefit Your Garden
7 Great Benefits of Common Lawn and Garden Weeds
The Easy Way to Improve Soil Fertility
6 Simple Steps to Planning a Vegetable Garden Each Year
Lasagna Gardening: an Easy and Productive Way to Garden
Thank you for visiting Learning And Yearning. May "the LORD bless you and keep you; the LORD make his face shine upon you and be gracious to you; the LORD turn his face toward you and give you peace." Num 6:24-26