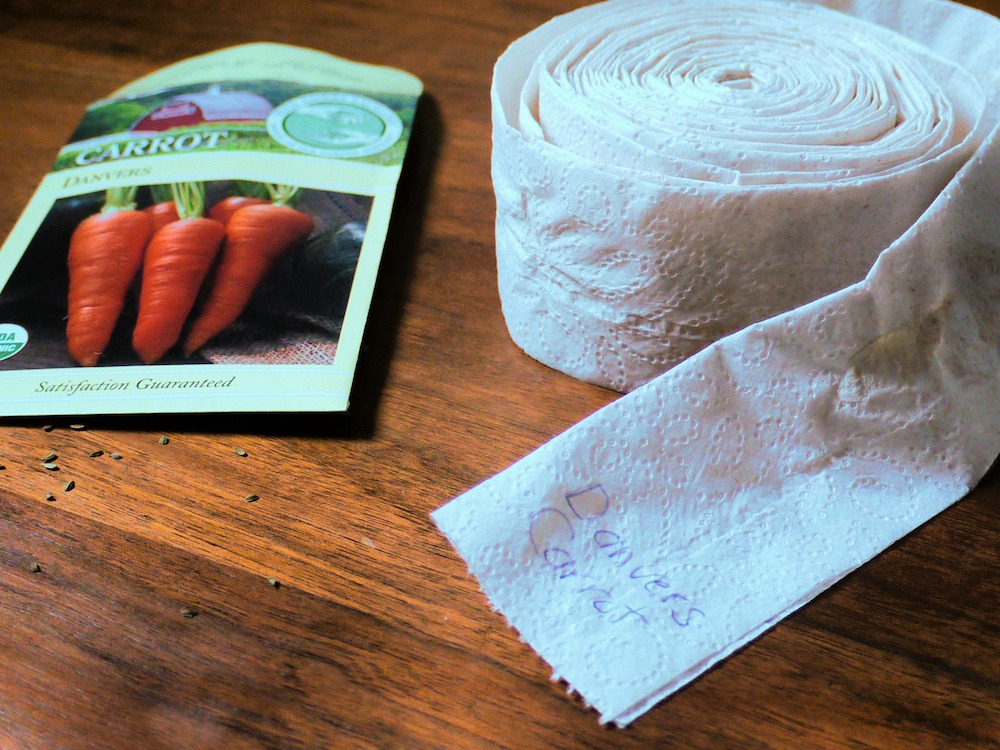 What is Seed Tape?
Seed tape is a great product for planting your garden that has seeds embedded right into it. It's perfect for planting tiny seeds like carrot that are difficult to space in the garden.
The "tape" is made of bio-degradable paper which is planted directly into your garden. I love using seed tape, although it tends to be pricey.
DISCLOSURE: In order for me to pay my blogging expenses, I may receive monetary compensation for my endorsement and/or link to products mentioned on this blog. As an Amazon Associate I earn from qualifying purchases.
But you can make your own seed tape for a fraction of the cost of pre-made tape.
Why Bother With Seed Tape
Seed tape has several advantages. No seed is wasted; the seeds are embedded into the paper tape one at a time and are perfectly spaced and ready to go into the garden.
This also means that no thinning is required. They are especially useful for tiny seeds which can be difficult to plant such as radish, carrot, lettuce or parsnip.
How to Make Seed Tape
I used unbleached toilet paper (like this) to make my seed tape. I think that paper towels or even newsprint would work as well, although I haven't tried them.
Begin by mixing approximately 2 tablespoons of white flour with 1 tablespoon of water to make a thick paste. This will act as the glue to hold the seed in place. You don't want this to be watery and thin because you want it to dry quickly so that the seed does not have a chance to absorb the water.
Unroll the toilet paper until several feet of it are lying flat on the table in front of you. Fold the toilet paper in half the long way, and then unfold. You will be placing the seed in the middle of one half of the toilet paper (about 1″ from the edge of the toilet paper).
From the seed packet, determine how far apart you need to space your seeds. Don't use the distance given on the packet for planting – use the distance that the packet suggests for thinning. For carrots, I placed my seeds 2″ apart.
Spread your seeds out onto a piece of paper. If it helps, you can use a pen or marker to mark the spot on the toilet paper where the seed will go. I did not do this.
Now, dip a tooth pick into the flour paste to get a small amount of paste on its tip. Use this to pick up just one seed. Using a ruler as a guide, place the seed onto the toilet paper at the proper distance apart for the seed you are working with.
When you've "planted" several feet of toilet paper, add a few dots of your flour paste every few inches near the edge of the toilet paper and fold the toilet paper back in half. Rub gently to allow the paste to glue the two sides of toilet paper together.
Continue working in the same manner until you've used all your seeds, or until you've made as much seed tape as you require. Be sure to leave the toilet paper spread out until the paste is completely dry.
Write the name of the seed on one end of your seed tape, and then you can roll it up and store in a cool, dry spot until you're ready to plant.
How to Use Homemade Seed Tape
When I'm ready to plant my seeds, I unroll the seed tape and cut it to whatever length I need for the area I am planting in my lasagna garden.
Place the tape on the soil, and cover it with the amount of soil that the seed packet recommends for planting depth. For carrots, that's about 1/4″.
For best results, be sure to keep the seed consistently moist. Remember, the paper will absorb water, so your seed may need extra water.
After you plant your carrots, you may want to follow the tip that Kris from Attainable Sustainable learned from her grandfather. It's new for me, and I'll definitely be trying it this year!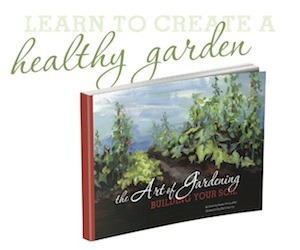 To learn how to build a garden that builds healthy soil, be sure to check out my eBook The Art of Gardening: Building Your Soil. You really can become a better gardener, and you really can grow healthy, nourishing produce. It's all about the soil! Click here to buy now.
More Great Posts on Organic Gardening
Lasagna Gardening: an Easy and Productive Way to Garden
Your Seeds Aren't Germinating: Here's Why
Using Wood Chip Mulch in a Vegetable Garden
Six Simple Steps to Planning a Vegetable Garden Each Year
Thank you for visiting Learning And Yearning. May "the LORD bless you and keep you; the LORD make his face shine upon you and be gracious to you; the LORD turn his face toward you and give you peace." Num 6:24-26