Yes, our gardens need protection from winter weather. Mulch should be used to protect roots and the soil around perennials and young trees, and tender bulbs should be dug up. But that is not to say that bitter cold does not have its benefits.
Some of the most challenging years in the garden that I have experienced have been those after a mild winter. Insects, disease, and rodents are just more prevalent in those years. This winter has seen some extreme cold in many parts of the country, including here in the northeast.
I don't want to downplay the hardships that many are facing because of this cold weather, but there will also be a few benefits to our gardens and landscapes because of the sub-zero temperatures.
We should expect to see less insect damage this coming season because of the bitter cold temperatures this winter. The emerald ash borer, the wooly adelgid aphid, and the gypsy moth have all been wreaking havoc in the past decade or so.
A recent study from the Forest Service (Venette and Abrahamson) in Minnesota showed that 5% of emerald ash borer larvae die at 0°F, 34% of them die at -10°F, 79% at -20°F and 98% at -30°F. The Gypsy moth will die off at -17F, and the wooly adelgid aphid at just a few degrees below zero. On the other hand, beneficial insects, like bees, generally survive these cold temperatures.
Plant pathogens also flourish when winters are mild. According to the University of Illinois Extension Service, "Over 80 percent of our plant diseases are caused by fungi. A mild winter allows those fungal spores and structures to live on more, decaying moist plant parts." Below freezing temperatures, on the other hand help to keep plant disease in check.
Even when disease or insects do not completely kill our garden plants, they certainly can affect the quantity and quality of the harvest. There isn't a thing we can do about the weather, so I say embrace it. Be thankful for warm winters that save us money on heating our homes, and for bitter cold ones that help to keep destructive insects and disease at bay.
What's your biggest garden challenge this year?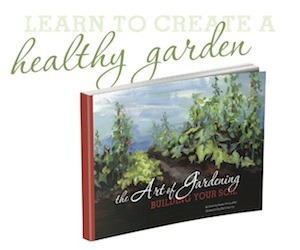 To learn how to build a garden that builds healthy soil, be sure to check out my eBook The Art of Gardening: Building Your Soil. You really can become a better gardener, and you really can grow healthy, nourishing produce. It's all about the soil! Click here to buy now.
Article and Photo Sources
Thank you for visiting Learning And Yearning. May "the LORD bless you and keep you; the LORD make his face shine upon you and be gracious to you; the LORD turn his face toward you and give you peace." Num 6:24-26