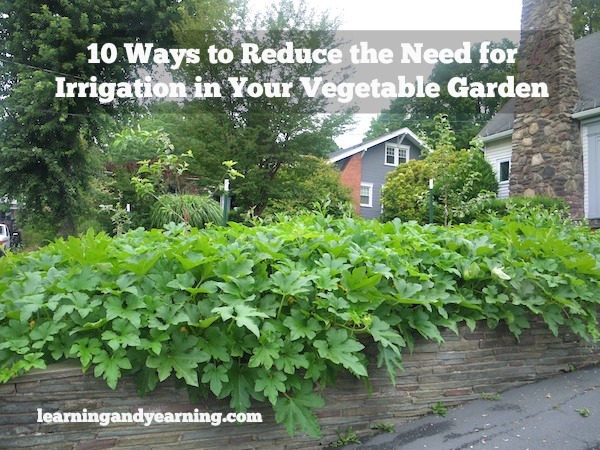 Did you know that you can train your plants, and reduce the need for irrigation in your garden? It's not a matter of the plants needing less water, but a matter of conserving the water they are given by reducing evaporation, retaining water, and watering in a way that encourages their roots to go deep.
How to Reduce the Need for Irrigation in Your Garden
Here are 10 steps you can take right now to reduce your water use in the garden:
Mulch – mulch is the gardener's powerhouse. It is essential in reducing evaporation in your garden and helps to reduce weeds (see #5) and add organic matter as it decomposes (see #2)
DISCLOSURE: In order for me to pay my blogging expenses, I may receive monetary compensation for my endorsement and/or link to products mentioned on this blog. I am a participant in the Amazon Services LLC Associates Program, an affiliate advertising program designed to provide a means to earn fees by linking to Amazon.com and affiliated sites.
Add Organic Matter – In addition to supplying nutrients, decomposed organic material retains moisture in the soil like a sponge, releasing it to roots as needed.
Intensive Planting – Plant in blocks, not in rows, and space your plants close enough that their leaves will touch when mature. This helps to shade the soil and reduces evaporation.
Know When a Plant Needs Water – Most plants only need constant moisture when very young and when flowering and fruiting. Knowing your plants needs and watering only when necessary will reduce the need for watering.
Control Weeds – Weeds use the moisture and nutrients that your vegetables need. Keeping weeds out of your garden will help to reduce its need for water.
Use Methods Like Hugelkultur and other forms of Permaculture – Hugelkultur, or hill culture, uses rotted wood in raised beds as high as 6 feet. The rotted wood acts as a sponge increasing the water holding capacity of your garden. While I have not built any full-fledged hugelkultur gardens, I have used rotted logs in my lasagna gardens with success.
Water Thoroughly and Deeply – When you do need to water your garden, water deeply. Shallow watering will cause the roots of your plants to remain close to the surface. Deep watering encourages the roots to reach deep to find water.
Water in the Morning – This will help to reduce evaporation (and also helps to reduce disease).
Use a Moisture Meter – Using a water meter will help to determine if your soil is truly dry. Probe deeply – even if the top few inches of your soil are dry, the soil may be moist deeper down.
Install a Water Barrel – While collecting rain water doesn't outright reduce how much you water your garden, it is a great tool for conserving water.
Let me know in the comments what ways that you have found to reduce the need for irrigation in your garden.
More Organic Gardening Posts You'll Love
Lasagna Gardening: An Easy and Productive Way to Garden
Plastic Mulch in the Garden: Friend or Foe
Frost Protection for Plants in Your Garden
45 Herbs and Vegetables That Grow in Shade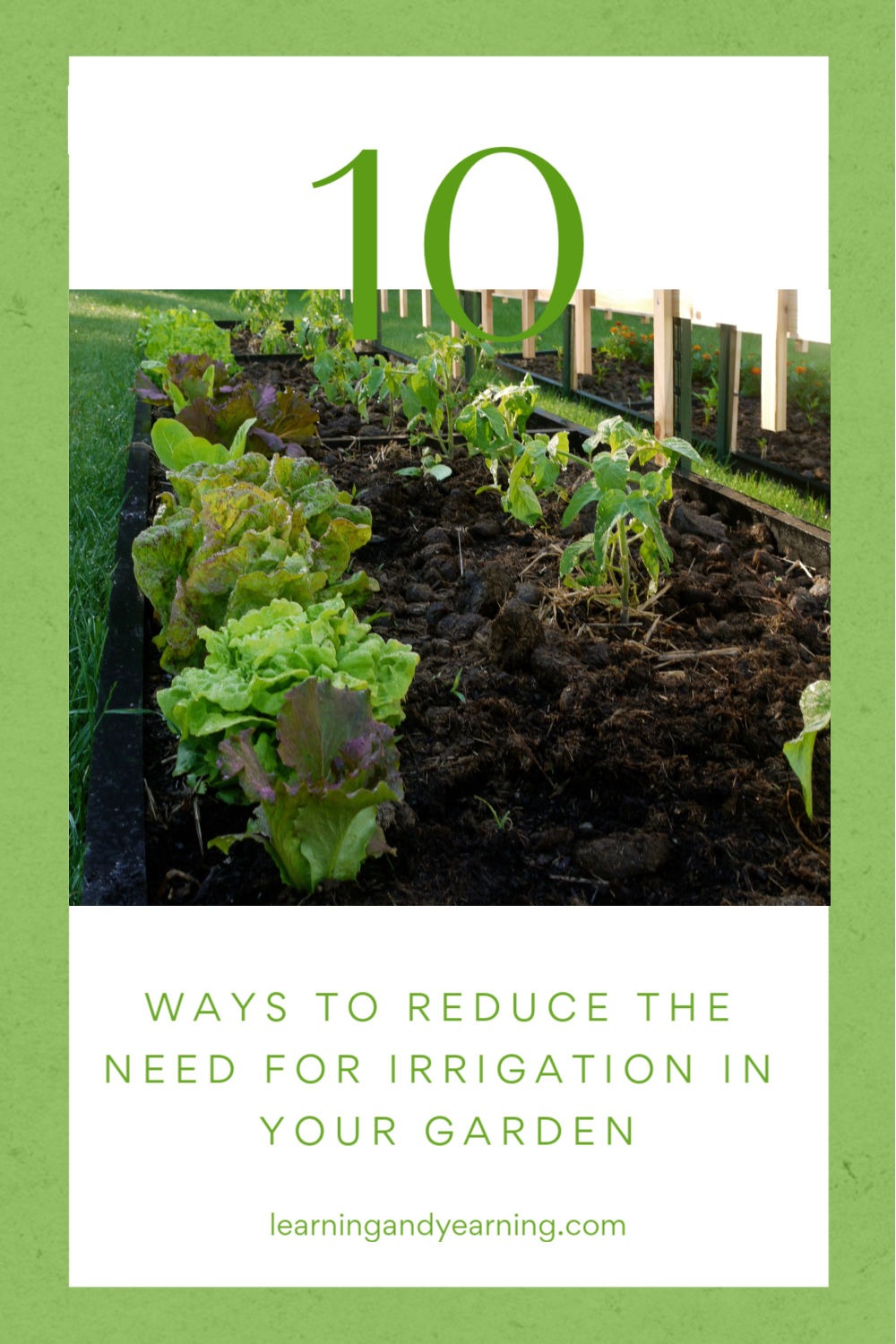 Thank you for visiting Learning And Yearning. May "the LORD bless you and keep you; the LORD make his face shine upon you and be gracious to you; the LORD turn his face toward you and give you peace." Num 6:24-26