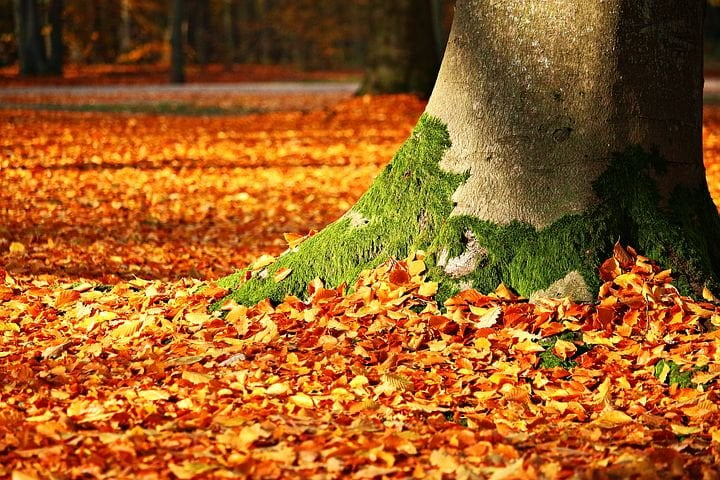 I'm always confounded when I drive through my neighborhood and see lawn care trucks at homes. The workers are inevitably loading grass clippings or fall leaves onto their trucks, and at the same time applying chemical fertilizers to the lawns. It's mind boggling that people are paying to remove safe, effective nutrients from their property and replacing it with petroleum based chemicals. Is this what it means to live in an affluent society?
DISCLOSURE: In order for me to pay my blogging expenses, I may receive monetary compensation for my endorsement and/or link to products mentioned on this blog. As an Amazon Associate I earn from qualifying purchases.
Leaves Provide Great Benefits
Leaves provide some great benefits for our gardens and are worth taking the time to collect and compost. Added to garden soil, they improve the structure, making heavy soils easier to work.
Leaf compost helps the soil to hold water, reducing periods of stress that accompany summer drought. And they create perfect conditions for the beneficial organisms that live in the soil. It is largely the presence of these microorganisms that make minerals available to the plant. The nutrients are released slowly, unlike inorganic fertilizers, at a rate at which the plants can use for optimum growth.
According to Vincent Cotrone, Penn State Extension Urban Forester,
Pound for pound, the leaves of most trees contain twice as many minerals as manure. For example, the mineral content of a sugar maple leaf is over five percent, while even common pine needles have 2.5 percent of their weight in calcium, magnesium, nitrogen and phosphorus, plus other trace elements.
Collecting Fall Leaves
Leaves are free, readily available in areas where deciduous trees grow, and are easy to compost, or to use as is.
Raking is a dreaded fall chore, but there are easier ways to collect leaves. We run over the leaves that have fallen with our lawn mower, with the bag attached. The leaves are picked up, and chopped in the process, exactly what we need for the garden. And this way, they also contain some grass clippings which provide nitrogen to help the leaves decompose.
If raking is your only option, try to make it a fun, family activity. Many hands make light work.
If you have a small property without leaves of your own, ask neighbors for theirs. In many communities, leaves are raked to the road for collection. This is a potential source of leaves, but keep in mind that road debris and other contaminates may be in these leaves.
"Grass clippings with chemical residues can get mixed in with the leaves and contaminate them", says William Brinton, Ph.D., director of the Woods End Research Laboratory, in Maine. "Still", Dr. Brinton explains, "chemical contamination is not a significant concern with leaf mold because its lengthy decomposition time allows for chemicals to break down as well".
Only you can decide if the value of the leaves outweighs the potential contaminates. We only take leaves from properties where we know that chemical fertilizers and weed killers are not used.
Composting Leaves
Leaves will compost more quickly if they are chopped. If you are not able to collect them with your lawn mower, as we do, then rake them, and run over them with the lawn mower to chop them.
A friend of ours collects his and places them in a tower made of chicken wire. He then uses his weed-wacker to chop them.
Chopped leaves may be added to your compost bin or pile, along with all the other items (like kitchen scraps) that you are adding. Turning your pile will aerate it, and help everything to decompose. Leaves are often dry in the fall, so be sure to add moisture if that is the case.
The leaves may also be left in a pile by themselves to decompose. This is a slow method because of the high carbon content of leaves, and will take about a year for them to decompose if they are chopped, and 2 years if they are not.
Adding grass clippings, keeping the pile moist, but not soaked, and turning the pile will all help to speed the process. Leaf compost that contains only leaves is often referred to as "leaf mold".
Or Not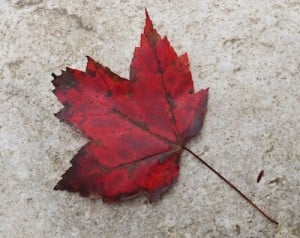 It's not necessary to compost your leaves first, depending on how you will use them.
Chopped leaves make a good mulch and cover for your garden when you are putting it to bed for the winter. They can be used to mulch trees, but please be sure you are mulching properly, since you can do as much harm as good when you mulch improperly.
And un-composted leaves are a fantastic addition when you are building a lasagna garden. It's best if they are chopped, but you can use them whole if you are careful to use thin layers of them to keep them from matting up.
Using Composted Leaves
Fall leaves may be used throughout the garden, and in landscaping. I've mentioned that un-composted leaves may be used as mulch, or in a lasagna garden. When composting leaves, you'll know that they are ready when they are black and crumbly, and no longer resemble leaves.
Here are some ways to use composted leaves:
Leaf mold makes a good peat moss substitute. Peat is not a sustainable product. To learn more, see this post.
To make your own potting mixture for seedlings, combine one part leaf mold with one part well-aged compost or worm castings.
Adding an inch of composted leaves per year to your soil can fulfill the fertilizer requirements for most vegetables.
Create a "tea" by mixing leaf mold and water. Strain, and use the tea to water plants.
Rake a thin layer of leaf mold into your lawn to help keep it healthy.
How about you? Do you view fall leaves as a just another chore, or as a valuable resource to build soil?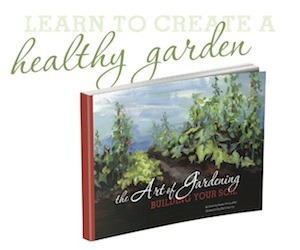 To learn how to build a garden that builds healthy soil, be sure to check out my eBook The Art of Gardening: Building Your Soil. You really can become a better gardener, and you really can grow healthy, nourishing produce. It's all about the soil! Click here to buy now.
Source, Source, Source, Source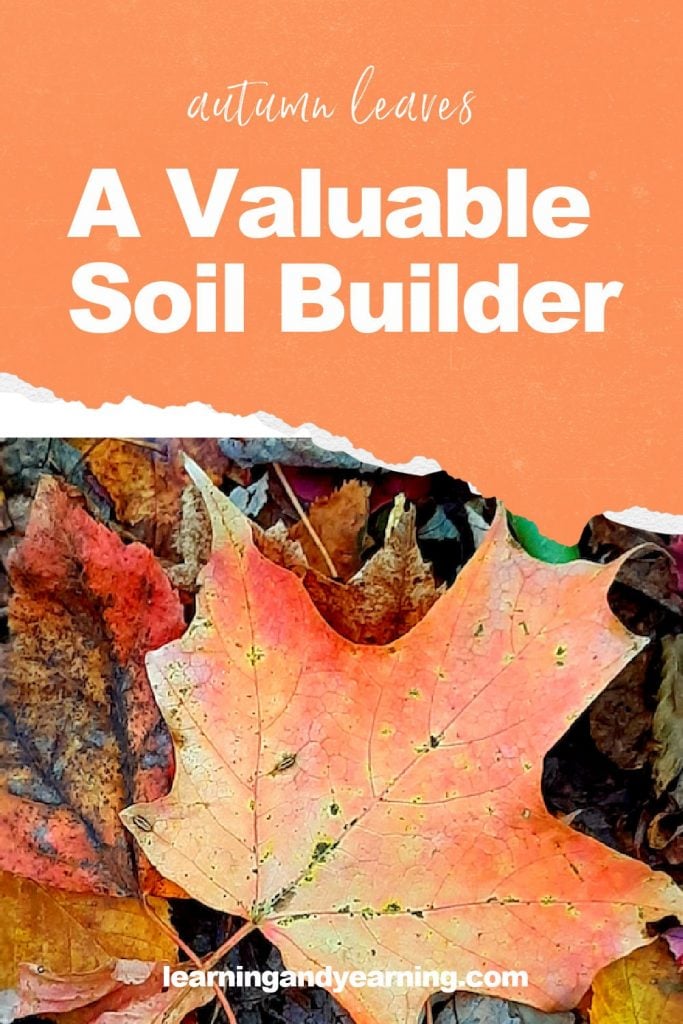 Thank you for visiting Learning And Yearning. May "the LORD bless you and keep you; the LORD make his face shine upon you and be gracious to you; the LORD turn his face toward you and give you peace." Num 6:24-26