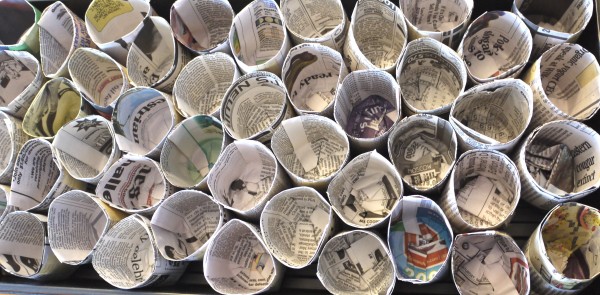 Are you looking for biodegradable seed starting pots? I have an easy solution. Make your own seed starting pots from newspaper, and they'll be no reason to purchase plastic. 
You can quickly make dozens of seed starting pots, and the kids can get involved with this fun project.
DISCLOSURE: In order for me to pay my blogging expenses, I may receive monetary compensation for my endorsement and/or link to products mentioned on this blog. As an Amazon Associate I earn from qualifying purchases.
What You'll Need to Make Newspaper Pots
To get started with your project, you'll need to collect:
a stack of newspaper
a juice glass or tomato paste can
tape (I like masking tape which is made of paper)
and a pair of scissors
Family Homesteading
I recently received a copy of Family Homesteading: The Ultimate Guide to Self-Sufficiency for the Whole Family by Teri Page. This fun book is full of all kinds of homesteading projects that kids can do.
I've followed Teri and her husband Brian's homesteading journey for many years at Homesteading Honey. I admire, and completely agree with their philosophy of training their children to be skillful and capable, even at a young age.
Their two children have been involved with virtually every homesteading project they have undertaken. And Family Homesteading: The Ultimate Guide to Self-Sufficiency for the Whole Family helps the reader to see how doable homesteading is with children.
Seed starting pots from newspaper, like the ones I've made, are only one of the hundreds of projects you'll find in the book. You'll also find instructions and tips for:
making butter in a mason jar
canning with children
backyard foraging
cooking
gardening
caring for animals
herbal wellness
crafts like candle making and natural dyeing
and even helping your child to start their own business
Making Your Own Seed Starting Pots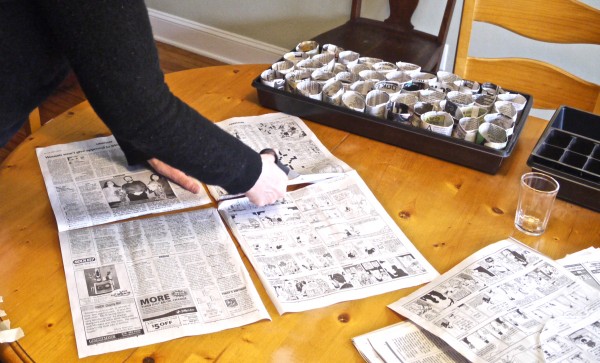 Begin by cutting each full sheet of newspaper into four. Then fold each square into thirds.
Roll the folded paper around a small juice glass so that about an inch or less of it overlaps the bottom of the glass. Fold this overlap down, and tape with a small piece of masking tape. The tape will eventually decompose right along with the newspaper.
Remove the pot and you are done; your newspaper pots are ready to be filled with seed starting mix, and seed. Here are some tips for seed starting.
To plant, simply place the newspaper right in the ground where it will quickly decompose. Be sure to cover all parts of the newspaper with soil when planting. Any newspaper that remains above ground may wick moisture from the soil.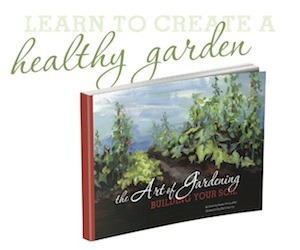 To learn how to build a garden that builds healthy soil, be sure to check out my eBook The Art of Gardening: Building Your Soil. You really can become a better gardener, and you really can grow healthy, nourishing produce. It's all about the soil! Click here to buy now.
Thank you for visiting Learning And Yearning. May "the LORD bless you and keep you; the LORD make his face shine upon you and be gracious to you; the LORD turn his face toward you and give you peace." Num 6:24-26