Are Old Seeds Still Viable?
Perhaps you have some old packets of seed and are wondering if you may use them this year in your garden. Well, that depends. Seeds are best stored in a cool, dry location. If yours were stored in a humid area, they will likely be unusable. And each type of seed has a different shelf life. It is recommended that seeds like parsnip or onion be replaced each year. Other seeds, like tomato may be viable for up to 5 years.
There are charts available that make recommendations on how long to keep seed, but each chart differs and that can be quite confusing to even an experienced gardener.
A Simple Process Will Determine If Your Seeds Are Viable
Your best bet is to to test your seed for viability; the process is simple.
First, find a spot in your home with a suitable temperature. If you are testing seeds like lettuce or spinach, which prefer a cooler temperature, find a spot with temperatures in the range of 50 – 70 degrees.
For seeds like tomato or eggplant, which prefer a warmer temperature, the recommended temperature is 70 – 85 degrees. Most seeds prefer the temperature to drop about 10 degrees at night.
Moisten a paper towel. It should not be soaking wet, but damp, so that you are not promoting fungal growth. Use at least 5 seeds – 10 would be better. Space the seeds in a straight line about an inch apart on the damp paper towel and very carefully roll it up.
Place the paper towel into a plastic bag. Since seeds respirate, do not push the air out of the bag before sealing. If you are testing more than one type of seed, use separate bags and be sure to clearly mark the type of seed on each bag.
Place the bag in the area you have chosen with optimal temperature for the specific seed you are testing. Check the moisture level daily and remove any seed which has formed mold.
After 5 – 10 days (this will vary depending on the type of seed), count how many seeds have germinated.
Determine the Germination Rate
To determine the germination rate, divide the number of seeds which germinated by the number of seeds originally placed in the bag. Let's say that you placed 8 pepper seeds into your bag, and 6 of them germinated. 6 divided by 8 = .75 so 75% of your seeds germinated, which is a good rate.
If only 4 of the 8 seeds had germinated, the rate would be 50%. If you choose to use these seeds, sow thickly, since this is a less than optimal germination rate.
Have you had success using old seed?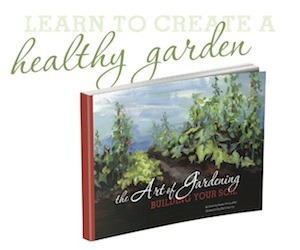 To learn how to build a garden that builds healthy soil, be sure to check out my eBook The Art of Gardening: Building Your Soil. You really can become a better gardener, and you really can grow healthy, nourishing produce. It's all about the soil! Click here to buy now.
Thank you for visiting Learning And Yearning. May "the LORD bless you and keep you; the LORD make his face shine upon you and be gracious to you; the LORD turn his face toward you and give you peace." Num 6:24-26