One little pack of seeds. So much information. 
I purchase seeds from a variety of companies, and each company's packaging is different. But most seed packets contain similar types information. For such a small space, there is generally quite a lot of valuable information, but it can be overwhelming at times. That's why I'm here – to help you read a seed packet.
Not all seed packets contain the same information. Some smaller companies may even have the same generic information on each packet, or little more than the name of the vegetable, and how many seeds the packet contains. But in most cases, you can learn a lot from a seed packet.
Nomenclature – What's in a Name?
Just like us, plants have names. It can get confusing, though, because they often have common names (sometimes more than one), Latin names, and to make it even more confusing, cultivar or variety names. Let's see if we can straighten this out.
Common name – The common name is the name most used to describe a specific plant. Tomato. Sunflower. Cucumber. This can occasionally cause confusion because common names can vary from region to region. For example, one article I've read lists 13 common names for elderberry.
Botanical Name – While the Latin name of a plant may make your eyes glaze over, this scientific name of a plant can be a life saver. Quite literally.
This is obviously more important in the world of foraging where you're trying to decide if a plant is edible and one source calls it one name and another source calls it something else. After all, there's no chance of a seed company selling you a vegetable variety that isn't edible.
Many seed packets will contain the Latin name for the plant. That name will always have at least two parts to it – binomial nomenclature. First is the genus name which will be capitalized, and then the species name, which will be lower case. Cucumber, for example, is Cucumis sativus.
Type of Plant Your Seed Will Produce
Varieties and Cultivars – You'll sometimes see a third name and that refers to the plant variety or cultivar. Varieties are formed naturally, while cultivars require human intervention. Often, though, the words are used interchangeably.
Life Cycle and Growth Habit – Your seed packet will also contain information regarding the life cycle of a plant – specifically whether the plant is an annual, perennial, or biennial.
Several types of garden plants, including tomatoes, beans, and cucumbers are available in both determinate and indeterminate varieties. Determinate varieties have a more bushy growth pattern and cease growing at a certain point.
Indeterminate varieties continue to grow until killed by an outside force such as frost or disease. Your seed packet will indicate whether the seed you are purchasing is determinate or indeterminate.
Organic, Heirloom, or Hybrid
Seeds packets will generally indicate whether your seeds are organic, and whether they are heirloom or hybrid. You can read more about that right here: Heirloom, Hybrid and GMO seeds: What's the Difference?
Description and Growing Information
Description
Most seed packets will provide information regarding the plant's characteristics such as disease resistance, soil temperature required for germination, days to germination, and size of the plant.
Growing Information
Some of the most important information you will find on the seed packet are instructions for growing.
You'll be given sowing instructions such as spacing, when to sow, how deep to plant, whether to direct sow or start in pots indoors.
You'll also learn the plant's sun, water and soil requirements.
Days to Maturity
Days to Maturity is an important piece of information which can cause some confusion. This can mean several different things, depending on the type of seed you are planting.
For seeds that are directly sown in the garden, this is the number of days from planting to harvest, assuming ideal growing conditions.
For seeds that are started indoors and then transplanted into the garden, this is the number of days from transplant to harvest, again assuming ideal growing conditions.
Miscellaneous Information
Plant Hardiness Zone
Often a seed packet will include the growing zones where the particular plant will best thrive. Less often, you'll see a USDA plant hardiness map so that you'll know which zone you are in if you have any confusion about that.
How Many Seeds
Your packet will also let you know either how many seeds are in the package, or the weight of the packet. Generally, only larger packages of seed will indicate the weight.
Date
Your seed packet will also have a date on it. This will be the year that the seeds were packed. It may also have a use by date, and information about the seed's viability.
Some seeds, like onion or parsnip really do need to be purchased new each year. Others, like tomato seeds may be kept for 4 or 5 years and still be viable, as long as they have been stored properly in a cool, dry place. Here's how to test old seed for viability.
That's a Lot of Information for a Small Seed Packet
I've actually never seen a seed packet that includes all of the information I've described here. Every company is different, and will include different information on their packages, but I wanted to include just about everything I've ever seen on a seed packet so that you wouldn't be so confused when you're learning to read a seed packet.
Now, get out there and plant!
More Organic Gardening Posts You'll Like
Plastic Mulch in the Garden: Friend or Foe?
Using Wood Chip Mulch in a Vegetable Garden
Hay vs. Straw in the Garden: Which is Better?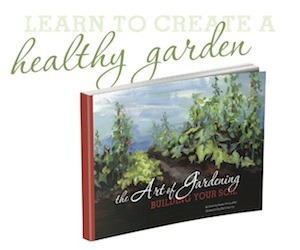 To learn how to build a garden that builds healthy soil, be sure to check out my eBook The Art of Gardening: Building Your Soil. 
You really can become a better gardener, and you really can grow healthy, nourishing produce. It's all about the soil! Click here to learn more.
Thank you for visiting Learning And Yearning. May "the LORD bless you and keep you; the LORD make his face shine upon you and be gracious to you; the LORD turn his face toward you and give you peace." Num 6:24-26