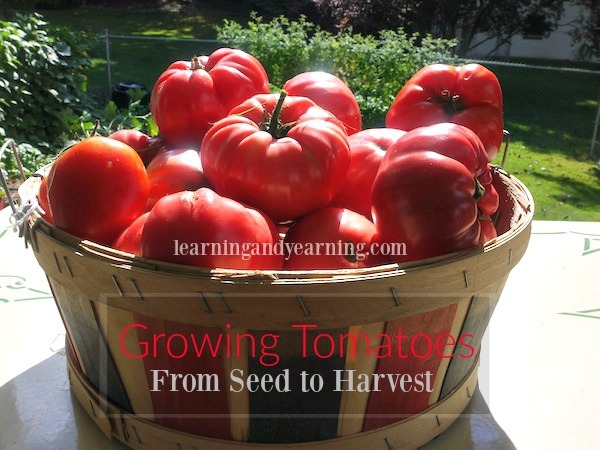 Growing Tomatoes
Visit any vegetable garden and you'll be sure to find a patch of tomato plants. They are a favorite for just about everyone. Even those who don't like fresh tomatoes will want to learn more about growing tomatoes for sauce. Tomatoes are available in a seemingly endless number of varieties. I love to try at least one new variety each year. 
Seed or Plants
There's really no right or wrong when it comes to the question of whether to start your own tomato plants from seed, or whether to purchase plants from a nursery. Do you have the time to put into seed starting? Do you have the space? Do you have the necessary lighting?
DISCLOSURE: In order for me to pay my blogging expenses, I may receive monetary compensation for my endorsement and/or link to products mentioned on this blog. As an Amazon Associate I earn from qualifying purchases.
Some of the advantages to seed starting:
If you decide to start your own tomato plants from seed, you'll find helpful information here:
Not sure which varieties to choose for growing zone? The Tomato Guide by Zone from Rockin W Homestead will help you choose.
Determinate or Indeterminate Varieties of Tomatoes
When reading a tomato seed packet, or label on a plant in a garden center, you'll notice that, in addition to the name of the variety, the label will indicate whether the plant is determinate, or indeterminate. These are terms which refer to the growth habit of the tomato plant.
Determinate Varieties of Tomatoes
Determinate varieties of tomatoes are generally bushy and grow from 2 – 5 feet tall. All of the tomatoes ripen at approximately the same time, and the plant dies. A wooden tomato stake is about all that is needed to keep these plants upright so that they receive good air circulation. Metal, store bought, tomato cages would generally be adequate, as well, for determinate varieties of tomatoes.
Determinate varieties are often grown by farmers because they want to harvest their crop all at once. They are also useful if you can large amounts of tomatoes and are looking for a variety that will ripen over a generally short period of time – usually about 2 weeks.
Indeterminate Varieties of Tomatoes
Indeterminate varieties of tomatoes continue to grow, flower, and bear fruit until killed by a frost (or disease) and may grow as tall as 8 – 10 feet or more. These plants require sturdy support. A simple wooden stake is often not adequate; the plants become quite heavy as they bear fruit. I have even seen the plants slide right down the stake into a heap because of the weight of the plant. An arbor or trellis is much more suitable for these types of tomato plants.
In the home garden, indeterminate varieties are most popular. The plant will continue to produce throughout the entire growing season providing fresh tomatoes over a longer period of time.
Growing Requirements
Tomato plants require full sun and prefer a well-drained, fertile soil high in organic matter. They grow in hardiness zones 2 – 10.
Tomato plants grow from 2 – 10 feet tall, depending on the variety and growing conditions. (See the information on determinate / indeterminate varieties above).
Space your plants approximately 18 – 24″ apart when planting. This will assure good air circulation which is essential for disease prevention.
If you plan to start your own seed, do so indoors 6 weeks before the last spring frost for your area. A week before transplanting them to the garden, begin to harden your plants off by slowing getting them used to outdoor conditions. Transplant them to the garden a week after all chance of frost has passed for your area. Tomatoes love heat. Plant tomatoes deep; roots will form along the buried stem.
Staking
Tomato plants require staking. Even determinate varieties tend to have a sprawling habit and will benefit by being lifted from the ground. Good air circulation is essential to healthy growth. How you choose to stake will depend on the varieties you are growing.
Determinate varieties of tomato which only grow a few feet tall will be fine with a simple stake in the ground or a wire cage. The tomato plants should be tied to the stake as they grow.
I generally grow indeterminate varieties of tomato which often grow over 10′ tall. Nothing less than a sturdy trellis is needed to keep these varieties off the ground. Once the plants start bearing tomatoes, they can get quite heavy. Here's the trellis we built to support our tomato plants: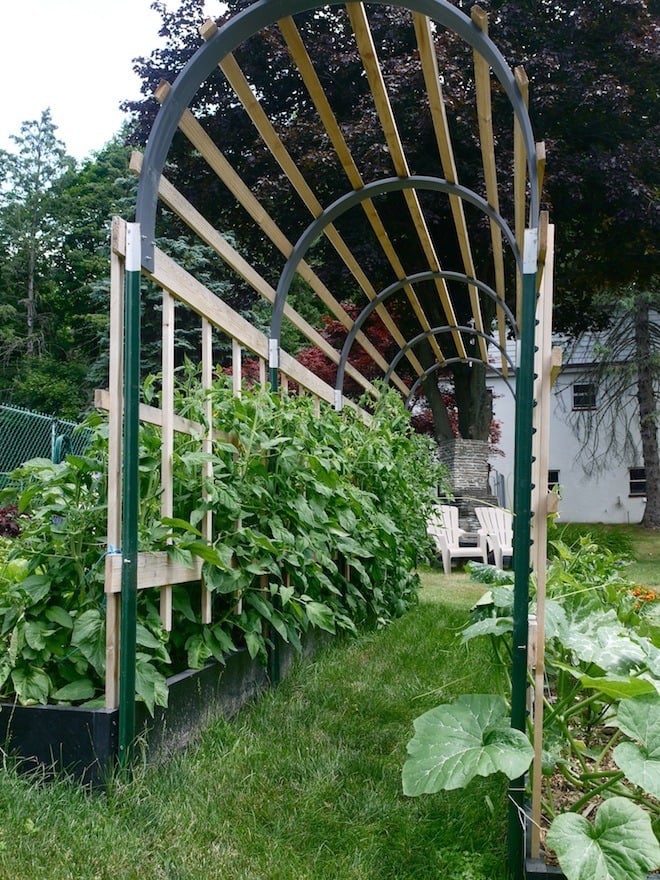 Pruning or Suckering
It often makes me chuckle to think that gardening methods can be controversial. I've been criticized for using wood chips and hay in my garden, for not digging, and for rarely suckering my tomato plants. (Ok, I admit I've done my share of the criticizing).
In between the main stem of the tomato plant and each branch a side shoot will grow which is generally referred to as a sucker. Gardeners often remove this shoot by pinching to thin out the plant.
Suckers will form new branches and will flower and produce fruit. Removing them will allow the remaining branches to produce larger fruit and will provide more air circulation for the plant – something I've already stressed as important to good plant health.
I'm the type of person who likes to keep things simple and who prefers not to do things that will end up taking care of themselves. For example, I rarely dry dishes since in the end, they will dry themselves. And I would never save egg shells and go through all the work of washing, drying and crushing them to add calcium to the garden. The shells go into the compost and end up in the garden anyway. You might call me a lazy gardener; I think of myself as efficient.
When my plants are young, I remove the suckers. This helps to keep leaves and branches off the ground which in turn helps to keep them disease-free. For good air circulation, I prefer to space my plants a little farther apart rather than take the time to continue suckering. As far as size of tomatoes I really don't care if I get a lot of slightly smaller tomatoes as opposed to a smaller amount of larger tomatoes. As the summer progresses, if I see my plants becoming too top heavy, I may prune some suckers. I tend not to over-think these things.
Summer is also a time when we travel; suckering requires constant vigilance and we're just not always here to keep up with it. So, this, like many gardening decisions is a matter of personal preference.
Disease Prevention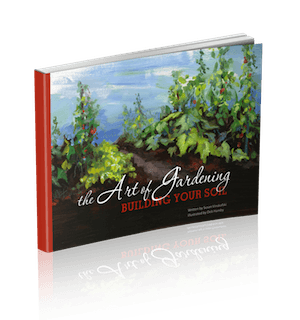 Short of using harsh chemicals, stopping disease once it's begun is not an easy task. Working on prevention is always your best bet.
Helpful articles:
Pests
Did you know that a healthy plant is more resistant to pest damage than an unhealthy one? So again, building healthy soil and only planting the strongest seedlings will go a long way in keeping pests at bay. A stressed plant will attract insects!
Helpful articles:
Harvesting
There's nothing like a vine ripened tomato for sweetness, but waiting until they are fully red will probably result in a mushy, overripe tomato. It is best to harvest tomatoes when they are almost ripe (still slightly green) and to allow them to finish ripening indoors, out of direct sunlight. And remember, not all tomatoes turn red, so be sure to know your variety and its ripe color. Unripe tomatoes may be ripened in a paper bag.
Saving Seed for Next Year
One of the advantages to growing heirloom tomatoes, as opposed to hybrids, is that you may save the seeds and count on them producing true in the next generation. There are a few steps to saving tomato seeds, but it is an easy process.
Learn the process here:
Thank you for visiting Learning And Yearning. May "the LORD bless you and keep you; the LORD make his face shine upon you and be gracious to you; the LORD turn his face toward you and give you peace." Num 6:24-26