Soil, First!
I always ask people what comes to mind when they think of gardening.The end result – the vegetables, or the flowers – are always what they mention. And that's not wrong… why bother to garden if we can't look forward to a bountiful harvest? But I always encourage people to first think "soil." Soil is the foundation of your garden, and your vegetables and your garden will only be as healthy as your soil. My passion is building soil, and although I'm mainly a vegetable gardener, the same principles hold true for flower gardening.
DISCLOSURE: In order for me to pay my blogging expenses, I may receive monetary compensation for my endorsement and/or link to products mentioned on this blog. I am a participant in the Amazon Services LLC Associates Program, an affiliate advertising program designed to provide a means to earn fees by linking to Amazon.com and affiliated sites.
A garden with poor soil may produce fruit, but that fruit can't possibly contain the nutrients, or taste as good, as fruit grown in soil that has provided all that is needed for its health. And plants grown in healthy soil have less problems with disease and pests.
For the rest of my post on building a garden that builds soil, go to Happenings Magazine where I'm honored to be a guest blogger.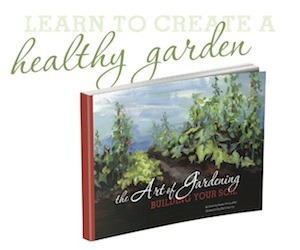 To learn how to build a garden that builds healthy soil, be sure to check out my eBook The Art of Gardening: Building Your Soil. You really can become a better gardener, and you really can grow healthy, nourishing produce. It's all about the soil! Click here to buy now.
Other Recommended Resources:
Healthy Soils for Sustainable Gardens
Thank you for visiting Learning And Yearning. May "the LORD bless you and keep you; the LORD make his face shine upon you and be gracious to you; the LORD turn his face toward you and give you peace." Num 6:24-26