Building a Trellis for Tomato Plants Will Provide the Support Your Plants Need

"Mike," I said. "I need a trellis for tomato plants." And this is what he built! It's generally recommended that tomato plants be staked to keep them up off of the ground and to provide good air circulation. Another benefit is that staking allows plants to be grown closer together than if the plants were grown sprawling on the ground.
Determinate varieties of tomatoes generally grow from 3 – 5 feet tall. All of the tomatoes ripen at approximately the same time, and the plant dies. A wooden tomato stake is about all that is needed to keep these plants upright so that they receive good air circulation. Metal, store bought, tomato cages would generally be adequate, as well, for determinate varieties of tomatoes.
Indeterminate varieties of tomatoes continue to grow and bear fruit until killed by a frost (or disease) and may grow as tall as 8 – 10 feet or more. These plants require sturdy support. A simple wooden stake is often not adequate; the plants become quite heavy as they bear fruit. I have even seen the plants slide right down the stake into a heap because of the weight of the plant. An arbor or trellis is much more suitable for these types of tomato plants. Here's how my husband built ours (he was inspired by this fantastic post):
Our trellis runs between two – 20 foot long raised beds. Five metal, 7′ long T-posts were each driven 2′ into the ground and spaced 5′ apart next to each bed (so 10 posts in all). 3″ wide cedar boards were drilled and attached horizontally to the T-posts -one near the top and one near the bottom. Another strip of cedar, 1 and 1/2″ wide was attached in between the 3″ board. Our beds are on a slight hill, so the side of the arbor near the lower bed needed one more horizontal board attached.
To build the arch, we used UHMW plastic strips which are 1/2″ thick, 4 " wide, and 6′ long. These were screwed to the top 3″ cedar plank. If UHMW plastic is unavailable, an alternative would be PVC pipe attached with U-bolts. Lastly, 1 and 1/2″ strips of cedar the length of the arbor were attached to the top of the 5 plastic arches. These were spaced 8″ apart.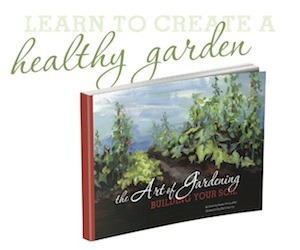 To learn how to build a garden that builds healthy soil, be sure to check out my eBook The Art of Gardening: Building Your Soil. You really can become a better gardener, and you really can grow healthy, nourishing produce. It's all about the soil! Click here to buy now.
Recommended Reading: The Heirloom Tomato: From Garden to Table: Recipes, Portraits, and History of the World's Most Beautiful Fruit by Amy Goldman