We gardeners are a persevering lot, don't you think? No matter what went wrong last year, we are ready to forge ahead this year. We work hard to get those seeds started, hardened off, and transplanted into the garden. A newly planted garden always looks so healthy and full of promise. And with some prevention, it can stay that way.
DISCLOSURE: In order for me to pay my blogging expenses, I may receive monetary compensation for my endorsement and/or link to products mentioned on this blog. As an Amazon Associate I earn from qualifying purchases.
What is late blight?
The weather here in NEPA has been cooler than normal. Instead of the hazy-hot-and-humid-chance-of-an-afternoon-thunderstorm weather typical for July, we've had mild days with cool nights great for sleeping, along with a fair share of rain.
And that's the perfect prescription for the spread of the the pathogen Phytophthora infestans, better known as late blight.
Most diseases of tomato rarely cause a total loss. Not late blight.
The spores of late blight are quickly dispersed from farm to farm, and garden to garden by wind, and are extremely destructive. There is no cure so preventing late blight is key.
For images and further description of late blight, see this info from Cornell.
Preventing Late Blight
Planting resistant varieties of tomatoes is one way to help prevent late blight. Personally, I choose varieties based on taste, not disease resistance, but if I frequently lost my tomato crop to late blight I would certainly consider choosing disease resistant varieties. Do keep in mind, though, that resistance does not mean immunity.
Late blight is also common in potatoes and is the pathogen responsible for the Irish potato famine of the mid-1800s. If you grow both potatoes and tomatoes, be sure to remove volunteer potatoes that sprout up in the spring since late blight overwinters in potatoes. 
Infection only occurs on wet leaves, so be especially careful when watering. Water the soil, not the plant.
Removing the bottom leaves of your tomato plants, especially those that are touching the ground helps to keep the plant dry and to improve circulation. Not planting too closely, and removing suckers also helps to keep air flowing between the plants.
Late blight is in my area. Now what?
There is no cure for late blight, so prevention is key. If weather conditions are favorable to late blight, or if the pathogen has been confirmed in your area, using an organic fungicide to protect your plants from infection is advisable.
The following fungicides are approved for use in organic farming and gardening:
Actinovate – beneficial bacterium Streptomyces lydicus 
Neem oil – has antifungal properties
Oxidate – A peroxide-based treatment
Serenade – Bacillus subtilis
Sonata- Bacillus pumilus 
There is also anecdotal evidence that cornmeal is an effective fungicide. Two years ago, when late blight was destroying tomato plants all over my area, I frequently sprinkled corn meal on my plants.
Late blight didn't hit my garden until late enough in the season that I was still able to get a good crop. Was this because of the cornmeal? I don't know, but I'm using it, along with Serenade in my garden this year since late blight has already been confirmed in my area.
If Late Blight Hits Your Garden
Once a plant is infected, it is important to immediately destroy the plant to prevent the spread of disease. Place the plants in a bag and put them in your trash. Do not compost them. There is no problem in replanting the area in anything not in the nightshade family of plants.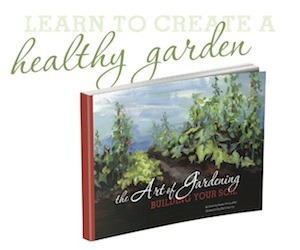 To learn how to build a garden that builds healthy soil, be sure to check out my eBook The Art of Gardening: Building Your Soil. You really can become a better gardener, and you really can grow healthy, nourishing produce. It's all about the soil! Click here to buy now.
Have you had success in preventing late blight? What strategies have you used?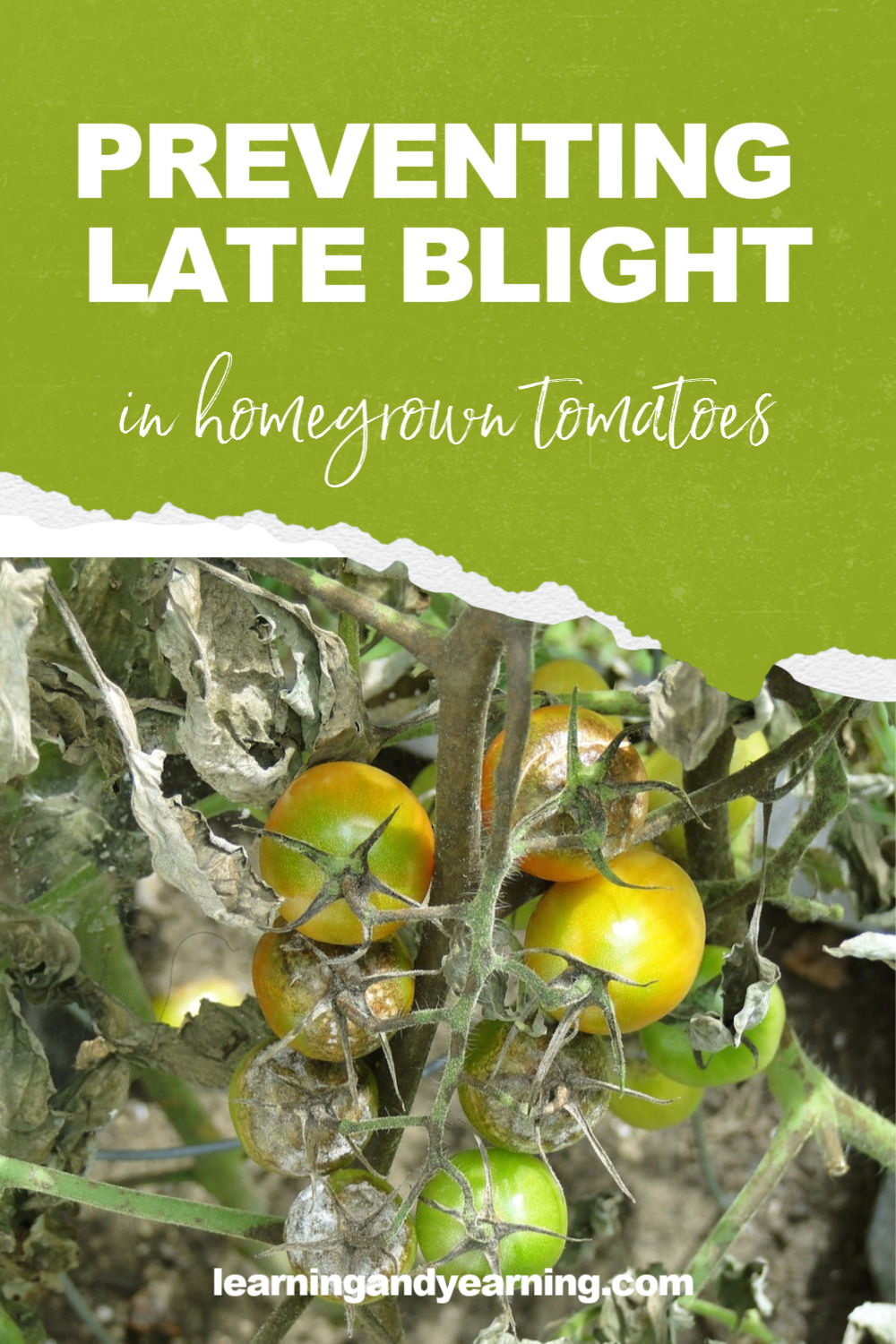 Thank you for visiting Learning And Yearning. May "the LORD bless you and keep you; the LORD make his face shine upon you and be gracious to you; the LORD turn his face toward you and give you peace." Num 6:24-26