Note from LearningAndYearning: Today's guest post comes from James Smth, an avid prepper and a homesteader. James loves to write about prepping and natural living. Currently he is working for Teotwawki Supplies, a store offering survival food kits and other emergency survival supplies. Follow @JamesSmith1609 for more updates.
Make Your Own Natural Fertilizer
Although it may sound quite difficult, making your own natural fertilizer can be easy and straightforward. The best part is, you probably don't have to look any further than your own pantry and backyard for the ingredients.
DISCLOSURE: In order for me to pay my blogging expenses, I may receive monetary compensation for my endorsement and/or link to products mentioned on this blog. I am a participant in the Amazon Services LLC Associates Program, an affiliate advertising program designed to provide a means to earn fees by linking to Amazon.com and affiliated sites.
Here are some tips on how you can make natural fertilizer for your vegetable garden in addition to the methods mentioned here.
Coffee Grounds
Most vegetable plants prefer a slightly acidic soil, which coffee grounds can provide. In addition, coffee grounds will add nitrogen to your soil. Sprinkle a small amount on the soil before watering; just don't overdo it.
Weeds
While most people consider weeds a nuisance, they are, in fact, one of the best ingredients to create fertilizer. In addition, weeds help speed up the decomposition process in a compost pile.
There are several ways you can utilize weeds to make your own fertilizer. Comfrey, burdock, nettles, chickweed, and horsetail are natural sources of nitrogen, phosphorus, and potassium, making them a great way to build garden soil. Use weeds before they flower, allow them to dry in the sun, and then chop them up to be used as mulch.
Borage, an herb, is considered as weed by most people, and has nutritional properties similar to comfrey. You can put the entire plant in your compost pile. It helps in the decomposition process, and gives the pile extra heat.
Molasses
Molasses is a by-product of sugar processing and is full of vitamins and minerals. Used in compost, molasses feeds beneficial microbes. A basic recipe for molasses fertilizer is to mix 3 tablespoons of molasses in a gallon of water and use to water your plants.
Purchase molasses here.
Banana Peels
For humans, bananas are a great source of potassium; however, you may not realize that potassium is vital for plant health as well. A couple of peels can be thrown into the hole before planting or bury a peel or two under mulch and they will decompose naturally. Potassium is necessary for fruit development and helps plants to resist disease.
Grass Clippings
Enhancing the soil with nitrogen, grass breaks down over time if you chop it up into small clippings and add it to the soil. Add a little water to a five gallon bucket of grass clippings and let it sit for a couple of days. Dilute the grass tea mixture with one cup of liquid from the bucket into ten cups of water. Apply ample amounts to the base of your plants.
Natural fertilizers and compost will definitely help you get a high yield from your vegetable garden.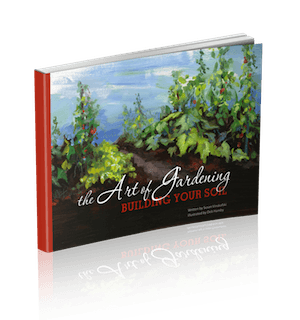 From LearningAndYearning: To learn how to build a garden that builds healthy soil, be sure to check out my eBook The Art of Gardening: Building Your Soil. You really can become a better gardener, and you really can grow healthy, nourishing produce. It's all about the soil! Click here to buy now.
What ways have you found to create natural fertilizer?
Thank you for visiting Learning And Yearning. May "the LORD bless you and keep you; the LORD make his face shine upon you and be gracious to you; the LORD turn his face toward you and give you peace." Num 6:24-26