Mint is a member of the genus Mentha – plants with a strong menthol flavor. There are a number of varieties including spearmint, peppermint, apple mint, orange mint and even chocolate mint.
Mint is a perennial which spreads rapidly and can be invasive. It's best to keep mint in a bed of its own to keep it from taking over your garden. Mint grows about 12 – 18″ tall, and will grow in full sun to partial shade. It loves moisture. The leaves are best harvested before the plant's purple flowers appear; pinch flower buds off if you wish to delay flowering.
Mint is a good source of  Thiamin, Niacin, Vitamin B6, Phosphorus and Zinc, Fiber, Vitamin A, Vitamin C, Riboflavin, Folate, Calcium, Iron, Magnesium, Potassium, Copper and Manganese. (Source)
There are probably more uses for mint than any other herb. Many of those uses are culinary, but mint is also used in other ways. For example:
1.) Allow some of the plant to flower to attract beneficial insects. These beneficial insects will help to devour insects which can destroy your garden.
2.) Mint is helpful in repelling mice, ants, flies and moths. Place fresh mint leaves in places where you are having a problem and replace when they dry out.
Planting mint near your home where pests enter may also help. Or combine several drops of mint essential oil and water into a spray bottle and spray around the foundation of your home, in cabinets, or in any place where pests are a problem.
Mint also deters white cabbage moth in the garden.
3.) Eat a fresh leaf or two to freshen breath.
4.) Make iced tea. In my opinion, fresh mint makes the best iced tea. Pour 6 cups of boiling water over a large handful of fresh mint sprigs. Steep for about 20 minutes. Strain. Add honey or other sweetener to taste, and lemon if desired. Refrigerate until cold.
This tea aids digestion and soothes an upset stomach, and is delicious.
5.) Use the mint iced tea to soothe the pain of sunburn.
6.) Sprinkle chopped mint leaves on peas, carrots, fruit salad and tossed green salad.
7.) Place fresh mint leaves under the skin of a whole chicken before roasting and add to the cavity of the chicken.
8.) Make mint pesto to serve over lamb. Blend 2 c fresh mint leaves, 1/2 c olive oil, 4 cloves garlic. Optionally, parmesan and pine nuts may also be included.
9.) Blend 1/2 c of fresh mint leaves with the sugar in your favorite chocolate chip cookie recipe and then continue with the recipe as normal.
10.) When making homemade vanilla ice cream, steep a cup of chopped, fresh mint leaves in the warmed milk for 15 – 20 minutes. Strain, and then proceed with your recipe.
11.) For another refreshing beverage, place peeled fresh cucumber slices and fresh mint leaves in a pitcher of water and refrigerate until cold.
12.) Make minted cucumber salad by tossing together 2 peeled and sliced cucumbers, 20 – 30 fresh mint leaves, julienned (these scissors make the job easy), 2 T mayonnaise or yogurt, sea salt and pepper to taste. Chill.
What great ways have you found to use mint?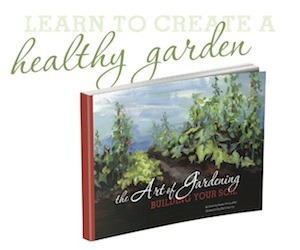 To learn how to build a garden that builds healthy soil, be sure to check out my eBook The Art of Gardening: Building Your Soil. You really can become a better gardener, and you really can grow healthy, nourishing produce. It's all about the soil! Click here to buy now.
Recommended Reading: The Complete Book of Herbs by Leslie Bremness
Thank you for visiting Learning And Yearning. May "the LORD bless you and keep you; the LORD make his face shine upon you and be gracious to you; the LORD turn his face toward you and give you peace." Num 6:24-26