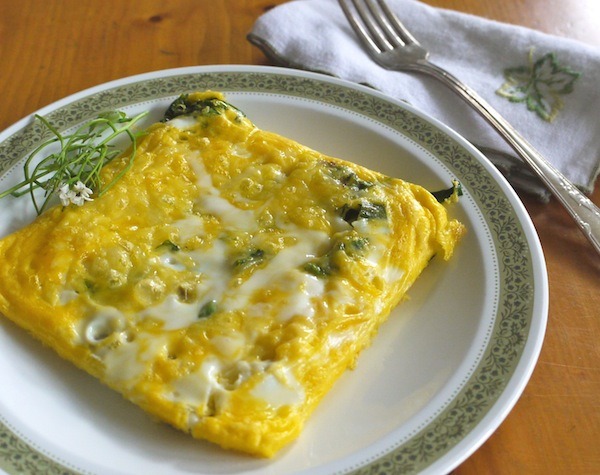 We recently enjoyed an amazing evening of slow food in an 1831 stone farmhouse. Old Tioga Farm is a farm-to-table restaurant. Our first of five courses was a frittata with spinach and goat cheese. So, after coming home from foraging today for ramps and garlic mustard, I knew what I wanted to make myself for lunch – an individual Ramp and Garlic Mustard Frittata.
I found both the ramps and the garlic mustard growing along a stream, and both are easy picks. You can read more about foraging for ramps here. Garlic mustard is a common, and invasive biennial weed in the mustard family and has a mild garlic taste.
DISCLOSURE: In order for me to pay my blogging expenses, I may receive monetary compensation for my endorsement and/or link to products mentioned on this blog. I am a participant in the Amazon Services LLC Associates Program, an affiliate advertising program designed to provide a means to earn fees by linking to Amazon.com and affiliated sites.
In my post on foraging dos and don'ts I caution that it is always best not to over harvest so that a plant can continue to grow year after year. With invasive plants like garlic mustard, feel free to take it all, and to pull the plant out by the root. You will be doing our forests a favor.
The recipe ingredients are for one serving, baked in a single serve baking dish like these.
More Than Weeds
 A Foraging eCourse for Beginners
Are you interested in foraging, but a bit hesitant because you don't trust your own abilities? I created a mini eCourse just for you. In More Than Weeds: 5 Common Plants to Forage for Food and Medicine you'll learn that identifying plants is all in the details.
Using common plants with which may be someone familiar you'll learn beginner botany skills that you will be able to use as you move forward. You'll gain confidence to use these plants for your family in food and safe, home remedies. Get started now!
Ramps and Garlic Mustard Frittata
Print recipe
Ingredients
1 handful ramps, leaves and bulbs, chopped
1 handful garlic mustard leaves, chopped
1 tablespoon butter
2 large eggs
2 tablespoons cream
1/4 cup cheddar cheese, grated
salt and pepper to taste
Directions
| | |
| --- | --- |
| 1. | Preheat your oven to 450 degrees. |
| 2. | Saute chopped ramps (including the leaves) and garlic mustard in melted butter. Add salt and pepper to taste. |
| 3. | In a small bowl, whisk the 2 eggs with cream. |
| 4. | Pour the sauteed vegetables into a single serve baking dish. |
| 5. | Top with grated cheddar or other type of cheese. Pour the egg mixture over the vegetables and cheese. |
| 6. | Bake for 10 minutes or until eggs have set. |
In what ways have you enjoyed ramps or garlic mustard?
Thank you for visiting Learning And Yearning. May "the LORD bless you and keep you; the LORD make his face shine upon you and be gracious to you; the LORD turn his face toward you and give you peace." Num 6:24-26