Probiotic Foods Help Our Guts
Lately we've been trying to add more probiotic foods to our diet; our environment attacks the good bacteria in our guts in so many ways.
Homemade yogurt, lacto-fermented vegetables, beverages like bubbly lemonade, and condiments like fermented horseradish are all items I make as I'm able. I try to serve something cultured with at least one meal a day.
Fermented condiments are an easy way to add probiotics to our diet, but I don't always have the time to make things like homemade ketchup, mustard, horseradish, salsa, or mayonnaise.
But, it's really quite easy to turn store-bought condiments into probiotic powerhouses with fermentation.
Good bacteria is already present on fresh vegetables, so all that is needed to get fermentation started is sea salt and filtered water. Actually, the sea salt acts as a preservative until the process begins; it does not actually cause the fermentation. Whey is optional.
But with items like ketchup which have been cooked, whey is necessary since the heat of cooking has destroyed any beneficial bacteria.
The simplest way that I have found to make whey is to strain my homemade yogurt. The liquid is the whey. Whey from milk kefir, or cheese making may be used as well.
How to Ferment Store-Bought Condiments
Fermenting store-bought condiments is super easy. All that is needed is 1 T of whey for each cup of ketchup, mustard, or other condiment.
Let's use a 24 oz bottle of ketchup as an example. Pour the ketchup into a quart jar. Add 3 T of whey and mix together. (Make sure you use a jar that is large enough to leave at least 1″ space below the lid). Place the lid on the jar and cover the jar with a dishtowel, and leave at room temperature for 2 – 3 days. Then return to original bottle, if desired, and refrigerate.
Horseradish, ketchup, mustard, and salsa should all be left to ferment at room temperature for 2 – 3 days. Mayonnaise should be left for only 8 hours before refrigerating.
Recommended Reading
My two go-to books for fermenting are Nourishing Traditions and The Complete Idiot's Guide to Fermenting Foods.
Have you ever tried fermenting a store-bought condiment?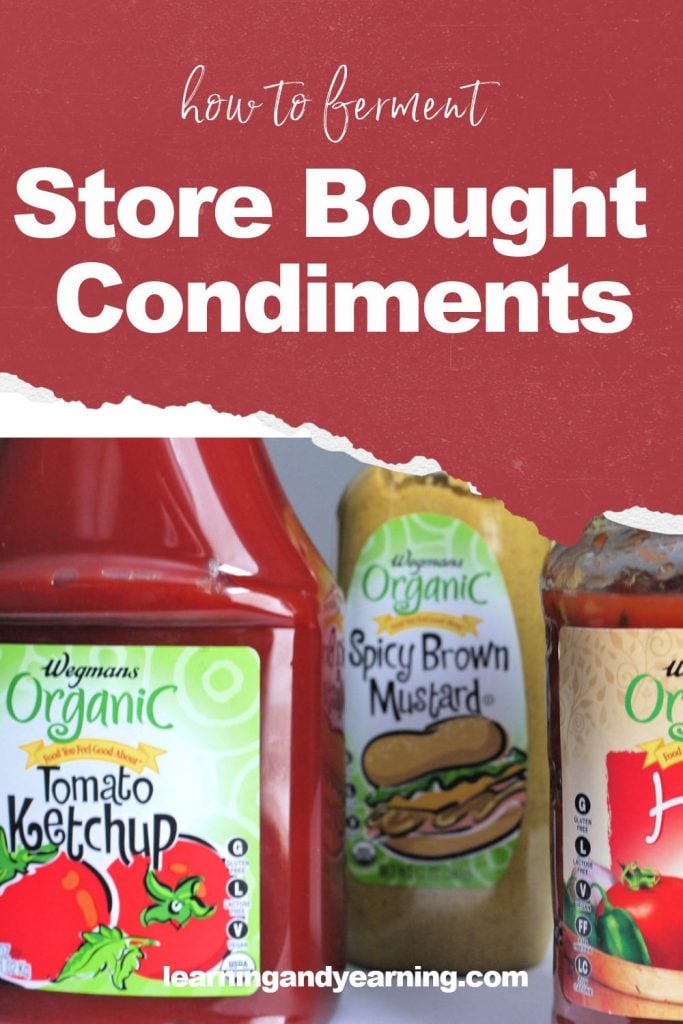 Thank you for visiting Learning And Yearning. May "the LORD bless you and keep you; the LORD make his face shine upon you and be gracious to you; the LORD turn his face toward you and give you peace." Num 6:24-26