Making mead, or honey wine, is an ancient form of brewing using the simplest of ingredients. It's a perfect place for beginners to start on their home brewing journey. Even this blueberry mead recipe is simple enough for a beginner who is somewhat familiar with the art of fermentation.
Honey mead always reminds me of one of my favorite movies, The 13th Warrior. Set in the time of the Norsemen, a Muslim ambassador is forced to battle an ancient evil with 12 Viking soldiers. He becomes the 13th warrior. After a brutal battle, he is offered wine, but declines, saying " I can taste neither the fermentation of grape nor of wheat." His companion laughs, and says, "Honey. It is made from honey." And the Muslim drinks.
Artisanal Small-Batch Brewing
This recipe comes from the new book, Artisanal Small-Batch Brewing by Amber Shehan, and is used by permission of the author. She calls it Blueberry Muffin Mead because it contains both cinnamon sticks and vanilla bean to give it that wonderful blueberry muffin taste.
DISCLOSURE: In order for me to pay my blogging expenses, I may receive monetary compensation for my endorsement and/or link to products mentioned on this blog. As an Amazon Associate I earn from qualifying purchases.
And I love that all of the recipes are small-batch – just 1 gallon – making them so much less intimidating than a recipe for 5 gallons of mead or wine. Small-batch also means that less of my time is needed to get a batch started.
Amber begins the book with some very informative information on equipment, and thorough step-by-step instructions for some really tasty-sounding and unique concoctions. You'll find recipes for Rose Petal and Hibiscus Mead, Earl Grey Tea Wine, Dark Ginger Cider, and Mugwort Beer.
If you're a forager, and love wine or beer making, you're going to love this delightful book.
Since blueberry season in our neck of the woods just finished, and wild blueberries are in the freezer, it was easy to decide which recipe from the book I would try first – Blueberry Muffin Mead.
What You'll Need to Get Started Making Honey Mead Wine and Blueberry Mead
You likely already have some of the equipment you'll need to get started making blueberry mead (and other recipes) such as:
a kitchen scale
1.5 gallon stockpot
wooden spoon
funnel
For the most basic mead recipe in the book, you'll also need:
I purchase local maple syrup in 1 gallon glass jugs and re-use those for wine making. The non-toxic sanitizer is important for wine making success. Use the One Step to sanitize all your equipment before beginning.
This very simple mead making kit is inexpensive, and even includes the yeast you'll need to make mead.
For the Blueberry Mead Recipe included in this post, a few more items of equipment are necessary:
Food Recipes Also Included in the Book
Artisanal Small-Batch Brewing even includes several food recipes like Boozy Jellies, Spent-Grain Beer Bread, and Fruit-Scrap Vinegar.
Are you ready to get started making blueberry mead? You're gonna' love it!
Other Posts You'll Love
How to Make Lacto-Fermented Blueberries
Homemade Low-Sugar Elderberry Jelly
Homemade Violet and Dandelion Pink Lemonade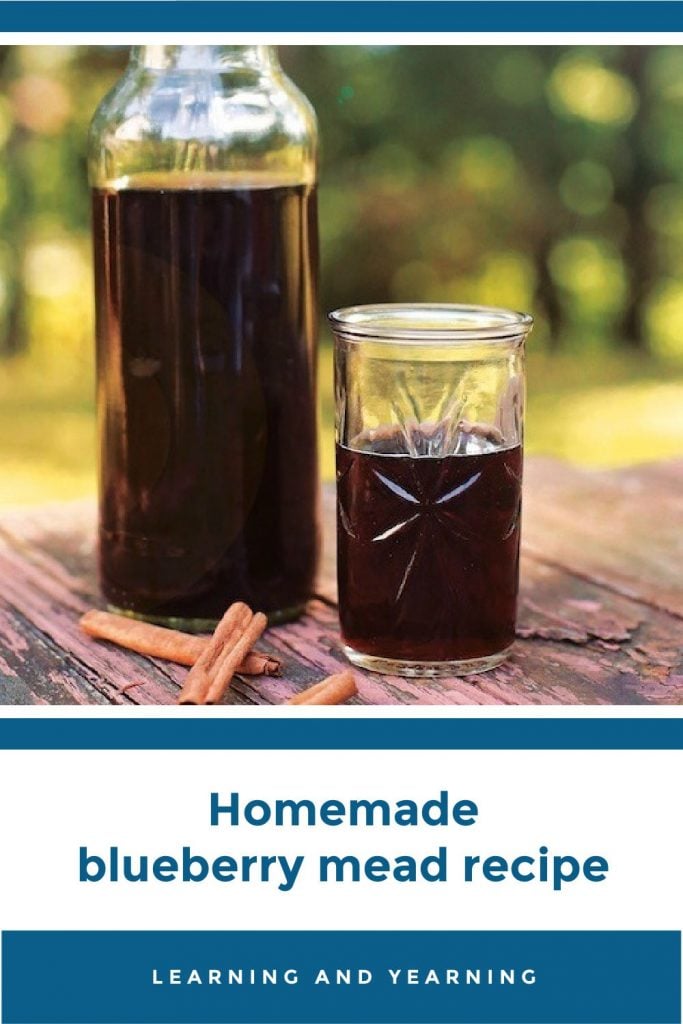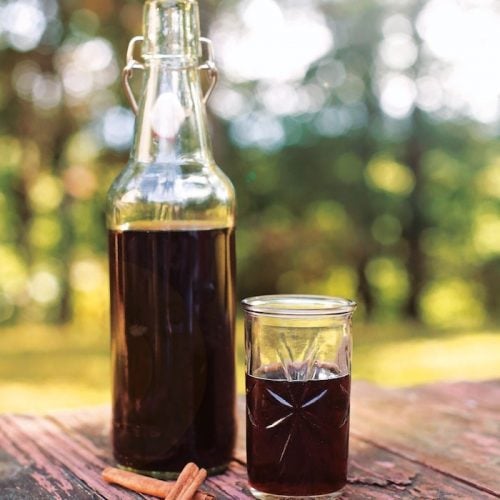 Instructions
Gather your ingredients and sanitize your supplies with the One Step sanitizer.

Heat 2/3 gallon of the water in the stockpot to just about boiling. Remove the pot from the heat. Stir in the honey until completely dissolved, and let it sit for another 10 minutes or so to cool.

Pour the blueberries and raisins into the straining bag, tie the bag closed and put it into the brew bucket. Use your spoon to gently mash the berries and release their juices.

Carefully pour the warm must (water and honey) over the berries in the bucket. Add the remaining 1/3 gallon of water to the bucket and let the must cool.

When the bucket is cool enough to handle, pitch the yeast: first, sprinkle the yeast into the brew bucket and stir it in to add oxygen and mix in the yeast. Put the lid onto the bucket, making sure it is sealed, and then put the airlock in place. Label the bucket with the name of the brew and the date and set it aside somewhere out of direct sunlight until it is finished fermenting.

Give the bucket a swish every day for 3 days. This will give the yeast oxygen and help inhibit mold growth on the floating fruit bag.

Transfer the liquid to the carboy using your siphon. Add the vanilla bean and cinnamon stick. Seal the jug with the bung and airlock. Label your brew with name and date.

Bottle the mead when it has finished fermenting; this will take 3 to 4 weeks. You can tell the brew is done when the bubbles have stopped and the mead has cleared.

Store your mead in a dark, dry location at approximately 70°F.
Notes
This bilbemel (blueberry mead) is delightful as a must, tasty at the time of racking and even better at bottling! Aging further improves this mead. You'll reap a reward if you can stand to leave a bottle to age for a few months.
Recipe and photos reprinted with permission from Artisanal Small-Batch Brewing by Amber Shehan, Page Street Publishing Co. 2019. Photo credit: Jen CK Jacobs.
Thank you for visiting Learning And Yearning. May "the LORD bless you and keep you; the LORD make his face shine upon you and be gracious to you; the LORD turn his face toward you and give you peace." Num 6:24-26