Because there are so many elderberries to be found in the area where my husband works, he is the elderberry forager in the family. He'll stop on the way home and harvest, and then after dinner, he and I will sit on the back porch as the sun sets, listening to tunes and removing berries from the stems. It's a late August date every year. And the next day I set about dehydrating the elderberries for elderberry syrup, or I make low sugar elderberry jelly.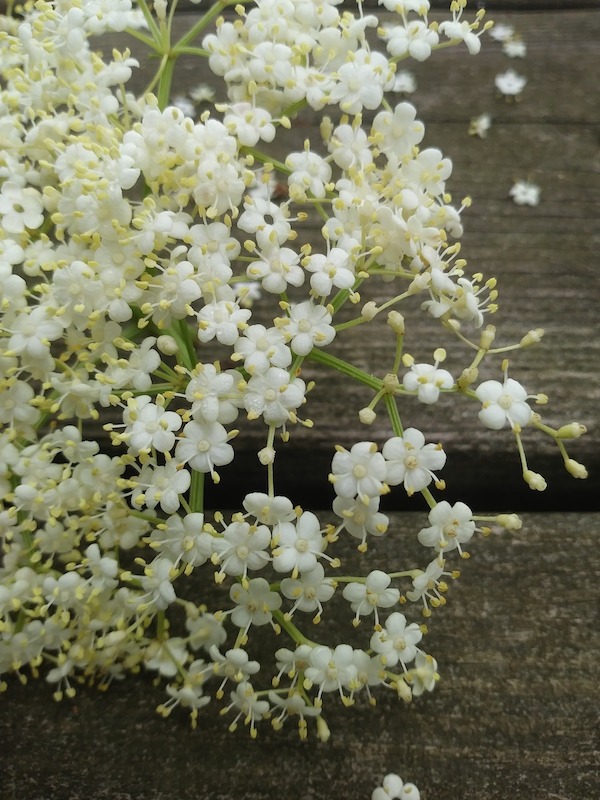 DISCLOSURE: In order for me to pay my blogging expenses, I may receive monetary compensation for my endorsement and/or link to products mentioned on this blog. As an Amazon Associate I earn from qualifying purchases.
In my opinion, elderberry is best for jelly, rather than jam, because the berries are half seed and not particularly pleasant for jam.
The seeds, stems, leaves, and root of the elder plant contain toxic cyanide-inducing glycosides which can cause nausea, diarrhea, or vomiting. You will destroy these toxins by cooking the berries, but some people are sensitive to the seeds even when cooked. I find it best to remove them.
It is true that some people enjoy black elderberries raw, without distress, but cooking the berries is highly recommended.
This post about toxins in elderberries is very helpful.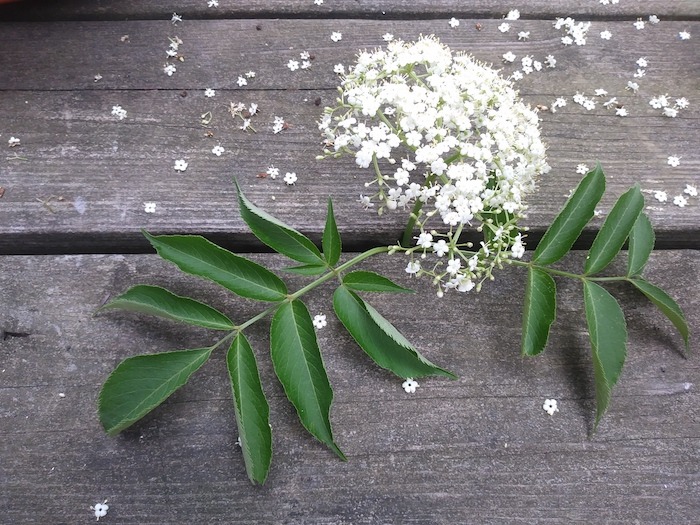 If you're looking for elderberry to forage in your area, the best time of year to spot the bushes is when they are in bloom. Here in the northeast U.S. where the American elderberry grows (Sambucus nigra L. ssp. canadensis), that's generally mid-June.
Their showy, large white flowers are easy to spot along country roads growing in moist, well-drained, fertile soil.
Keep those areas in mind, and when the elderberries are ripe, you'll know just where to harvest.
Benefits of Elderberry
Traditionally, elderberry has been used to strengthen the immune system and to fight flu. Modern science is beginning to prove that elderberry is indeed powerful medicine.
It's hard to ignore the health benefits when studies like this are showing that using elderberries relieved symptoms of the flu four days earlier than those receiving a placebo.
And heating the elderberries not only destroys the toxins, it actually increases the benefits because heating concentrates the anti-oxidant compounds found in the berries. (Source) 
Making Low Sugar Elderberry Jelly
If you haven't yet tried Pomona's Pectin, you don't know what you're missing. You can make all kinds of delicious jams and jellies without all the sugar. Sweeten it to taste with low amounts of any sweetener: sugar, honey, maple syrup, stevia, or even frozen juice concentrate.
I don't use honey in recipes where the honey doesn't remain raw, but maple syrup is wonderful in this jelly and doesn't overpower the elderberry flavor.
More Posts You'll Love
Supercharge Your Homemade Elderberry Syrup
Hedgerow Jelly: A Delicious Mix of Fall Foraged Fruit
How to Use Elderberries to Make a Tincture or a Liqueur 
More Than Weeds
 A Foraging eCourse for Beginners
Are you interested in foraging, but a bit hesitant because you don't trust your own abilities? I created a mini eCourse just for you. In More Than Weeds: 5 Common Plants to Forage for Food and Medicine you'll learn that identifying plants is all in the details.
Using common plants with which you may be somewhat familiar, you'll learn beginner botany skills that you will be able to use as you move forward. You'll gain confidence to use these plants for your family in food and safe, home remedies. Get started now!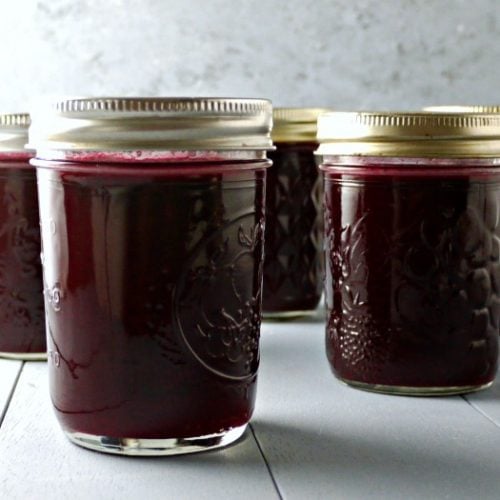 Homemade Low Sugar Elderberry Jelly
Use this common, anti-viral berry to make a delicious low-sugar (or maple syrup sweetened) jelly!
Print
Pin
Rate
Instructions
Place your cleaned elderberries into a stock pot and add enough water to almost cover the berries.

Bring to a boil and then lower heat to simmer for 20 - 30 minutes.

Strain berries through a juice strainer or jelly bag for 30 - 60 minutes.

Measure your juice. You will need 4 cups for this recipe (you can double the recipe if desired). Add water if needed to get 4 full cups.

Combine the elderberry juice and lemon or lime juice in your cleaned stock pot.

The package of Pomona's Pectin contains 2 smaller packages. One is pectin powder and the other is calcium powder. Put 1/2 teaspoon calcium powder and 1/2 cup water in a small jar with lid. Shake well. (Any leftover calcium water will last for several months in the refrigerator, or may be frozen indefinitely).

Stir 4 teaspoons of the calcium water into the elderberry juice and stir well.

In a separate bowl, combine sugar and 4 teaspoons of the pectin powder. Mix thoroughly.

Bring the elderberry mixture to a full boil. Add the sugar-pectin mixture. Stir constantly for 2 minutes to dissolve the sugar and pectin. Return to a full boil.

Ladle the jell into clean, hot, 8 ounce canning jars to 1/4" of top. Wipe rims of jar clean and screw on 2-piece canning lids. Process in a hot water bath for 10 minutes.
Thank you for visiting Learning And Yearning. May "the LORD bless you and keep you; the LORD make his face shine upon you and be gracious to you; the LORD turn his face toward you and give you peace." Num 6:24-26