I was thrilled to be able to get a great buy on a bushel of Gala apples from a local orchard because the apples were a little small. One can only eat so many pies, so I decided to use some of the apples to make some raw apple cider vinegar.
Raw Apple Cider Vinegar
Ok, that's completely false. There is no such thing as too much pie. But, I use a lot of raw apple cider vinegar, so I sacrificed my need of pie for some homemade raw apple cider vinegar.
DISCLOSURE: In order for me to pay my blogging expenses, I may receive monetary compensation for my endorsement and/or link to products mentioned on this blog. I am a participant in the Amazon Services LLC Associates Program, an affiliate advertising program designed to provide a means to earn fees by linking to Amazon.com and affiliated sites.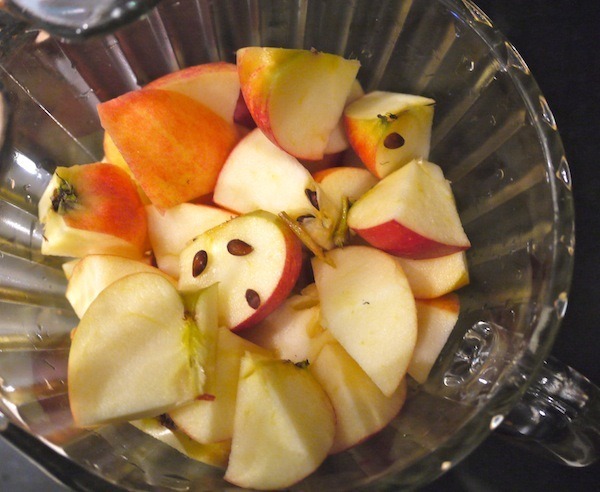 Have you tried making your own raw apple cider vinegar? How did it turn out?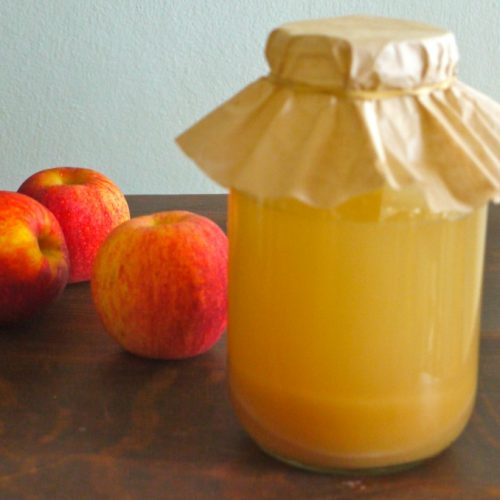 Ingredients
6

organic sweet apples

2

tablespoons

raw apple cider vinegar with the mother

2

tablespoons

raw honey

water

chlorine-free

1

2-quart sized

wide mouth glass jar

1

cheesecloth or coffee filter
Instructions
Cut 6 apples into about 12 pieces each, and place them in a 2-quart wide mouth glass jar.

Add the raw honey, and the raw apple cider vinegar. Be sure to use a brand which contains the mother.

Cover the apples with chlorine-free water, and cover the jar with cheesecloth, or a coffee filter. A rubber band will help to hold the cover in place.

Now place this in a warm place for 2 weeks. The top of the refrigerator is generally a good place since the refrigerator throws heat.

After 2 weeks, strain the liquid from the container into a glass canning jar. There should be almost a quart of liquid.

Compost the apple solids, or feed to your chickens.

Cover the jar again with the cheesecloth or coffee filter, and return to a warm spot.

Check the liquid about once a week by tasting a small amount. You'll know when it's vinegar.

A SCOBY may form on the top, which is great. You may use the SCOBY to make a new batch of vinegar.

Stop the fermentation by covering your jar with a lid and placing it in the refrigerator.
Thank you for visiting Learning And Yearning. May "the LORD bless you and keep you; the LORD make his face shine upon you and be gracious to you; the LORD turn his face toward you and give you peace." Num 6:24-26