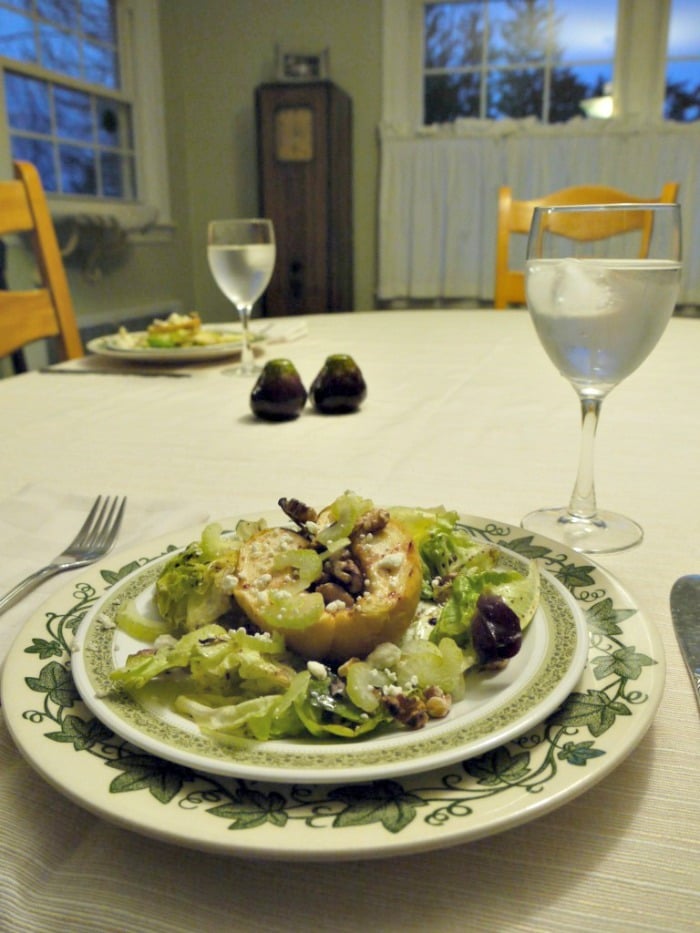 Salads are a main stay in our home, but sometimes in the winter we want more comfort food. I have been mulling over an idea to add baked apples to our salad. I just love the combination of warm/cold in a salad. Tonight I finally decided how I wanted to do this and Mike and I both really enjoyed the result:
DISCLOSURE: In order for me to pay my blogging expenses, I may receive monetary compensation for my endorsement and/or link to products mentioned on this blog. I am a participant in the Amazon Services LLC Associates Program, an affiliate advertising program designed to provide a means to earn fees by linking to Amazon.com and affiliated sites.
Ingredients:
2 baking apples (I used yellow delicious)
1 1/2 T melted coconut oil
1 T honey or maple syrup
1/2 t cinnamon
2 cups butter lettuce (Boston Bibb, which I think is the tenderest lettuce)
1 T raspberry balsamic vinegar
2 T olive oil
sea salt and pepper to taste
1 stalk of celery, very thinly sliced
1/4 – 1/2 cup of feta, blue, or gorgonzola cheese (this is optional, or if you prefer a milder cheese, cheddar is great with apples)
1/2 cup of nuts, preferably soaked and dried* (I used walnuts)
Preheat your oven to 475 degrees. Cut the un-peeled apples in half and core them. Place in a baking dish and put 1/2 t of melted coconut oil into each apple. Rub the oil around the entire apple. Smear a small amount of honey or maple syrup on the top of each apple half and sprinkle with cinnamon. Bake for 30 minutes until tender but still firm. Allow to cool until warm. Toss the lettuce with 1 T raspberry balsamic vinegar, 2 T olive oil, sea salt, and pepper to taste. Divide the lettuce among four plates. Place one apple half on each plate. Sprinkle each with 1/4 of the cheese, 1/4 of the thinly sliced celery, and 1/4 of the toasted nuts. Drizzle any drippings from the baking pan over the apples. Now sit down, say grace, and enjoy!!
*For easier digestion and fantastic flavor soak and dry the nuts ahead of time. Place 2 cups of nuts in a bowl. Add 1 t of sea salt and cover the nuts with water. Stir to dissolve the salt. Allow to sit for 6 – 8 hours. Drain and dehydrate in a dehydrator or in your oven at just under 150 degrees for 8 – 12 hours, or until completely dry and crisp.
Thank you for visiting Learning And Yearning. May "the LORD bless you and keep you; the LORD make his face shine upon you and be gracious to you; the LORD turn his face toward you and give you peace." Num 6:24-26