Why Raw Honey?
You know how it works. Honey bees gather nectar and carry it in their honey sacs back to the hive where it is stored.
Keeping honey unheated and unpasteurized helps to assure that the beneficial enzymes and other heat sensitive nutrients are kept intact.
The term "raw honey" does not have a legal definition; because of that, different beekeepers have different definitions as to what constitutes raw honey. To remove honey from the comb, it is extracted or strained. Warming the honey slightly may help the process. You'll find information that states that honey can be warmed anywhere from 95°F (normal hive temperature) to 118°F and still remain raw. If you'd like to look further into this, I found this article helpful.
DISCLOSURE: In order for me to pay my blogging expenses, I may receive monetary compensation for my endorsement and/or link to products mentioned on this blog. I am a participant in the Amazon Services LLC Associates Program, an affiliate advertising program designed to provide a means to earn fees by linking to Amazon.com and affiliated sites.
Suffice it to say less is better when it comes to honey and heat. Ask your beekeeper about their practices. And while you're talking to them, ask if they use antibiotics; it's becoming more and more common.
Recipes That Use Raw Honey
I was going to an event recently where a beekeeper was speaking and I was asked to bring a dish to share that used raw honey. Here are some ideas I came up with. I ended up making Ants on a Honeyed Log. So yummy!
Salads
Real Food Copper Penny Carrots from LearningAndYearning
Ants and Ladybugs on a Honeyed Log from Bee Raw
Dressings and Condiments
Honey Mustard Salad Dressing With Probiotics from LearningAndYearning
Homemade Probiotic Honey Mustard from LearningAndYearning
Make Your Own Apple Cider Vinegar from LearningAndYearning
Paleo Honey Dijon Dressing from Pure Traditions
Strawberry Salad Dressing from Homestead Lady
Beverages
Pine Needle and Raspberry Fermented Soda from LearningAndYearning
Fruit Punch With Hibiscus from Prepare and Nourish
Wildflower Mead from Grow Forage Cook Ferment (with this recipe, I recommend adding the honey at a cooler temperature than the author suggests).
Rhubarb and Honey Soda from And Here We Are
Desserts
Two Ingredient Real Food Frosting from LearningAndYearning
Healthy Apple Dip from Schneiderpeeps
Basil Lemon Walnut Cookies from Almost Bananas
Mixed Halva Treats from Almost Bananas
Nuts and Honey from Almost Bananas
Honey Sweetened No-Bake Chocolate Peanut Butter Bars from Common Sense Homesteading
Infused Honey
Rose Honey from Joybilee Farm
Make Your Own Vanilla Honey from Homestead Lady
Elderberry Infused Honey from LearningAndYearning
Rose Petal Honey from Holistic Health Herbalist
Medicinals
Supercharge Your Elderberry Syrup from LearningAndYearning
Sage and Honey Cough Syrup from And Here We Are
Making Elderberry Winter Tonic from And Here We Are
Sweet Lemon Honey and Thyme Cough Syrup from Reformation Acres
What are your favorite recipes that use raw honey?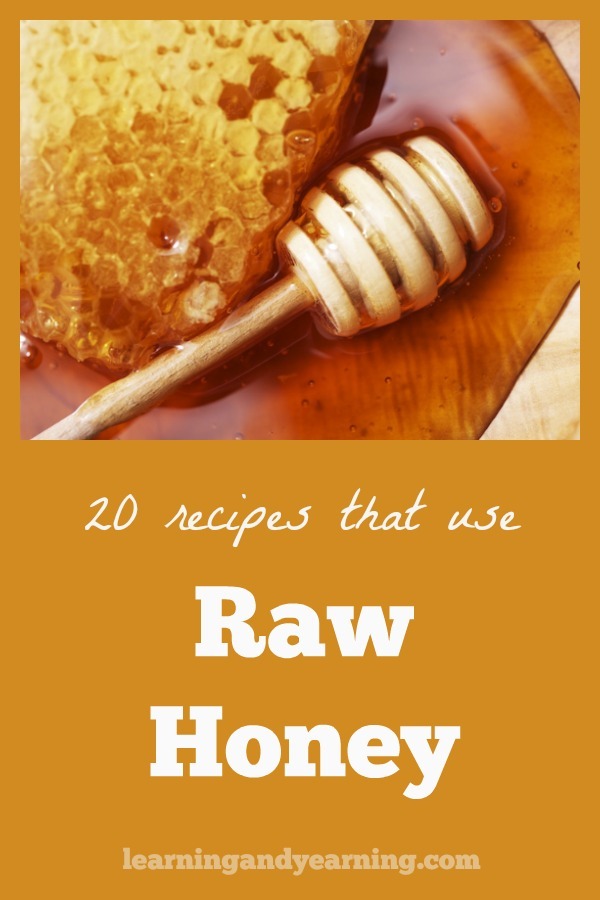 Thank you for visiting Learning And Yearning. May "the LORD bless you and keep you; the LORD make his face shine upon you and be gracious to you; the LORD turn his face toward you and give you peace." Num 6:24-26