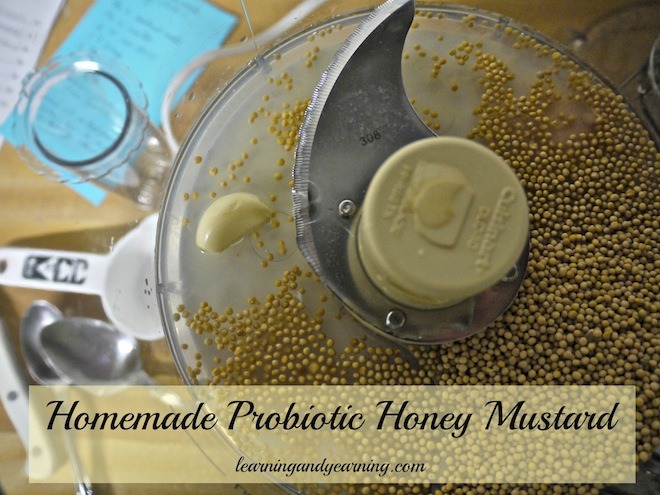 Homemade mustard is super easy to make and so much better than store-bought. Add a little whey and a few days on your countertop and you have a probiotic packed condiment, and you know how great that is for you. This recipe is based on one from Simply Salads, by Season eBook by Kristen Michaelis, which I reviewed in a previous post. It's a great first recipe to make from the book since it's also an ingredient in many of the other recipes for dressings included in the book, including the Blue Cheese Dressing, and the Pear Vinaigrette.
Homemade Probiotic Honey Mustard
1/2 cup whole yellow mustard seeds (where to buy)
 1/2 cup water
 2 Tbsp. raw apple cider vinegar (where to buy)
 1 Tbsp. raw honey (where to buy)
 2 Tbsp. probiotic whey (the liquid drained off living yogurt or kefir)
 1 tsp. sea salt (where to buy)
 1 lemon, juiced
 1 clove garlic
Combine the mustard seed and water in a small bowl. Cover and let sit for a few hours to hydrate the seeds. Then place the seeds, and all the other ingredients in your food processor and blend until smooth.  Transfer to a small, pint sized jar and close the lid tightly.  Leave on your counter for two to three days to ferment, then transfer to the refrigerator to use as needed.
DISCLOSURE: In order for me to pay my blogging expenses, I may receive monetary compensation for my endorsement and/or link to products mentioned on this blog. I am a participant in the Amazon Services LLC Associates Program, an affiliate advertising program designed to provide a means to earn fees by linking to Amazon.com and affiliated sites.
Simply Salads, by Season eBook has 99 pages of salad recipes, with 28 dressing and condiment recipes. It is available here for $17.95.