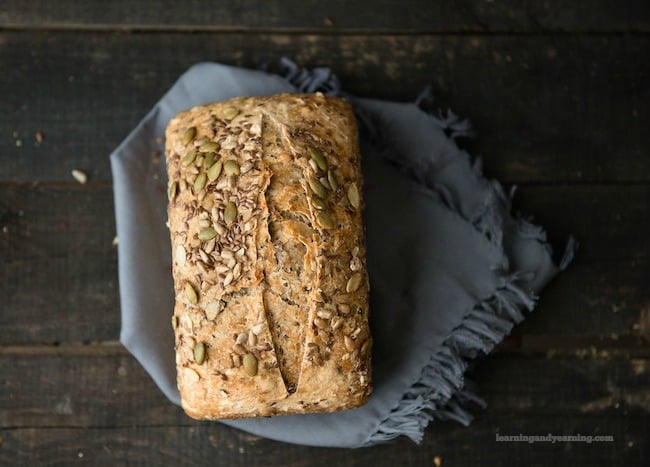 The Benefits of Sourdough
Why sourdough is healthier, more digestible and more affordable than traditional yeast bread.
Sourdough…chances are you've either tried sourdough bread yourself, or you know someone who bakes with it. But are you familiar with the benefits of baking with sourdough?
DISCLOSURE: In order for me to pay my blogging expenses, I may receive monetary compensation for my endorsement and/or link to products mentioned on this blog. As an Amazon Associate I earn from qualifying purchases.
Sourdough recipes are more digestible, healthier and much less expensive than their commercial yeast counterparts.
If you enjoy bread, tortillas, muffins, cakes, bagels, English muffins, pizza (and more) you'll love baking with sourdough. It's versatile, nutritious, uses very few ingredients and is relatively fool-proof.
Why Sourdough? Six Benefits of Baking with Sourdough
Sourdough contains more nutrients
Flours, especially whole-grain flours, contain simple sugars which can be hard for our body to process (especially if we have any insulin issues/sensitivities).
But when those flours are soaked (also called souring or fermenting) for a long period of time, these sugars are consumed, making the bread easier on blood sugar levels. The long fermentation time also increases nutrients, especially B vitamins, in the bread.
Sourdough is easier to digest
Sourdough contains bacteria that activate an enzyme called phytase. Phytase is responsible for breaking down phytic acid, an anti-nutrient that's present in all grains and seeds to help protect them from nature.
Phytic acid can be difficult on our digestive tract as it binds with minerals in our body during digestion, robbing us of essential nutrients. By baking with sourdough, utilizing the long fermenting time, our body can digest the food much easier, retaining essential minerals. (Source)
Sourdough breaks down gluten
If you're used to buying gluten-free bread (or not eating bread at all) there's a good chance you'll be able to eat sourdough bread (and other sourdough goodies). Gluten is a protein found in many flours and can be difficult for many to digest.
Because of the long fermenting time of sourdough, these proteins are broken down into amino acids, making them easier to digest. Please note this will not be the case for those with true gluten ALLERGIES, only for those with gluten-intolerances or sensitivities. (Source)
Wild yeast is easier to digest than commercial yeast
A sourdough culture is produced when flour and water are mixed together and left at room temperature to "catch the wild yeasts of the air". Unlike commercial yeast we buy at the grocery store, these wild yeasts are present in the air around us.
Eventually these yeasts make their way into your flour/water mixture and feed off the flour. They will then proliferate and double in size. It's these yeasts that cause the bubbles in the starter and ultimately, cause your bread or baked good to rise. Because these yeasts are already in the air we breathe, our bodies are used to them and have no issues digesting them.
Sourdough has a longer shelf-life
Sourdough produces lactic-acid during the long fermentation time (this is where sourdough gets its recognizable "tang") and predigests the grain for you. The benefit of this acetic-acid is that it inhibits the growth of molds, yielding a longer shelf-life for your bread or sourdough goodies.
Fewer ingredients & saves money
It's no secret that baking your own bread can save you money. But with sourdough bread, you can bake a loaf with only three ingredients: flour, water and salt. Instead of needing to buy yeast and eggs for each loaf, or other necessary ingredients, you'll have what you need with just a couple inexpensive items.
In fact, after tallying up the savings, I realized my family of 6 was saving over $800 a year just for bread alone. We then started bartering freshly baked bread for farm fresh eggs and I calculated our savings at nearly $1500 in one year!
Book Recommendations for Getting Started with Sourdough
Have I convinced you to give sourdough a try? Then you might be wondering just how to get started! There are a few ways to begin, but it's my strongest suggestion to learn the basics of baking with sourdough before jumping in and baking your first loaf of bread.
There are a few key differences between sourdough and commercial yeast breads that you'll want to be aware of.
Here are two books I recommend to get you started:
Crust and Crumb by Peter Reinhart
Artisan Sourdough Made Simple by Emilie Raffa
Sourdough is definitely an adventure…enjoy the journey!
More Posts You'll Enjoy
Sourdough Honey Buns from Butter for All
Cinnamon Sourdough Buns from Butter for All
Thank you for visiting Learning And Yearning. May "the LORD bless you and keep you; the LORD make his face shine upon you and be gracious to you; the LORD turn his face toward you and give you peace." Num 6:24-26