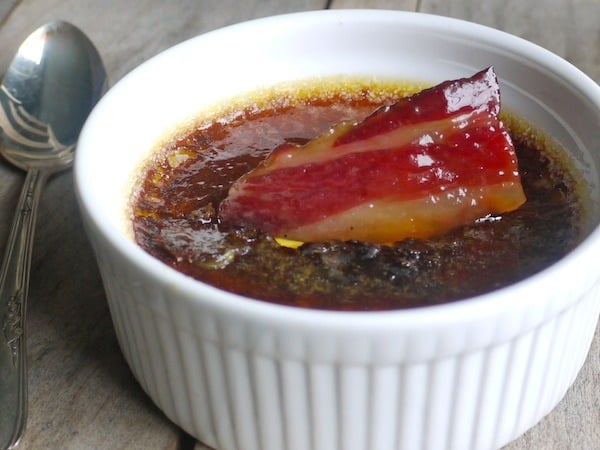 I absolutely love crème brûlée 'cause, you know . . . cream.
And we have a source for the richest, thickest raw cream I've ever seen. It makes the best ice cream, quiche, and crème brûlée.
DISCLOSURE: In order for me to pay my blogging expenses, I may receive monetary compensation for my endorsement and/or link to products mentioned on this blog. As an Amazon Associate I earn from qualifying purchases.
A few months ago, I visited a friend for the weekend, and we went to a great new farm-to-table restaurant in her area. Honestly, I don't remember what I ordered. But guys, they were serving crème brûlée with candied bacon for dessert. I didn't wait to hear what else was on the menu.
And, of course, I set out to make it for myself when I got home, and have made it every time we've had company since. And then some.
Crème brûlée means 'burnt cream' and is a glorious custard topped with caramelized sugar. Oh gosh, there is nothing better than cracking that layer of hard sugar and digging into the creamy layer below.
Top it with a crisp piece of bacon that has been candied with maple or hickory bark syrup and you'll think you died and went to heaven. For real.
Crème Brûlée with Candied Bacon
Print recipe
Ingredients
2 pieces bacon
1 tablespoon maple or hickory bark syrup
2 cups heavy cream
2 egg yokes
2 eggs
1/4 cup organic cane sugar
1/8 teaspoon sea salt
1/2 teaspoon pure vanilla extract
4 teaspoons organic cane sugar
Directions
| | |
| --- | --- |
| 1. | Preheat oven to 300° F. Heat the cream over medium-low heat until steaming, but not boiling, stirring frequently. |
| 2. | Mix the egg yolks, eggs, 1/4 cup sugar, sea salt and vanilla extract with a beater or immersion blender. |
| 3. | Very slowly add the hot cream, beating constantly. |
| 4. | Pour the mixture into 4 - 8 oz. ramekins. |
| 5. | Place the ramekins into a baking dish which contains an inch or so of water. Place in preheated oven and bake for 25 - 30 minutes until set. |
| 6. | Allow to cool, and then refrigerate. |
| 7. | In the meantime, turn your oven up to 350°. |
| 8. | Cut 2 strips of bacon in half and place on a small baking dish. |
| 9. | Cover the bacon with 1 Tablespoon of maple or hickory bark syrup. |
| 10. | Bake until crisp, 15 - 20 minutes. |
| 11. | Just before serving, preheat your broiler. |
| 12. | Sprinkle each ramekin with 1 teaspoon of sugar, shaking to evenly distribute. |
| 13. | Place under the broiler until the sugar melts and turns golden brown. Watch carefully; each ramekin will brown at different times. You will need to move your broiler pan around and remove ramekins as they brown. |
| 14. | Garnish each ramekin with a piece of candied bacon and serve. |
Thank you for visiting Learning And Yearning. May "the LORD bless you and keep you; the LORD make his face shine upon you and be gracious to you; the LORD turn his face toward you and give you peace." Num 6:24-26