Have you ever tasted real, homemade teaberry ice cream? When I was a child, we discovered a wonderful ice cream shop near the cottage where we spent our summers. It was in the front room of a home on a country road, and while they didn't carry a lot of varieties, the ice cream was all homemade.
That's where I had my first taste of teaberry ice cream.
DISCLOSURE: In order for me to pay my blogging expenses, I may receive monetary compensation for my endorsement and/or link to products mentioned on this blog. I am a participant in the Amazon Services LLC Associates Program, an affiliate advertising program designed to provide a means to earn fees by linking to Amazon.com and affiliated sites.
My entire adult life I have been looking for that ice cream. Time after time I would order teaberry ice cream when I saw it on the menu, and time after time I would be disappointed.
The ice cream was always colored a fake pink, and the taste was always disappointing.
Teaberry, also known as wintergreen, is super abundant on the mountain where our family cottage is located. Several years ago, I had a revelation.
I could make my own wintergreen extract and then make my own homemade teaberry ice cream.
Guys. This was the teaberry ice cream for which I searched for 40 some years!
Making Homemade Teaberry Ice Cream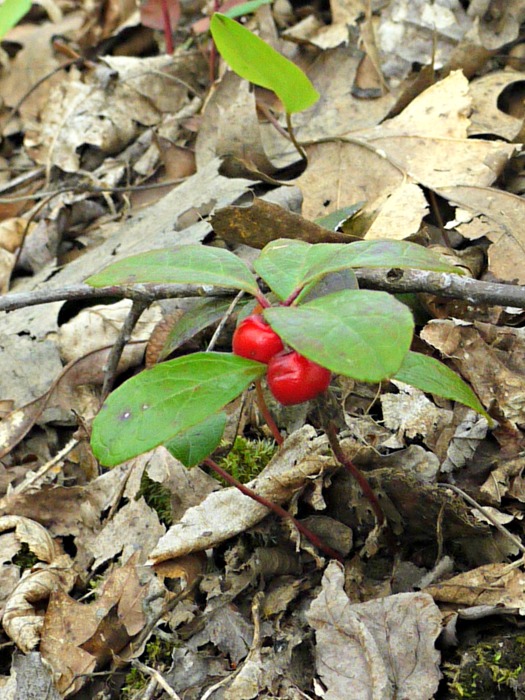 As my experience with trying to find good teaberry ice cream illustrates, ice cream will only be as good as its ingredients. I prefer using raw cream and milk from a good source. This way, my ice cream contains enzymes which help me to digest it. But, yes, the recipe will work with pasteurized dairy.
To be sure the taste of the teaberry extract comes through, white sugar is best. While I love using coconut sugar, honey, and maple sugar in recipes, each of these have a strong taste which will overpower the teaberry flavor.
And be sure to purchase organic cane sugar – if it's not organic, it is genetically modified.
A good tip to keep homemade ice cream from freezing rock solid is to add some vodka to the recipe. You won't need to do that here, since you are using several tablespoons of the extract, which already contains vodka.
Homemade Teaberry Extract is the Secret to Fantastic Homemade Teaberry Ice Cream
The secret to this recipe is making your own teaberry extract. I know what you're thinking. You want to make homemade teaberry ice cream, but you don't want to go through the bother or the wait of making wintergreen (teaberry) extract.
The reason that none of the ice cream I found tasted right to me was that it is virtually impossible to find teaberry extract commercially that does not contain at least some artificial ingredients.
That's why the label almost always says 'Teaberry Flavor', or 'Teaberry Extract Flavor'. Those that do use all natural flavors are not all wintergreen but add other flavors to the mix.
To make ice cream, you'll need an ice cream maker, of course. This is the ice cream maker I use. There are more expensive models on the market, but this works well.
So, are you ready to make the best ice cream you've ever tasted? Start with foraging and making teaberry extract!
More Than Weeds
A Foraging eCourse for Beginners
Are you interested in foraging, but a bit hesitant because you don't trust your own abilities? I created a mini eCourse just for you. In More Than Weeds: 5 Common Plants to Forage for Food and Medicine you'll learn that identifying plants is all in the details.
Using common plants with which may be someone familiar you'll learn beginner botany skills that you will be able to use as you move forward. You'll gain confidence to use these plants for your family in food and safe, home remedies. Get started now!
Homemade Teaberry Ice Cream
Print recipe
Ingredients
4 cups heavy cream or 2 cups heavy cream and 2 cups whole milk (preferably raw)
1/2 cup organic cane sugar
pinch sea salt
4 tablespoons wintergreen (teaberry) extract
Note
Learn to make your own wintergreen (teaberry) extract here.
Directions
| | |
| --- | --- |
| 1. | Make sure that your cream and milk, if using, are very cold. |
| 2. | Mix all ingredients together. |
| 3. | Stir thoroughly, until the sugar is dissolved. Work quickly so that the cream mixture remains cold. |
| 4. | Pour into an ice cream maker, and churn according to manufacturer's instructions for 20 - 25 minutes. |
Other Yummy Ice Cream Recipes
Spruce Tip Ice Cream: A Foraged Treat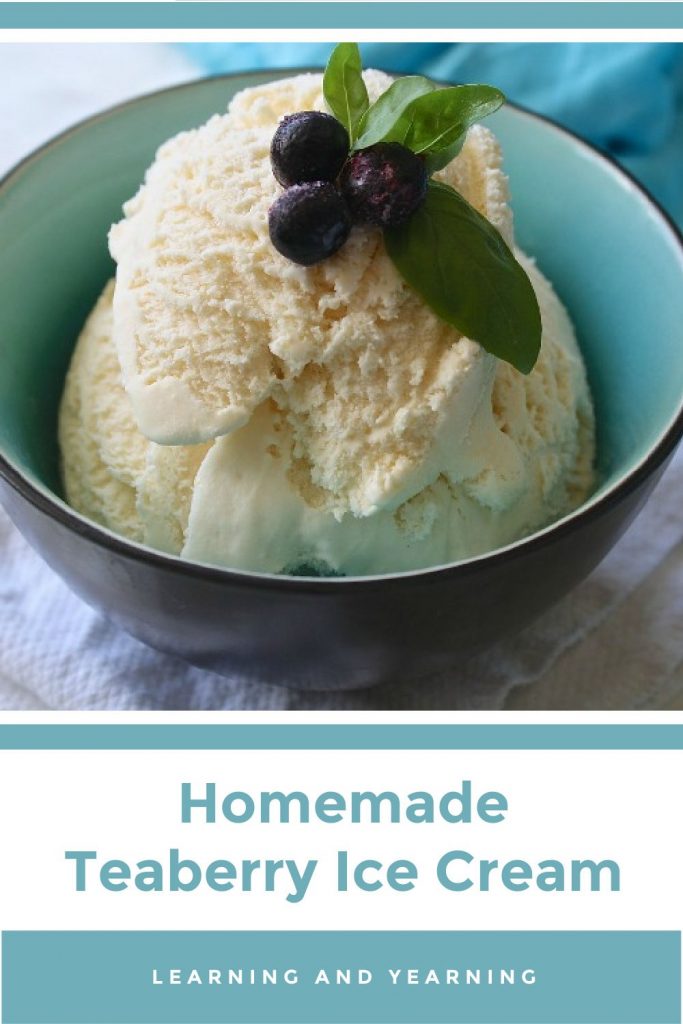 Thank you for visiting Learning And Yearning. May "the LORD bless you and keep you; the LORD make his face shine upon you and be gracious to you; the LORD turn his face toward you and give you peace." Num 6:24-26