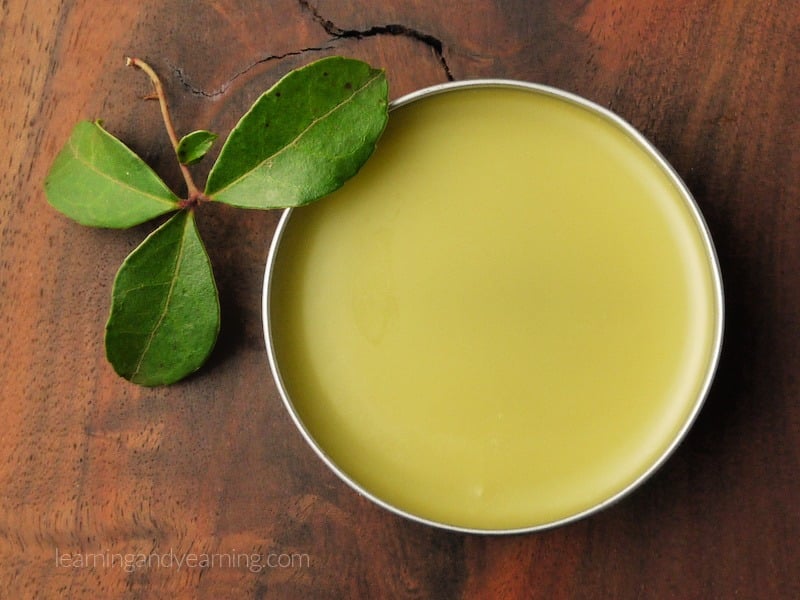 It's no secret that wintergreen (teaberry) is one of my favorite plants ever. I use it often to make wintergreen extract, which I then use to make the most amazing homemade teaberry ice cream. This year, I've infused the leaves into oil to make wintergreen oil salve.
Wintergreen has analgesic and anti-inflammatory properties. Although no clinical data is available, American Indians reportedly used wintergreen for treating back pain, headaches, and other aches and pains.
DISCLOSURE: In order for me to pay my blogging expenses, I may receive monetary compensation for my endorsement and/or link to products mentioned on this blog. As an Amazon Associate I earn from qualifying purchases.
And wintergreen has also been used in folk medicine to treat sore muscles, arthritis, nerve pain, and menstrual cramps.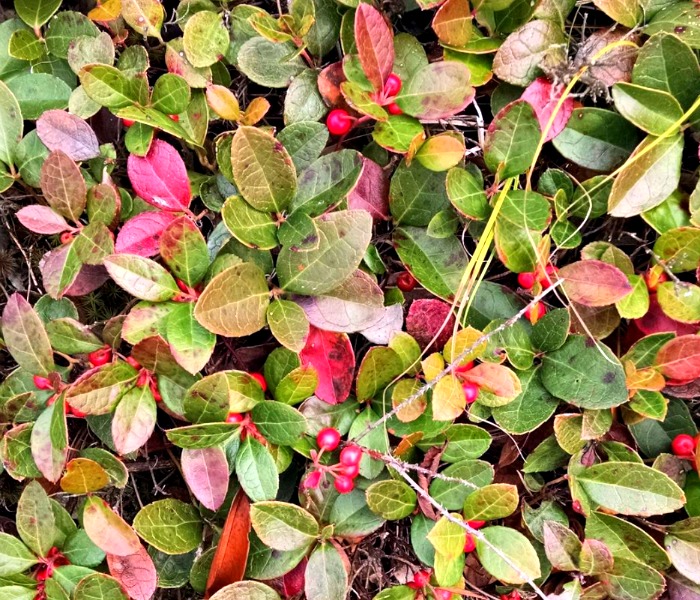 Foraging Wintergreen
Wintergreen is one of the few plants that, unless there is deep snow, I can forage year-round.
American wintergreen (Gaultheria procumbens) is a low-growing perennial evergreen, and is easy to forage. Also known as teaberry, it can be found in most of the eastern half of the U.S. and Canada. A range map may be found here.
Wintergreen prefers mountainous woodlands with dappled sunlight, and tends to grow among other plants of the Heath (or Ericacea) family (like blueberry, mountain laurel, and cranberry).
The leaves are oval and shiny and are generally about 2″ long. It often forms a thick carpet in acidic soil.
A red berry is formed at the base of its leaves in late summer; the berry will stay on the plant right into early winter. You'll get the lovely taste of teaberry when you bite into a berry, but the texture is waxy and dry; I prefer not to swallow.
The young leaves of mountain laurel can often resemble wintergreen, but use caution as mountain laurel is toxic.
Crushing the leaf is the surest way to positively identify wintergreen. If crushing it doesn't produce a minty, wintergreen aroma, it's not wintergreen.
In my area, wintergreen can be quite abundant. I know areas where I could harvest leaves for hours and still have plenty left. That's not always the case, however, and the amount you harvest should always take this into consideration. Learn more about the ethics of foraging here.
Where we harvest, the wintergreen rarely sees more than dappled sunlight, and therefore does not produce a lot of berries. While wintergreen does prefer shadier areas, it will also grow in full sun, and those are the areas where you will find more of the berries. The leaves will often be red in color.
If Wintergreen is not available in your area, you may find it here.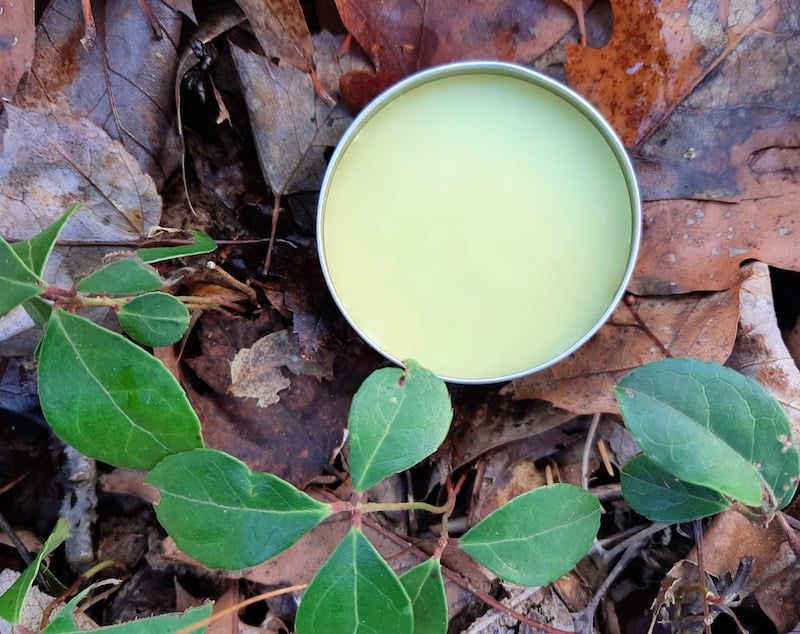 Wintergreen Oil Salve
The salve I make is simply chopped and dried wintergreen leaves, olive oil, and beeswax. Sunflower or sweet almond oil may used as well, and wintergreen essential oil may be added to boost the pain relieving properties.
The ingredients are gently heated together until the beeswax melts. I use a simple homemade double boiler to be certain I'm keeping my infusion away from the heat.
The active ingredient in wintergreen, methyl salicylate, is closely related to aspirin and has similar properties; products containing wintergreen oil are often used as a topical pain reliever.
Cautions – Not Recommended For
children – the essential oil especially can be dangerous to children
pregnant or nursing women
those allergic to aspirin
More Posts You'll Love
How to Make Wintergreen Extract
How Make a Simple Double Boiler for Herbal Concoctions
How to Forage and Make Dock Seed Flour
Roasted Dandelion Root Coffee Ice Cream
Homemade Root Beer Syrup for Fermented Soda
More Than Weeds
A Foraging eCourse for Beginners
Are you interested in foraging, but a bit hesitant because you don't trust your own abilities? I created a mini eCourse just for you. In More Than Weeds: 5 Common Plants to Forage for Food and Medicine you'll learn that identifying plants is all in the details.
Using common plants with which you may be somewhat familiar, you'll learn beginner botany skills that you'll be able to use as you move forward. You'll gain confidence to use these plants for your family in food and safe, home remedies. Get started now!
Wild Foraged Wintergreen Oil Salve
Use this homemade topic salve to ease your aches and pains.
Print
Rate
Instructions
Chop wintergreen leaves into halves or quarters.

Allow the leaves to sit at room temperature on a paper towel for several days to dry.

Place the dried wintergreen leaves in a 1 cup jar with lid.

Pour oil over the leaves. Add a little more oil if leaves are not completely covered.

Place lid on jar, and mark ingredients and date on the jar.

Place in a dark place for 3 - 6 months.

If desired, for a stronger salve, strain leaves after 3 months and add a new batch of chopped and dried wintergreen leaves. Infuse another 3 months.

After 3 - 6 months, strain leaves from oil.

Measure your oil in a heat proof measuring cup or mason jar. Add more olive (or other) oil to equal 1/2 cup.

Place 3 canning jar rings in the bottom of a sauce pan. Add water to cover the metal rings, plus another inch or so.

Place the jar of olive oil on top of the rings in the pot. Add beeswax to the jar.

Heat gently until the beeswax is melted, stirring occasionally. Remove from heat.

Add wintergreen essential oil, if using. Stir thoroughly.

Pour into salve container(s). Allow to cool.

Apply to joints or muscles as needed for pain relief.
Thank you for visiting Learning And Yearning. May "the LORD bless you and keep you; the LORD make his face shine upon you and be gracious to you; the LORD turn his face toward you and give you peace." Num 6:24-26