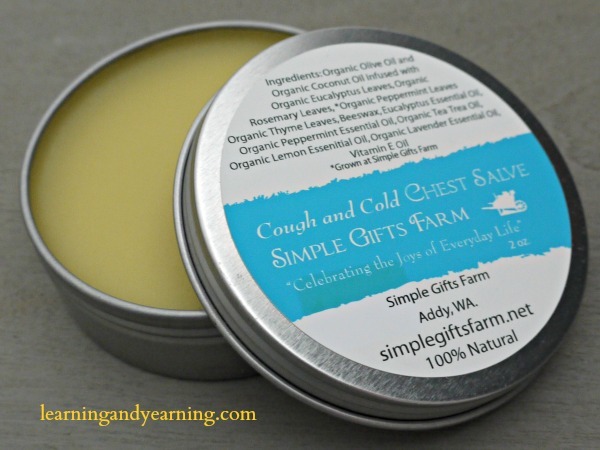 When I was a kid, my mom didn't rush us to the doctor every time we got a cold. Colds were something you just had to get through.
And we didn't have a medicine cabinet full of over-the-counter relief for coughs and colds, either. We had vapor rub. That and cup of hot tea gave us the relief we needed.
DISCLOSURE: In order for me to pay my blogging expenses, I may receive monetary compensation for my endorsement and/or link to products mentioned on this blog. I am a participant in the Amazon Services LLC Associates Program, an affiliate advertising program designed to provide a means to earn fees by linking to Amazon.com and affiliated sites.
Does it seem to you that our approach to common ailments has become a bit complicated? Have you taken a good look at the cough and cold remedy aisle in your local pharmacy lately?
That little blue jar of mentholated salve was all we needed back then. Some of the ingredients are not what I prefer to use these days, but the same relief can be found in a salve you can make yourself.
Don't know where to purchase some of the ingredients? All of them may be found at Starwest Botanicals or Frontier, two companies I trust for quality herbs. Find organic essential oils here, and beeswax here.
And if you like the idea of simple, safe ingredients, but would rather not make it yourself, Celeste from Simple Gifts Farm will make it for you! How's that for simple relief?
Simple Gifts Farm is a certified organic vegetable farm in Washington state, and during the winter they create their own natural body care products. Cough and Cold Chest Salve, Baby Balm, Gardener's Hand Salve, and more!
Be sure to also visit my post Natural Home Remedies for Your Medicine Cabinet.
Cough and Cold Chest Salve
Print recipe
Ingredients
Phase 1
1 tablespoon dried thyme
1 tablespoon dried rosemary
2 tablespoons dried eucalyptus
2 1/2 tablespoons dried peppermint
organic olive oil
Phase 2
2oz herbal infused oil from Phase 1 (by weight)
.33oz beeswax (by weight)
2 drops vitamin E oil
6 drops eucalyptus essential oil
4 drops peppermint essential oil
4 drops spearmint essential oil
2 drops lemon essential oil
2 drops lavender essential oil
2 drops tea tree essential oil
Note
Recommended for ages 10 and up.
Directions
Phase 1
1.
Place the herbs in a quart jar.
2.
Add enough organic olive oil to completely cover the herbs.
3.
Let herbs infuse in oil for 3-4 weeks. This is the preferred method but for a faster infusion, gently heat your oil and herbs by placing jar into a pot of water and heating on the stove.
4.
After oil is infused strain out herbs using a strainer lined with muslin. Squeeze out as much oil as you can.
Phase 2
5.
Heat infused oil and beeswax together in a double boiler until wax is melted. Remove from heat.
6.
Add vitamin E oil and essential oils. Stir.
7.
Pour into a small jar and allow to cool. This makes approximately 2 oz. of cough and cold chest salve.
Thank you for visiting Learning And Yearning. May "the LORD bless you and keep you; the LORD make his face shine upon you and be gracious to you; the LORD turn his face toward you and give you peace." Num 6:24-26