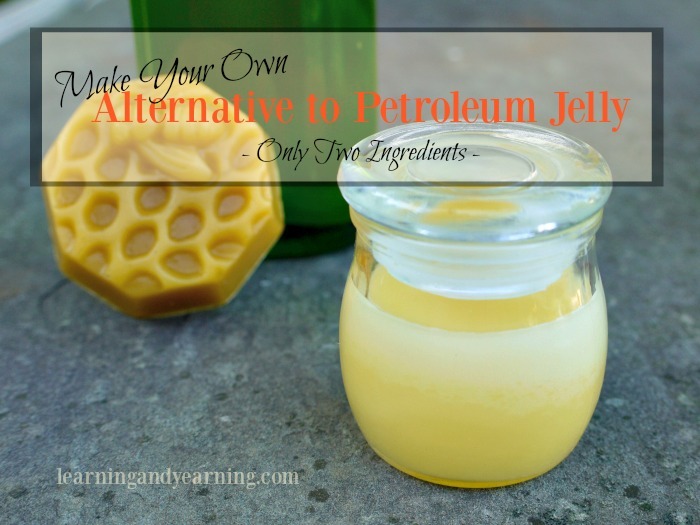 One of the most widely used products in skin care products is petrolatum, also known as petroleum jelly. Petroleum jelly works by coating the skin and preventing moisture loss; it is not itself a moisturizer. Because it is a by-product of the oil industry, I prefer to use alternatives to petroleum jelly to soften my skin.
Is Petroleum Jelly Toxic?
As I said in a previous post on alternatives to petroleum jelly:
The Environmental Working Group rates Vaseline brand as a 1, which is low on the toxicity scale. Generic petroleum jelly gets a 4, which is cause for concern. The problem is that petroleum jelly is often contaminated with Polycyclic Aromatic Hydrocarbons (PAHS). And that scores a whopping 9 because of its potential to cause cancer, and its ability to bioaccumulate in wildlife and humans.
In that same article, I mentioned several oils, butters, or animal products that make really good alternatives to petroleum jelly. But none of them have the same texture as petroleum jelly, so I've come up with a way to make a product of my own that comes pretty close.
And the best part of all? It is made with only two ingredients!
An Alternative to Petroleum Jelly with Only Two Ingredients
My recipe simply uses olive oil and beeswax, two products I always have on hand. Feel free to try other oils. I like olive oil because it does not easily go rancid, and it's been considered healing to the skin since ancient times. And it is soothing, cleansing, and moisturizing.
An oil which has been infused with healing herbs would be wonderful to use as well, although it would likely change the color of the final product. Or add a few drops of your favorite essential oil if desired.
An easy way to make a double-boiler is to use a mason jar, canning rings and a saucepan. Place 3 canning rings in the bottom of the saucepan. The mason jar sits on top of the rings. Add enough water to the pan to cover the rings and allow the jar to sit in water.
Be sure to also visit my post Natural Home Remedies for Your Medicine Cabinet.
Instructions
Create a double boiler using an 8 ounce mason jar, 3 canning rings and a saucepan. Place the rings on the bottom of the pan, and add about 2" of water. Place on low heat.

Place the olive oil (or herb infused oil) and the beeswax into the mason jar and stand on the canning rings which are in the bottom of the pan. Heat on low until the beeswax has melted, stirring occasionally. Remove from heat and add essential oils if desired. Stir well.

Pour into a 4 ounce jar, and allow to cool. Use as you would petroleum jelly.
Thank you for visiting Learning And Yearning. May "the LORD bless you and keep you; the LORD make his face shine upon you and be gracious to you; the LORD turn his face toward you and give you peace." Num 6:24-26