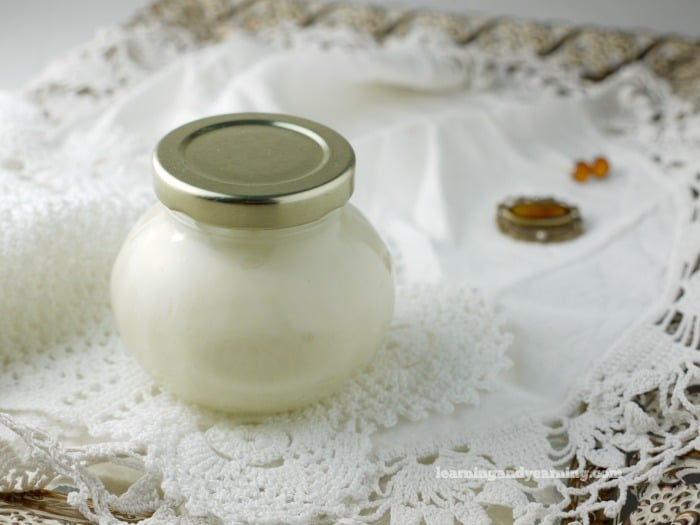 Why You Need Tallow Moisturizer
Have you ever wondered how people cared for their skin before the days of modern lotions and creams? Using ingredients that were quite common on the farm, they were able to make their own natural skin care products – like tallow moisturizer.
I know what you're thinking. Our ancestors used things like tallow because they were poor and didn't have a choice. But it probably didn't work as well as the products you can now purchase ready made.
DISCLOSURE: In order for me to pay my blogging expenses, I may receive monetary compensation for my endorsement and/or link to products mentioned on this blog. As an Amazon Associate I earn from qualifying purchases.
Well, you'd be mistaken. Yes, we've gotten away from using items like tallow for our natural skin care, but it's not because tallow isn't effective. We've just become accustomed to the convenience of store-bought products.
Benefits of Tallow
Tallow is rendered from the fatty tissue of sheep, cattle, or deer. It consists primarily of fatty acid glycerides. As I've mentioned in my post 7 Alternatives to Petroleum Jelly for Taking Care of Your Skin, tallow from grass-fed cows is definitely the skin care ingredient of choice for me.
Sebum, the oily substance secreted by our skin is similar in composition to tallow. Is that why it feels so wonderful on my skin? Perhaps.
Tallow contains A, D, E, and K, fat-soluble vitamins which promote skin health. And fats like conjugated linoleic acid (CLA), which has anti-inflammatory properties, and palmitoleic acid, which has natural antimicrobial properties.
Tallow moisturizer, or tallow balm as some call it, is really the perfect product for homemade, natural skin care. I use it everywhere on my body, from face to feet.
It's wonderful for dry, itchy skin, soothes eczema and diaper rash, and is perfect for chapped lips.
Where to Get Grass-Fed Tallow to Use as Skin Moisturizer
Each fall, we purchase a quarter of grass-fed beef from a local farmer. I always ask for the fat from the cow so that I can render it into tallow for cooking, soap-making, and skin care.
If you don't have access to beef fat to render yourself, you can buy grass-fed beef tallow here.
Or if you want to try tallow for your skin, but aren't interested in making this balm yourself, you can purchase a high quality tallow moisturizer here.
Making the Moisturizer
Because tallow is too hard on its own to use as skin moisturizer, a small amount of another oil must be added. Olive, avocado, and almond oil all make nice additions and are each great for skin care themselves.
And I always like to add some essential oil to give my tallow moisturizer a nice, fresh scent. I used grapefruit oil in my latest batch and it's such a pick-me-up. I probably wouldn't use that in the summer, though, since it can be phototoxic (cause a skin reaction when exposed to sunlight).
Some other good essential oil choices for skin care:
And if you're wondering about the shelf life of tallow, it can be kept at room temperature for extended periods without the need for refrigeration or preservatives. Definitely another plus.
Are you ready to try it?
Other Posts That Will Interest You
7 Alternatives to Petroleum Jelly for Taking Care of Your Skin
Make Your Own Alternative to Petroleum Jelly
From Plantain Leaf to Healing Balm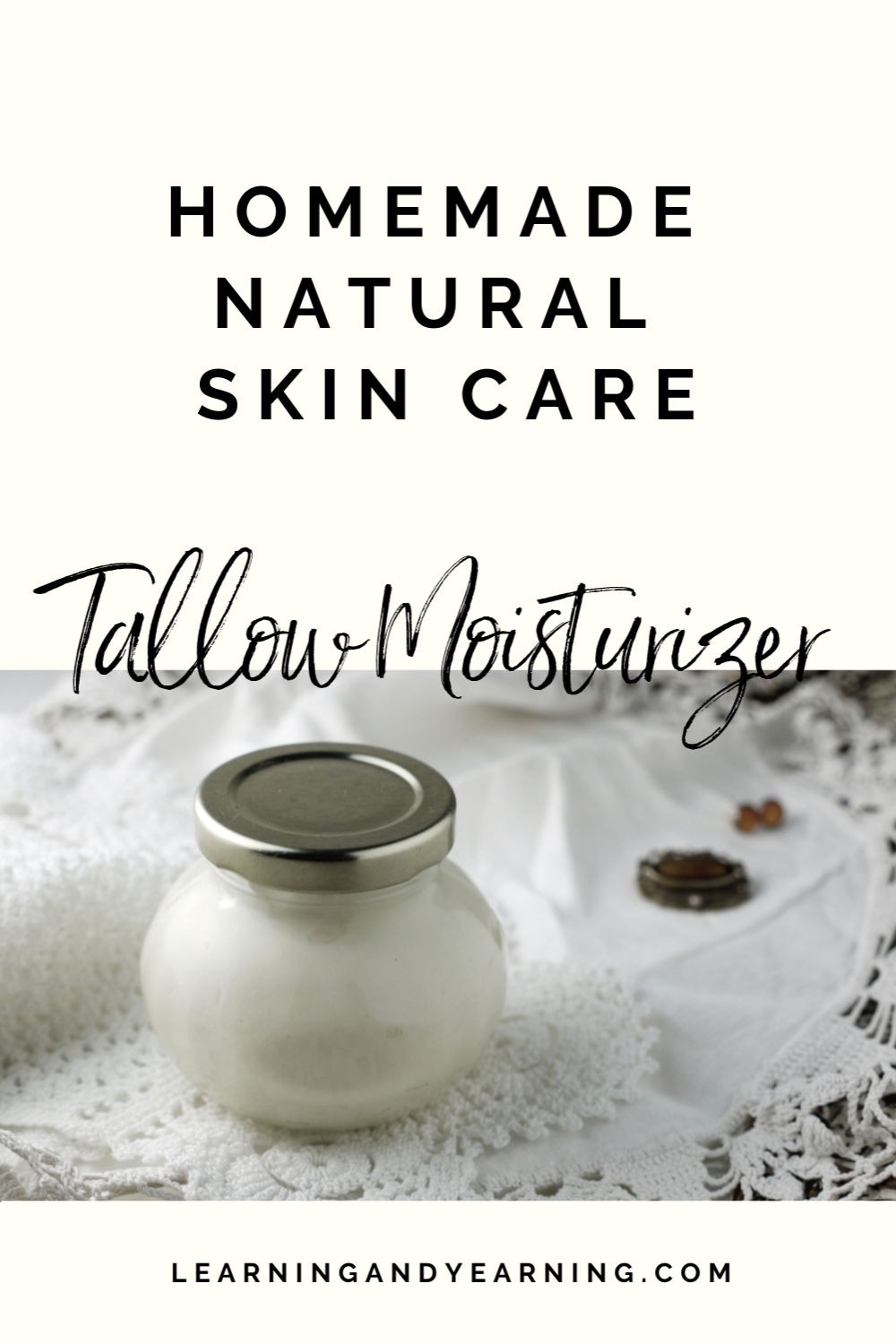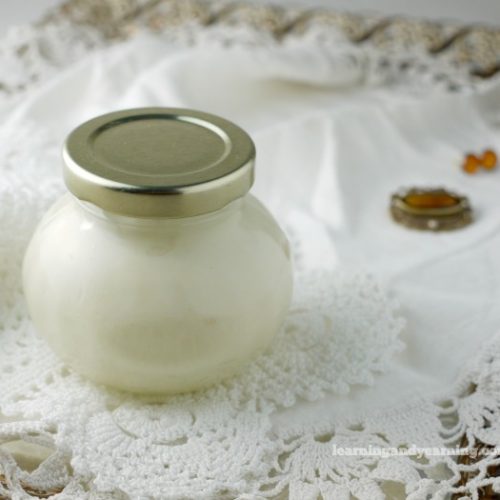 Ingredients
1

cup

tallow

melted

4

tablespoons

olive, sweet almond, or avocado oil

30–40

drops

essential oil of choice
Instructions
In a mixing bowl, combine melted tallow, oil of choice, and essential oil.

Cool until it begins to thicken, but not completely hard.

Whip with hand or stand mixer for several minutes. *

Store at room temperature for up to a year.
Notes
*Optional; may be used without whipping, but it is easier to spread once whipped.
Thank you for visiting Learning And Yearning. May "the LORD bless you and keep you; the LORD make his face shine upon you and be gracious to you; the LORD turn his face toward you and give you peace." Num 6:24-26