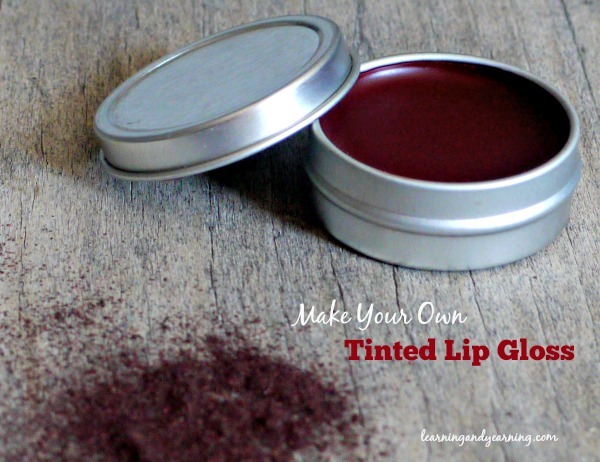 Once in a while I get this urge to get my craft on. Ya' know what I mean? But I don't need cutesy stuff for my house, and I'm not so much into knitting and crocheting 'cause I'm just not good at it. But making tinted lip gloss and hard lotion bars, yeah, that will do it for me.
More importantly, though, I like to make some of my own personal care items because I like knowing that I'm using quality ingredients on my skin.
DISCLOSURE: In order for me to pay my blogging expenses, I may receive monetary compensation for my endorsement and/or link to products mentioned on this blog. As an Amazon Associate I earn from qualifying purchases.
So my lips need moisture once in a while, and my vanity likes a little color. This tinted lip gloss fits the bill. The powdered alkanet root imparts a ruby red color to the gloss, but on my lips, the color is subtle and quite beautiful. Just perfect for me.
Tinted Lip Goss Ingredients
Alkanet Root is a blue-flowered plant whose roots have been used as a red dye since antiquity. (Where to find wild-harvested alkanet root powder)
Olive Oil has been used since ancient times to soothe and moisturize dry skin. Olive oil is easily absorbed by the skin and is also rich in antioxidants which can help slow the aging of skin. (Where to find extra virgin olive oil)
Cocoa Butter is solid at room temperature but melts at body temperature. It is rich and creamy and soaks right into your skin. And it's rich in anti-oxidants and has sun-blocking properties. (Where to find unrefined cocoa butter)
Beeswax is the emulsifying agent in this recipe and also helps to hydrate your lips. (Where to find beeswax)
Essential Oil – any essential oil may used; I like sweet orange since it goes so well with the cocoa butter. (Where to find quality essential oils)
Vitamin E Oil prevents rancidity and acts as an anti-oxidant. (Where to find GMO-free vitamin E oil).
Tinted Lip Gloss
Print recipe
Ingredients
1 tablespoon powdered alkanet root
3 tablespoons olive oil
1 tablespoon unrefined cocoa butter (or 4 cocoa butter wafers)
4 teaspoons grated beeswax
1/4 teaspoon essential oil of your choice
1/4 teaspoon vitamin E oil
5 half ounce tins or jars
Directions
| | |
| --- | --- |
| 1. | Stir the alkanet root and olive oil into a 1 cup canning jar and place the jar in a pot with an inch or so of water (creating a double boiler). Gently heat for 30 minutes. |
| 2. | Strain the oil through a coffee filter to remove the alkanet. |
| 3. | Place the strained olive oil, the cocoa butter and the beeswax into the canning jar and back into the pot of water. Heat slowly until the beeswax and cocoa butter have melted, stirring. |
| 4. | Remove from the heat and add the essential oil and the vitamin E. Stir thoroughly. |
| 5. | Pour into 1/2 ounce tins or jars. Allow to cool thoroughly before using. |
Thank you for visiting Learning And Yearning. May "the LORD bless you and keep you; the LORD make his face shine upon you and be gracious to you; the LORD turn his face toward you and give you peace." Num 6:24-26