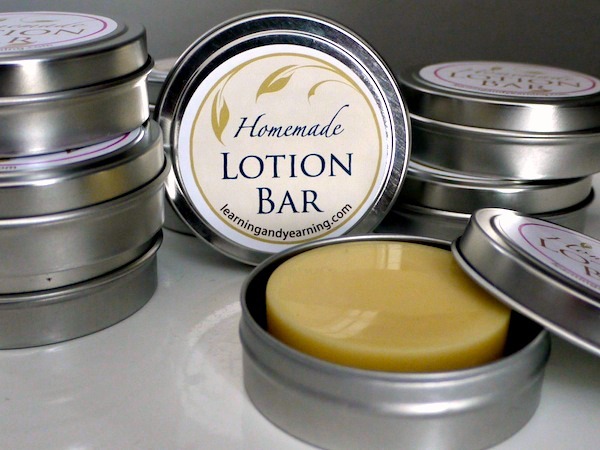 It's only October, I know. But I can't help but begin to think about Christmas gift giving. I love giving handmade gifts when possible and that takes time. So, you'll forgive me, won't you, for mentioning Christmas when it's not even Halloween yet?
What's a Lotion Bar?
Lotion bars are, like liquid lotion, a great way to keep your skin soft. But they are solid which means they aren't messy and travel really well in a purse. I know it seems crazy that a solid bar would be able to soothe your skin, but the heat of your skin is just enough to slightly melt the bar as you rub it between your hands or over your skin.
DISCLOSURE: In order for me to pay my blogging expenses, I may receive monetary compensation for my endorsement and/or link to products mentioned on this blog. I am a participant in the Amazon Services LLC Associates Program, an affiliate advertising program designed to provide a means to earn fees by linking to Amazon.com and affiliated sites.
Are Lotion Bars Good for My Skin?
Well, I suppose that depends on what you use to make your lotion bars, but everything I use in my lotion bar recipe helps to nourish skin!
Unrefined coconut oil provides moisture, and is easily absorbed into your skin. It helps remove excessive dead cells that make your skin rough and flaky. Unrefined (or virgin) coconut oil is rich in antioxidants, is anti-bacterial, and anti-fungal, and can help to protect skin against sunburn. (Where to find unrefined coconut oil)
Cocoa butter is solid at room temperature but melts at body temperature. It is rich and creamy and soaks right into your skin. And, like coconut oil, it's rich in anti-oxidants and has sun-blocking properties. (Where to find unrefined cocoa butter)
Shea butter is primarily composed of fatty acids such as stearic and oleic acids. The moisturizers in shea butter are the same as those produced by the sebaceous glands of the skin. It is very healing to the skin. (Where to find unrefined shea butter)
Beeswax locks in moisture and provides a protective barrier against harsh environmental factors. It also has properties that are healing to skin. (Where to find beeswax).
Make Your Own Lotion Bars
To make your own lotion bars, you'll need a scale, coconut oil, cocoa butter or shea butter, beeswax, essential oils, if desired, a mold in which to form your bars, and a tin or other container to hold your finished product. I used this mold, but cupcake tins should work fine as well (I haven't tried them, though), and I used tins like these.
Lotion Bar Recipe
4 oz. coconut oil
4 oz. cocoa butter, or shea butter
4 oz. beeswax
40 – 50 drops of essential oils – for a nice Christmas scent use 25 drops of orange, 15 drops of clove, and 10 drops of myrrh
Note that these measurements are by weight, not volume. Melt the coconut oil, cocoa butter or shea butter, and beeswax in a double boiler, stirring occasionally. Shut off the heat and add your essential oils, if using, and stir well.
If you are using the cocoa butter, your final product will have a light cocoa scent (which I adore) even after adding essential oils.
Lightly coat your molds with coconut oil, and pour the melted oils into the molds. The recipe makes ten 1.5 oz. bars, so if you are using the mold I used, you'll need 2 of them. Alternatively, you can pour 6 bars and wait for them to harden. Remove them, re-melt what's was left in your double boiler and now pour the remaining 4 bars.
More Posts That Will Interest You
7 Alternatives to Petroleum Jelly for Taking Care of Your Skin
Homemade Tallow Moisturizer for Natural Skin Care
Printables
And because you want your gifts to be packaged attractively, I've had some graphics created so that you can print beautiful labels for your tins. They print on 2″ labels (like these), or you could print them on paper, cut them out, and use a glue stick to attach them to your tins.
Click here for free printable labels.
Click here for free printable  Christmas labels.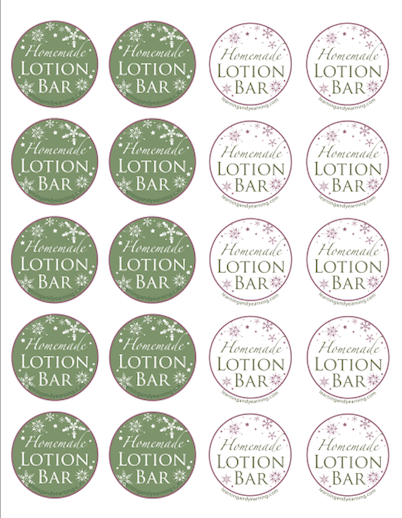 What other gift giving ideas do you have this year?
Thank you for visiting Learning And Yearning. May "the LORD bless you and keep you; the LORD make his face shine upon you and be gracious to you; the LORD turn his face toward you and give you peace." Num 6:24-26