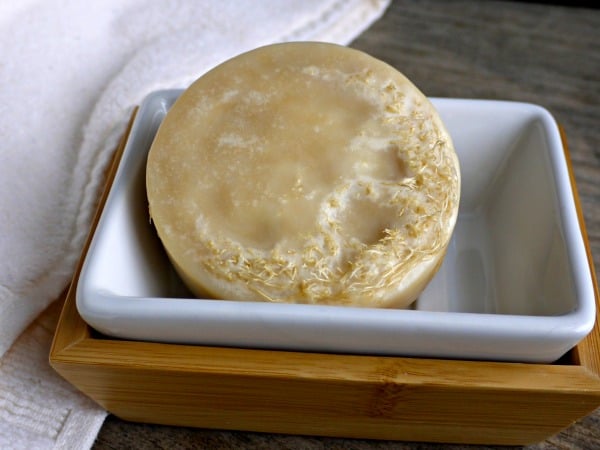 Sometimes our skin, particularly our feet and elbows, need a little extra lovin' care. Moisturizing and exfoliating them goes a long way in keeping them soft and smooth.
Sure, separate soap, loofah, and moisturizer work, but where's the fun in that when you can make your own moisturizing and exfoliating loofah soap. And they make such nice gifts as well!
DISCLOSURE: In order for me to pay my blogging expenses, I may receive monetary compensation for my endorsement and/or link to products mentioned on this blog. As an Amazon Associate I earn from qualifying purchases.
How to Make Loofah Soap
To make your own loofah soap, you'll need a soap recipe, a soap mold (a round one like this is nice, but rectangular would work as well), and several loofah sponges, cut into rounds. You may use the soap recipe I provide below, or use your own favorite recipe.
Whatever recipe you choose, be sure to bring your soap only to a light trace. If the soap is too thick it will not fill in the holes of the loofah sponge. This also means that the soap will take longer to harden and will need to be kept in the mold longer than normal.
If you are a beginner soap maker, please read over this post on basic soap making for instructions, supplies, and for safety guidelines.

My Loofah Soap Ingredients
Jojoba Oil –  A moisturizer and rejuvenator suitable for all skin types. Jojoba is actually a liquid wax, not an oil.
Castor Oil – Draws moisture to the skin and also helps to create a rich, creamy lather.
Olive Oil – Softens skin without blocking pores and is great for sensitive skin. Note: Pomace olive oil is often chosen for soap making because it is less expensive. But I don't recommend it; it is extracted with hexane or other solvents that I prefer not to use on my skin.
Organic Fair Trade Palm Oil – creates a rich lather and helps to create a harder bar of soap. Be sure to choose a sustainable source of palm oil. Note: this palm oil will give your soap a reddish tone.
From the company's website concerning their palm oil: "Our objective is to lead by example by responsibly sourcing sustainable red palm from small, organic family farms, growing the relationships with our farmers and giving back to the community. Did you know red palm is a tree crop? Rather than growing on expansive plantations, the areas where our red palm is grown are diverse with many plant and animal species. Absolutely no rainforests are cleared or damaged." They also state that "While Red Palm Oil grown in SE Asia often contributes to rainforest and orangutan habitat destruction, Nutiva's Organic Red Palm Oil does not. In fact, orangutans don't live in Ecuador, which is located in South America."
Tallow – I love how beef tallow makes my skin feel. I render my own the same way I do lard. Tallow helps to create a creamy, hard bar of soap.
Coconut Oil – Creates a rich lather and helps to firm skin.
Honey – Honey is a humectant – it attracts moisture to the skin making it a great moisturizer to add to your loofah soap.
Essential Oils – I chose geranium and myrrh for my recipe, but feel free to use whatever essential oils you prefer. Geranium helps to keep the skin elastic, and and tightens the skin. It is a good choice for problem skin and works well with both dry or oily skin. Myrrh helps to reduce wrinkles and helps to maintain healthy skin. Part of my choice was also that I wanted to add an earthy tone to counter the sweetness of the geranium. Find essential oils here.
Lye – Soap would not be soap without lye. The chemical reaction that occurs when lye is mixed with oils is called saponification. Once the soap is cured, the chemical reaction is complete and no more lye remains in the finished product. Read about lye safety here.
Recommended brands of lye include Red Crown, ComStar, and Essential Depot )
Water – distilled water is generally recommended and can be found in your local grocery store.
Moisturizing and Exfoliating Loofah Soap
Print recipe
Ingredients
2oz jojoba oil
5oz castor oil
8oz olive oil
5oz palm oil
10oz tallow
10oz coconut oil
2 tablespoons raw honey
50 drops geranium essential oil
10 drops myrrh essential oil
5.8oz lye
11.6oz distilled water
Directions
| | |
| --- | --- |
| 1. | Prepare round molds by placing a circle of loofah in each mold. Be sure to read all safety precautions and complete soap making instructions before beginning. |
| 2. | All measurements besides honey and essential oils are by weight. Weigh all oils and place into your soap making pot. Place over low heat to melt the oils. Stir to combine oils. |
| 3. | Weigh the distilled water and set 2 ounces of it aside. Weigh lye. Very slowly add lye to distilled water stirring constantly until lye is dissolved. Be sure this is done in a well ventilated area. |
| 4. | Thoroughly mix the raw honey and the 2 ounces of distilled water you had set aside. You will add this to the soap mixture a little later. |
| 5. | The goal is to get both the oils and the lye to 100 degrees at the same time. To do this, set the lye container or the pot of oils in a container of ice to cool as necessary. When both the lye and the oils are at 100 degrees, very slowly pour the lye mixture into the oil mixture, stirring as you pour. |
| 6. | Continue stirring the oil/lye mixture. When it starts to feel slightly thicker, add the honey/water mixture and thoroughly stir this in. |
| 7. | Continue stirring until you reach a light trace. For the loofahs to absorb the soap mixture, it must be thinner than it is at full trace. |
| 8. | Pour the soap mixture into a larger pitcher. Then carefully cover each loofah with the soap mixture. Any left over soap may be placed into an additional mold. |
| 9. | Cover the molds with an inverted cardboard box and then cover the box with a blanket for insulation. Allow to sit for several days until hardened before removing the soap from the molds. Allow to cure for approximately 4 weeks before using. |
| 10. | Makes approximately 12 4 ounce bars. |
Recommended Reading:
Simple Natural Soapmaking by Jan Berry.
Thank you for visiting Learning And Yearning. May "the LORD bless you and keep you; the LORD make his face shine upon you and be gracious to you; the LORD turn his face toward you and give you peace." Num 6:24-26