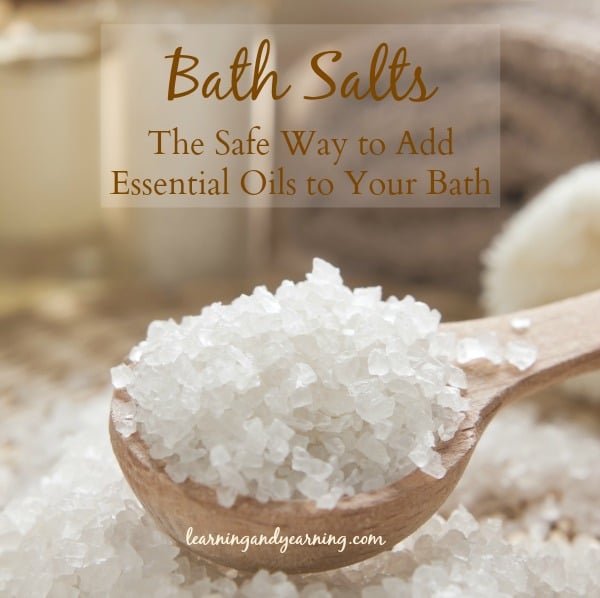 What could be more soothing than a hot bath with lavender essential oil? Or peppermint oil in your bath to get your morning going?
But because oils and water don't mix, adding undiluted essential oils to your bath could potentially burn your skin. It happened to a friend of mine.
DISCLOSURE: In order for me to pay my blogging expenses, I may receive monetary compensation for my endorsement and/or link to products mentioned on this blog. As an Amazon Associate I earn from qualifying purchases.
Diluting the essential oil with a carrier oil first (ie. olive oil) can help, and will moisturize your skin. But mixing the essential oils with an oil and then a salt is your best bet, causing the oils to disperse in your bath.
Basic Bath Salt Recipe
Making your own bath salt couldn't be simpler. Here are the basics:
2 cups sea salt or epsom salts, or any combination of the two.
15 – 30 drops of essential oil – see below for recommendations.
1 T. carrier oil (jojoba, coconut, olive, or other).
Combine the salts, essential oils and carrier oil. Use 1/4 – 1/2 cup in your bath. Relax and enjoy!
Essential Oil Recommendations
For a relaxing bath, add 20 drops lavender essential oil to your bath salts.
For an energizing bath, add 10 drops of spearmint and 5 drops of rosemary essential oils.
To elevate your mood, try adding a combination of 30 drops total of sweet orange, grapefruit and tangerine essential oils. Note that citrus oils are phototoxic and should not be used before sun exposure.
To soothe achy muscles, or open up your sinus passages, try 20 drops of eucalyptus oil.
Other essential oils to consider in your bath salts include frankincense, clary sage, rose, geranium, or juniper. Be creative and mix and match!
Sources for Quality Salts and Essential Oils
The following are affiliate links. Purchasing through these links helps to pay my blogging expenses and is sincerely appreciated.
Thank you for visiting Learning And Yearning. May "the LORD bless you and keep you; the LORD make his face shine upon you and be gracious to you; the LORD turn his face toward you and give you peace." Num 6:24-26