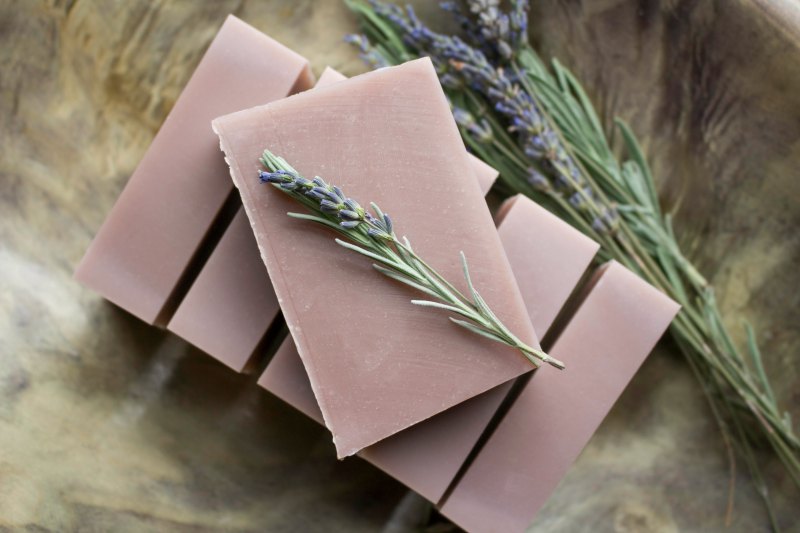 It's not often that I accept guest posts, but today I'm super delighted to welcome Jan Berry of The Nerdy Farm Wife. Jan is sharing her recipe for Homemade Lavender Soap Bars.
This summer I've been indulging a bit in some fiction set in late 1800's England. And all the girls were perfumed with lavender. It's an old-fashioned scent that is calming and relaxing. This soap will soothe after a long, stressful day and is perfect for gift giving. 
DISCLOSURE: In order for me to pay my blogging expenses, I may receive monetary compensation for my endorsement and/or link to products mentioned on this blog. As an Amazon Associate I earn from qualifying purchases.
If you are not an experienced soap maker, you might want to begin by reading my post Basic Soap Making before going forward with the Homemade Lavender Soap Bars. 
Homemade Lavender Soap Bars with Jan Berry
This simple lavender soap recipe is naturally colored with purple clay and scented with lavender essential oil. Be sure to use a light colored olive oil so the purple color really shines through. Alternatively, you can leave out the clay for a creamy white bar of soap.
The recipe makes 7 to 8 bars (2.5 lbs/1.13 kg)
Ingredients 
Note that all ingredients are measured by weight, not by volume. A good kitchen scale is essential.
Lye Solution
8.75 oz (248 g) distilled water
3.95 oz (112 g) (recommended brands include Red Crown, ComStar, and Essential Depot)
2 tsp purple Brazilian clay (optional, for color, available from Bramble Berry)
Solid Oils
4 oz (113 g) unscented cocoa butter (or tallow/lard)
7.5 oz (213 g) coconut oil
Liquid Oils
12.5 oz (354 g) olive oil
4 oz (113 g) sunflower or sweet almond oil
Add at Trace
1 oz (29 g) lavender essential oil
How to Make Lavender Soap Bars
Step 1: Make the Lye Solution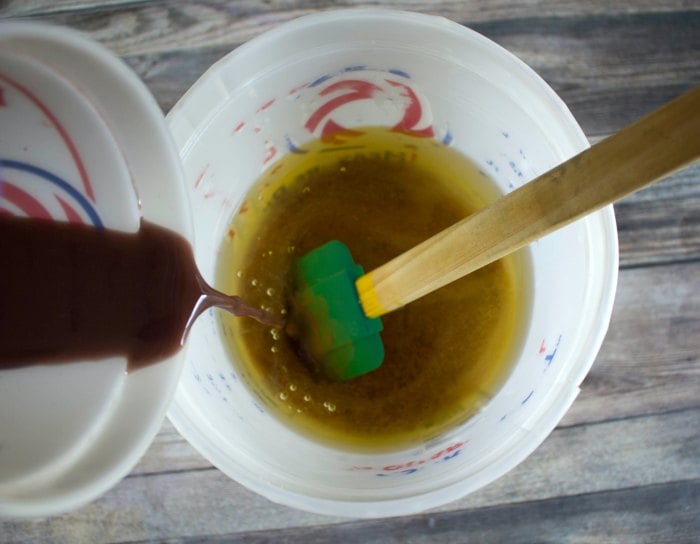 Wearing protective gloves and eyewear, carefully stir the lye (sodium hydroxide) into the distilled water until dissolved. Work in an area with good ventilation and be careful not to breathe in the fumes. Stir in the purple clay, if using. Set the lye solution aside to cool for about 30 or 40 minutes or until the temperature drops to around 100 to 110°F (38 to 43°C).
Step 2: Prepare the Oils
Gently heat the coconut oil and cocoa butter (or tallow/lard) on low heat until melted. When the solid oils are melted, take the pan off the heat and pour in the liquid oils. This helps cool down the melted oils, while warming up the room temperature oils.
Step 3: Mixing
Pour the cooled lye solution into the warmed oils. Using a combination of hand stirring and an immersion blender, also called a stick blender, stir the soap batter until it thickens and reaches a light trace. Trace is when the soap has thickened enough so when you drizzle a small amount of the batter across the surface, it will leave a fleeting, but visible imprint or "trace" before sinking back in.
Step 4: Add the Essential Oil
When the soap batter has thickened to trace or the consistency of warm custard, stir in the lavender essential oil for scent.
Step 5: Pour into Mold
Pour the soap batter into your soap mold. In order to fully develop the purple hue of the clay, cover lightly with wax or freezer paper, then a towel or light blanket for insulation. Peek at the soap every so often; if it starts developing a crack, uncover and move to a cooler location.
Step 6: Cut & Cure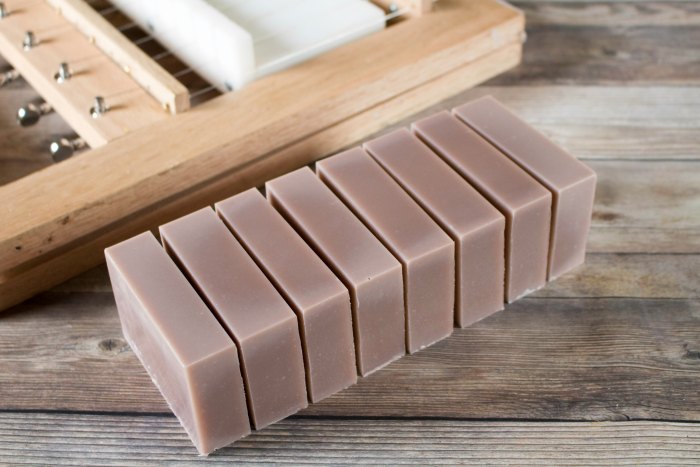 Keep the soap in the mold for 1 to 2 days, or until it's easy to remove, then slice it into bars when it's firm enough not to stick to your cutting tool. Cure on coated cooling racks or sheets of wax paper for about 4 weeks before using. The soap is safe to touch 48 hours after making it but it needs the extra time to allow the excess moisture to evaporate out.
Love this recipe? Be sure to check out Jan's book Simple & Natural Soapmaking for more great recipes.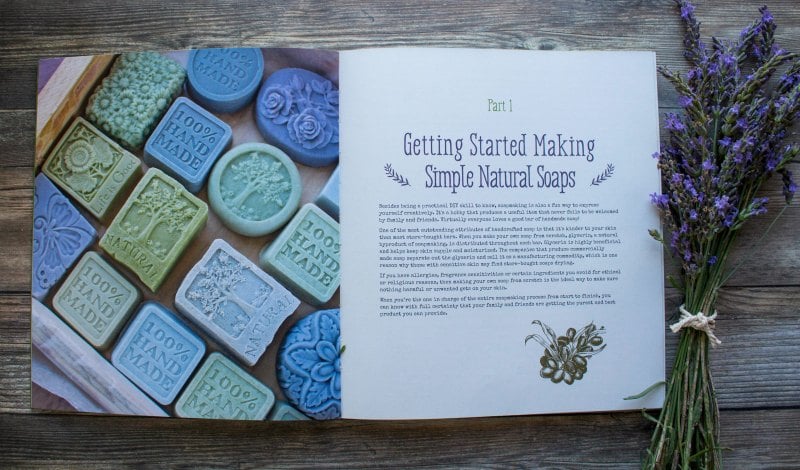 More Posts That Will Interest You
How to Make Lavender Water (and 14 ways to use it)
7 Ways to Make Soap – (Easiest Method to Most Advanced)
How to Make Herb Infused Homemade Soap
7 Alternatives to Petroleum Jelly for Taking Care of Your Skin
Homemade Tallow Moisturizer for Natural Skin Care
Thank you for visiting Learning And Yearning. May "the LORD bless you and keep you; the LORD make his face shine upon you and be gracious to you; the LORD turn his face toward you and give you peace." Num 6:24-26