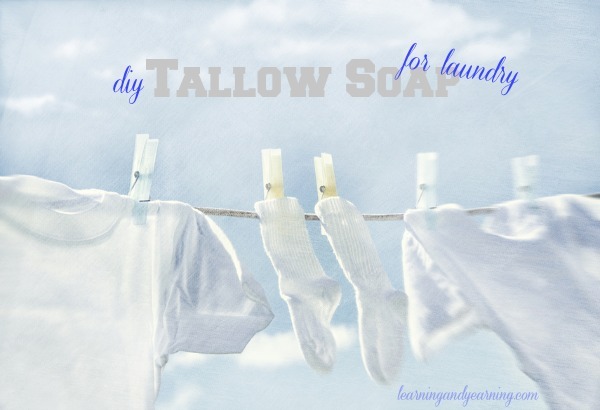 What is Tallow?
You've heard of lard, the rendered fat of pig, but what about tallow? Tallow is derived from the fat of cows or sheep, and is rendered much the same way as lard.
Why Use Tallow for Soap Making?
We purchase grass-fed beef, and it's important to us that nothing be wasted, including the fat. Tallow is wonderful for cooking, soap making, and skin care.
We have found that most homemade soaps made from vegetable oils melt away rather quickly. But soap made from tallow is hard and lasts a long time. That's important when you're trying to be frugal in this natural living journey.
Soap made with all coconut oil is also quite hard, but I prefer to use an ingredient that I've obtained locally when possible.
Tallow is a traditional ingredient for soap making. Homesteaders had all they needed right on the farm for making soap with tallow rendered from beef fat after slaughtering their cattle, and lye made from wood ash.
To think of purchasing ingredients for their soap making was not even considered. In addition, tallow soap cleans well, and is gentle on clothing.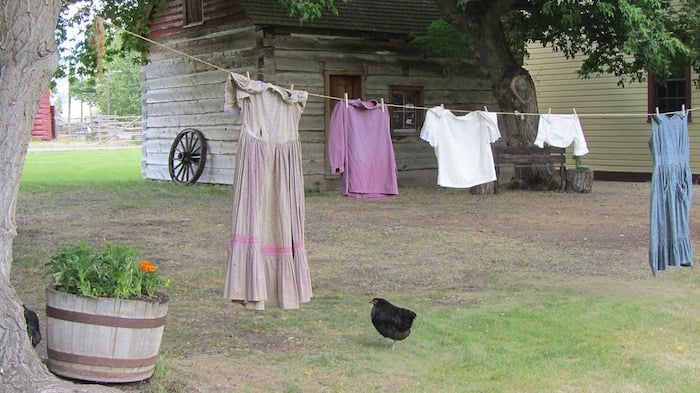 What is Super-Fat?
In the process of making soap, it is important to use a lye calculator to be sure you are using a proper lye / fat (or oil) ratio. A chemical reaction occurs in the process and the final, cured product will be free of lye.
Super-fatting is the process of adding more fat than is required so that the soap is moisturizing.
For laundry, you want your soap to be 0% super-fat because you want your soap to get rid of fats and oils on your clothing. To use this soap on your skin would be drying.
A moisturizing skin soap, like this candy cane soap with all natural ingredients, could certainly be made with tallow by super-fatting by at least 5%.
Just put the percent you want your soap to be super-fatted, and the lye calculator will figure it all out for you.
How to Render Tallow
Here's my post on rendering lard; tallow is rendered in the same manner.
Recipe for 0% Super-Fat Tallow Soap for Laundry
First, please read my post on the basics of soap making so that you can familiarize yourself with the equipment needed, the safety concerns, and the process.
Ingredients – by weight
14 ounces distilled water
5.64 ounces lye
40 ounces tallow, preferably from grass-fed cows.
Directions – be sure to read here first for more specific instructions. 
Have your mold ready before beginning.
Carefully weigh all of your ingredients.
Slowly add the lye to the water in a well ventilated area; continue to stir until dissolved. Cool to 120 degrees.
Melt the tallow. Cool (or heat) to 120 degrees.
Now very slowly drizzle the lye mixture into the tallow while stirring.
Stir until the mixture comes to trace, and then pour into your prepared mold.
Allow your soap to set for several hours until it is firm to the touch. Remove from the mold, cut into bars, and allow to cure for 4 weeks. (If you cut the soap into 9 equal bars, they will each be just the right size to use in the laundry detergent recipe below).
Recipe for Laundry Detergent
 Ingredients 
1 bar of tallow soap from recipe above, grated
2 cups of washing soda (like this)
essential oil (optional)
Directions
Combine the cured, grated tallow soap and the washing soda. Mix thoroughly and keep in an airtight, waterproof container.
Use 1 to 2 Tablespoons per load. Add the laundry powder to your washing machine first, and allow it to dissolve. Then add your dirty laundry.
Add a few drops of your favorite essential oil to each load, if desired.
Recommended Reading:
Simple Natural Soapmaking by Jan Berry.
DIY Bar Soap Gentle Enough for Babies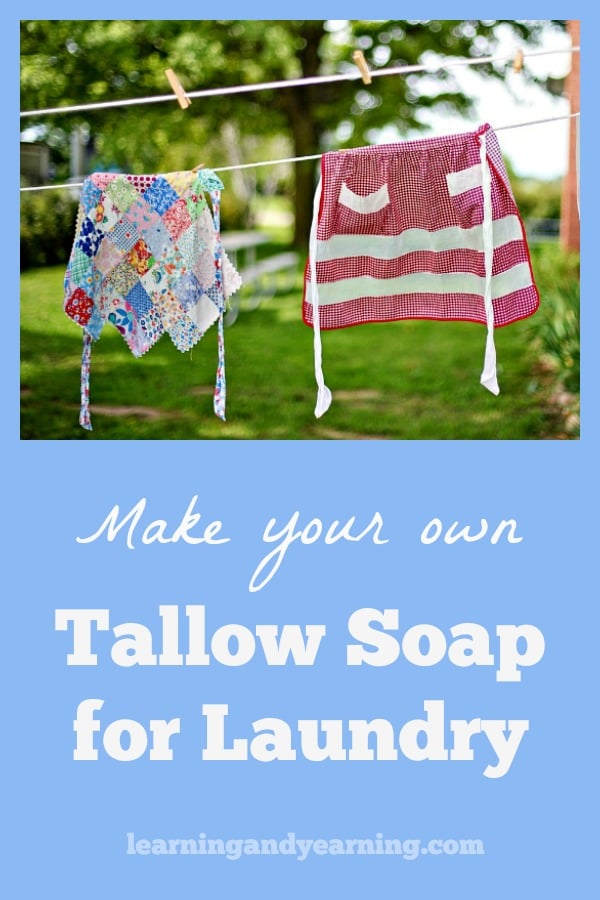 Thank you for visiting Learning And Yearning. May "the LORD bless you and keep you; the LORD make his face shine upon you and be gracious to you; the LORD turn his face toward you and give you peace." Num 6:24-26