Toothpaste or Tooth Powder?
Before toothpaste there was . . . tooth powder. Glycerin was later added to turn the powder into paste for a more convenient way to keep teeth clean. According to this abstract, tooth powder may be more effective than paste at removing plaque – a great reason to use tooth powder.
I was intrigued by a tooth powder recipe in The Wild Wisdom of Weeds by Katrina Blair that used plantain, kelp and clay. Because the author didn't give the benefits of each ingredient, I had to do some research.
My recipe is based on the one in the book, although I recommend adding much more essential oil and some unrefined stevia leaf powder to take away some of the bitterness of the other ingredients.
The Ingredients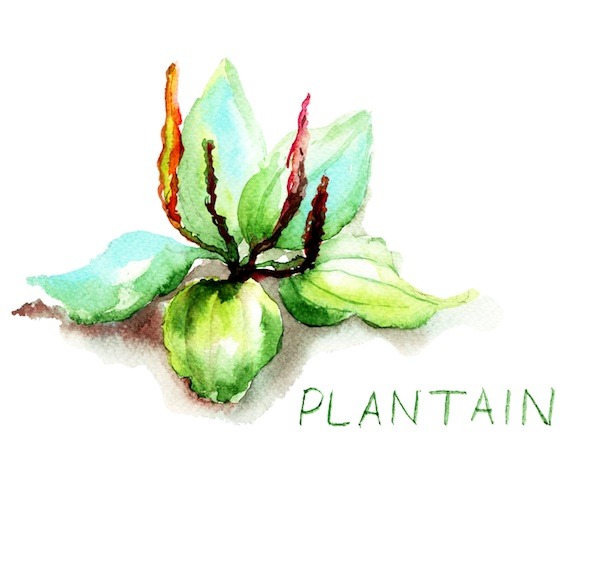 Plantain
As a forager, I know the value of plantain, a perennial weed found around the world. Walk out your door and begin to search. Most likely you won't have to go far to find this ubiquitous weed. (There are 34 species of plantain and all are edible and medicinal).
Plantain is most well known as a remedy for insects bites, rashes, and to treat poison ivy. Many of its properties make it an ideal addition to tooth powder as well:
high in calcium
contains silica, important for remineralization of teeth
antibacterial
astringent
antiseptic
antimicrobial
anti-inflammatory
antitoxic
Plantain leaves may be harvested, dehydrated, and ground to a fine powder for use in tooth powder, or purchase here.
Bentonite Clay
Bentonite clay acts as a magnet binding itself to toxins, drawing them out of your body. Yes, go ahead and swallow this tooth powder. All of the ingredients are not only edible, but will do a body good.
Bentonite clay is also high in silica and other trace minerals and, like plantain, helps to remineralize teeth. Find bentonite clay here.
Kelp
Kelp (Ascophyllum Nodosum) is a nutritious seaweed which is rich in calcium and trace minerals. Evidence suggests that kelp helps to cleanse teeth by removing plaque. (Kelp is already widely used in pet products for its ability to remove plaque).
It is important that kelp be sourced from pristine waters and it is best not to use while pregnant. If you are swallowing the tooth powder, occasionally take a break since kelp is so high in iodine. Find Icelandic kelp here.
Other Optional Tooth Powder Ingredients
Peppermint
While peppermint essential oil is an optional ingredient, giving the tooth powder a traditional toothpaste taste, it does have qualities that are beneficial. Peppermint is:
analgesic
antibacterial
anti-inflammatory
antifungal
antimicrobial
antiseptic
astringent
Find peppermint essential oil here.
Unrefined Stevia Powder
Stevia may be added if you prefer a sweeter toothpowder. In this particular tooth powder, I do recommend it. Find unrefined stevia leaf powder here.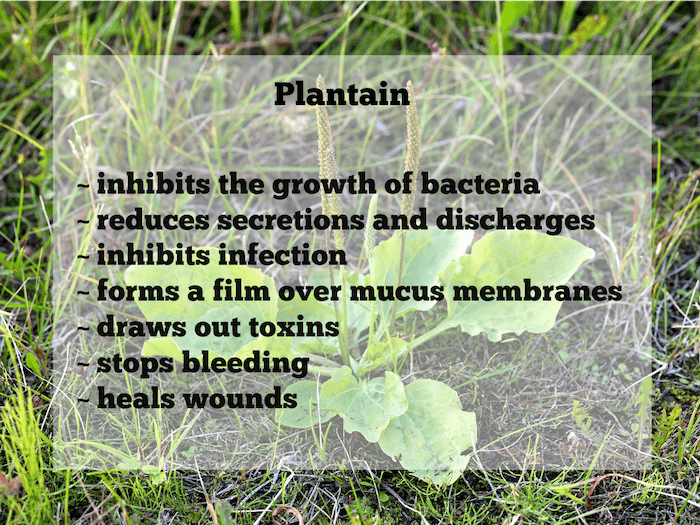 More Posts That Will Interest You
Natural Home Remedies for Your Medicine Cabinet
The Forager's Guide to Plant Identification
From Plantain Leaf to Healing Balm
Plantain and Jewelweed Home Remedy for Poison Ivy Rash
Plantain & Kelp Plaque-Fighting Tooth Powder
Tooth powder may be more effective than paste at removing plaque – a great reason to use tooth powder.
Print
Pin
Rate
Ingredients
1/2

cup

plantain leaf powder

1/2

cup

bentonite clay

1/4

cup

kelp powder

2

teaspoons

unrefined stevia powder

optional

30

drops peppermint essential oil

optional
Instructions
Combine ingredients and mix well.

Store in a glass jar with lid.

To use, place a pinch of tooth powder in the palm of your hand. Scoop it up with a wet toothbrush and brush as usual.
Source, Source, BYU Redmond Clay Study
Thank you for visiting Learning And Yearning. May "the LORD bless you and keep you; the LORD make his face shine upon you and be gracious to you; the LORD turn his face toward you and give you peace." Num 6:24-26