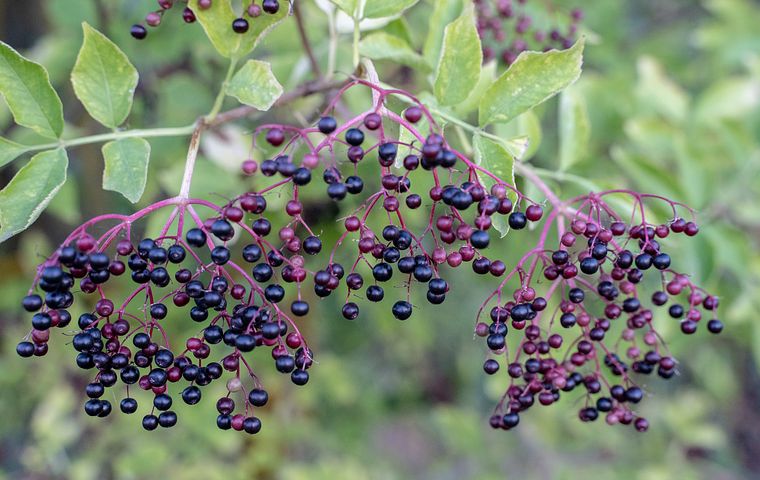 The Amazing Elderberry
It's funny, isn't it, how certain years are just wonderful for certain plants. The last two years, my peppers were kinda' pitiful. This year they're prolific and huge. One year the apples are fantastic, another it's a bumper crop of acorn squash.
This year, for us, is the year of the wild elderberry. They're even more abundant than those monster peppers, and Mike has foraged gallons and gallons of them. He discovered this patch just last year near where he works, and he just stops by on his way home and harvests bunch after bunch.
DISCLOSURE: In order for me to pay my blogging expenses, I may receive monetary compensation for my endorsement and/or link to products mentioned on this blog. As an Amazon Associate I earn from qualifying purchases.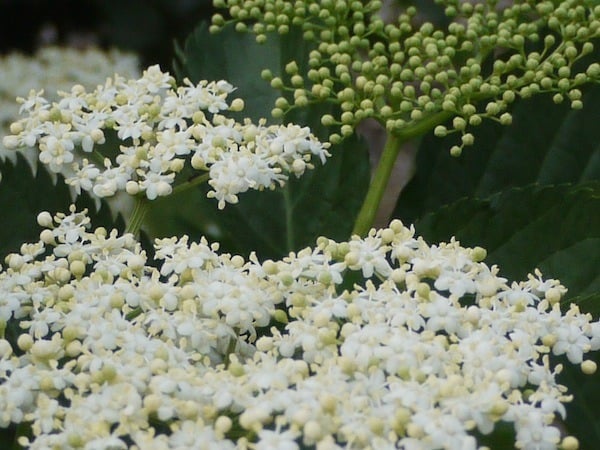 Identifying Elderberry
Here in NE PA, elderberry grows as a tall shrub.  A good time to try and locate a patch of elderberry is mid-to-late June when they are in flower. Their showy, large white flowers are found in clusters on the tips of branches, and are easy to spot along country roads growing in moist, well-drained, fertile soil.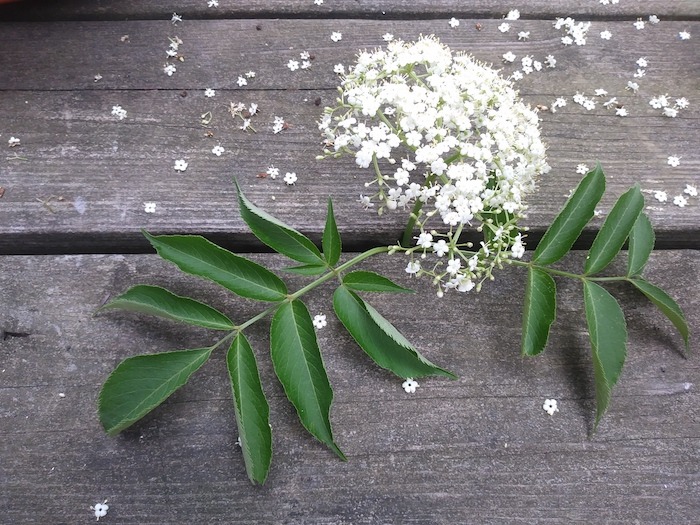 American black elderberry (Sambucus nigra L. ssp. Canadensis) is native to North America and is found east of the Rockies. It is a large shrub, growing 3 – 10 ft. It's sawtoothed leaves are opposite, and pinnately compound.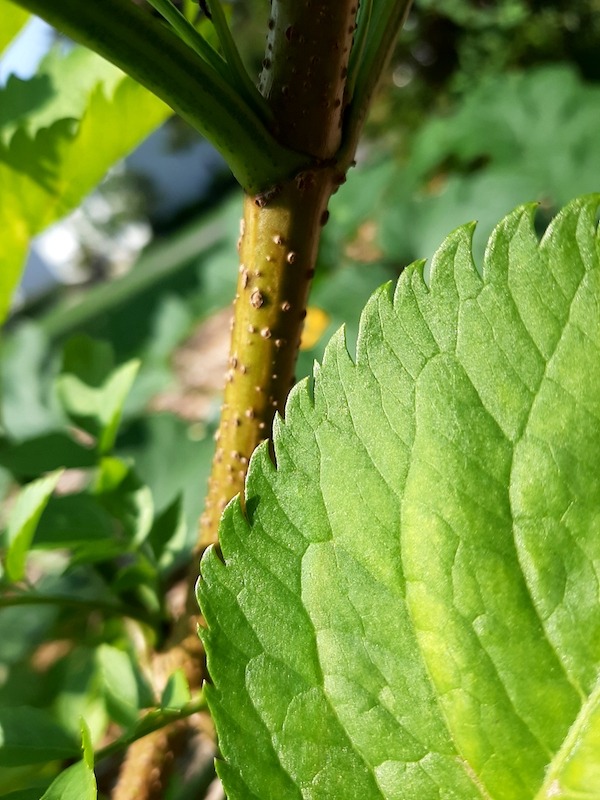 Be sure to examine the elder plants stem. The bumps on the stem are a distinguishing mark of the elder. Older stems have vertical furrows.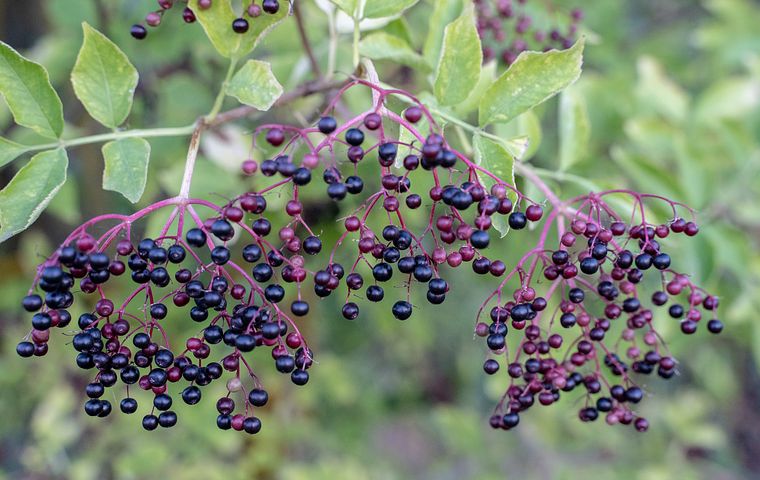 The purple-black berries are about 1/4″ in diameter, and grow in clusters.
Health Benefits of Elderberry
Blog post after blog post touts elderberry as a great immune-booster. Truthfully, I don't often get all excited about any one "superfood". For the most part, I like to eat what I can grow, what's available locally, and what I can forage. But my main criteria is whether I like it or not.
Elderberries are yummy, but I have to admit that it's hard to ignore the health benefits when studies like this are showing that using elderberries relieved symptoms of the flu four days earlier than those receiving a placebo.
Harvesting Elderberry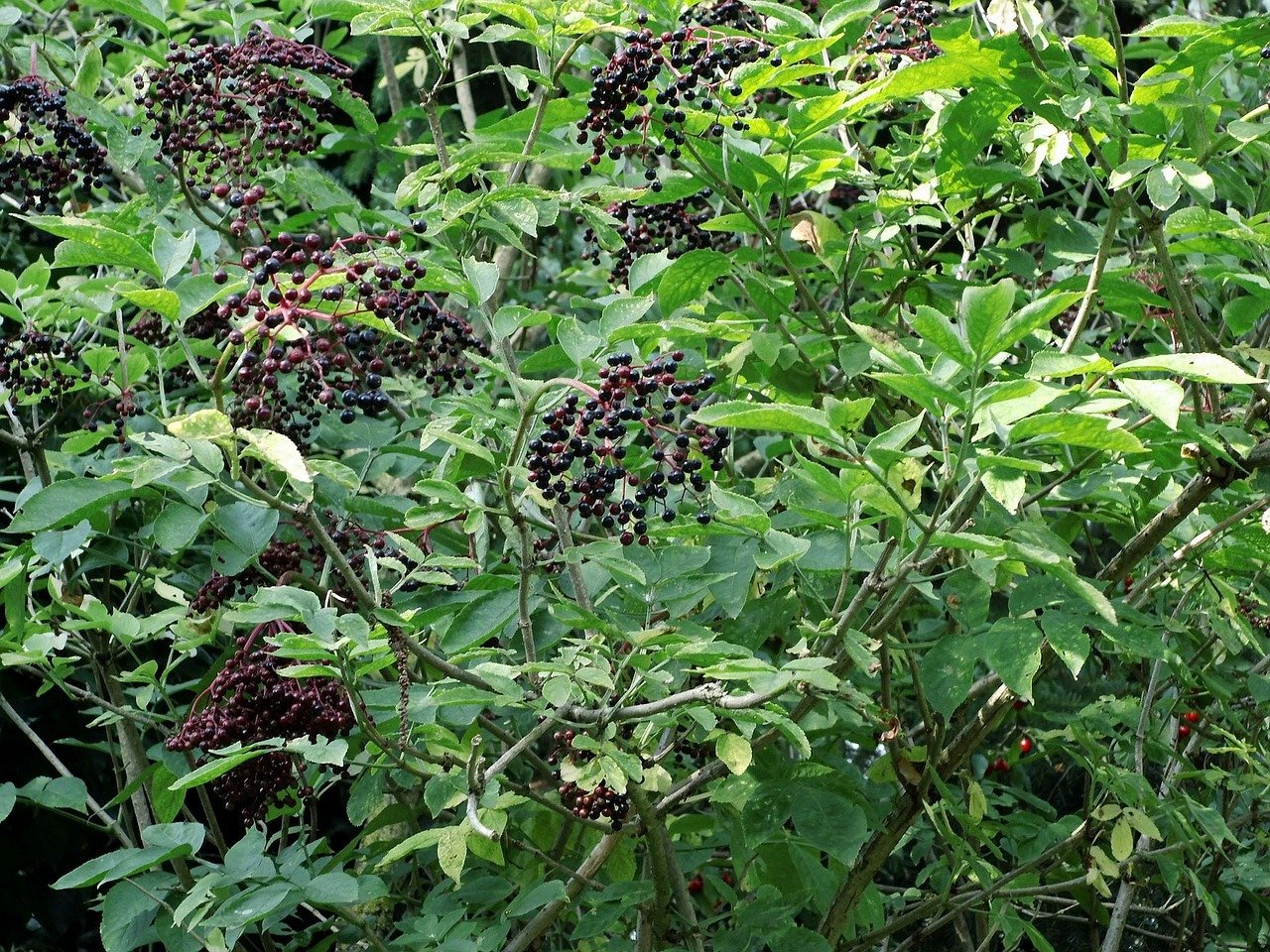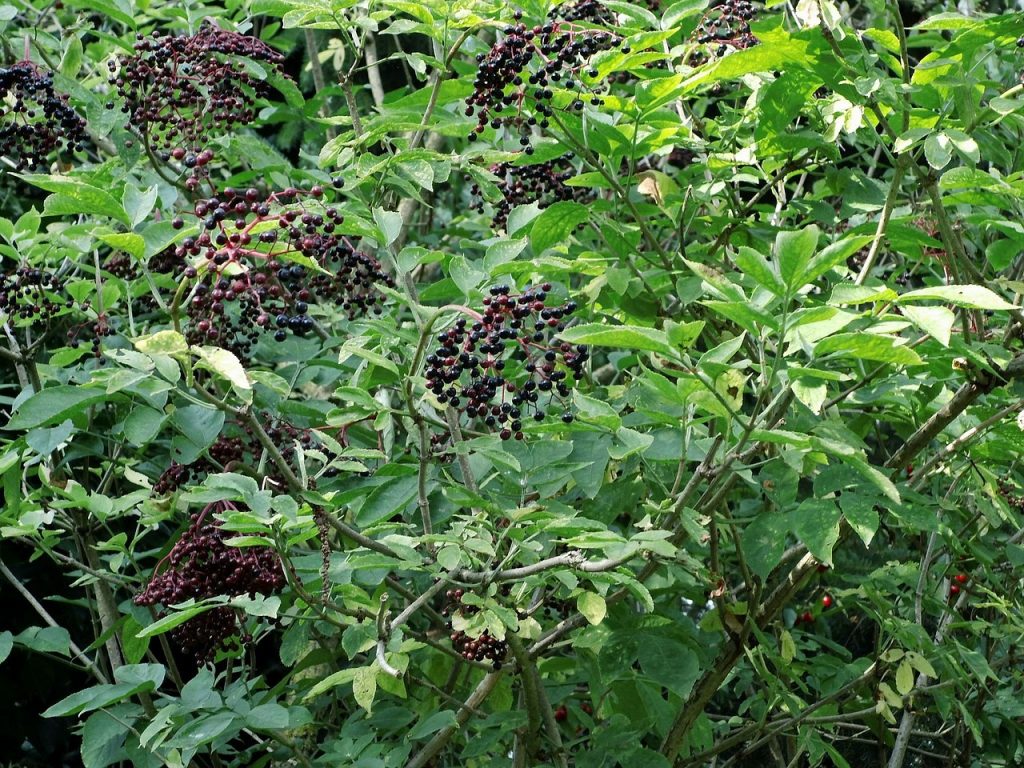 Don't jump the gun when harvesting elderberry. Be sure to wait until the fruit is a deep purple and juicy when squashed. There is a fine line when harvesting. You want to get them just before they are ready to fall off the bush by themselves because they are so ripe. Seeing the birds at the elderberries is another good sign that they are ready to harvest.
The easiest way to harvest them is to simply cut the entire bunch of berries from the bush. Wait until you're back home to remove the individual berries from the stems.
Once home, there are a few ways to remove the berries from the stem. Some people like to use a fork to remove the berries. I prefer just using my hands. If the berries are as ripe as they should be, they will drop right off.
Although I haven't tried this method myself, I've also seen people just take a bunch of berries and knock them around inside a 5 gallon bucket. The ripe berries fall into the bucket and the unripe ones remain on the stems.

Using Elderberry
Both the flowers and berries are edible. One of the most important things to remember about elderberries is to never eat them raw.
 According to the Botanical Safety Handbook:
The raw and unripe fruit, the seeds, the bark, and the leaves of S. nigra and related species S. racemosa  contain the cyanogenic glycoside sambunigrin, ingestion of which may cause vomiting or severe diarrhea.
Elderberries are tart and sweetening is required, but they make the most delicious treats. With the berries that Mike brought home this year I've started two batches of wine, made syrup for fighting colds and flu, made a pie and several jars of jelly, started a batch of liqueur, dehydrated some and froze the rest.
I consider myself a very amateur wine maker and I'm not ready to give advice on wine-making just yet. There are recipes available online (here's one from Ariana at And Here We Are). I do prefer not to use a yeast nutrient, and I like this wine yeast because it's GMO-free.
For my pie, I used the blueberry pie recipe in my old Betty Crocker Cookbook. Go ahead and use your favorite blueberry pie recipe. Your pie will have a crunch from the elderberry seeds. Just note that the seeds can cause nausea in some people. We do just fine with them and think that the pie is wonderful.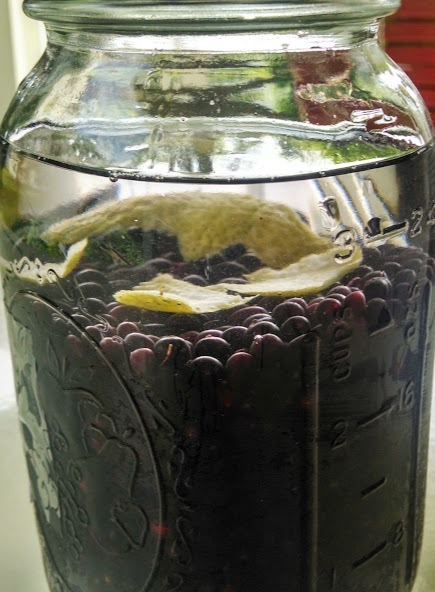 To dehydrate the berries, I filled all 9 trays of my dehydrator (this one) with a thin layer of berries and dehydrated at 125 degrees for about 24 hours. And I just tossed the rest of the berries (quarts and quarts of them) into zip-lock bags to freeze for later use.
More Than Weeds
 A Foraging eCourse for Beginners
Are you interested in foraging, but a bit hesitant because you don't trust your own abilities? I created a mini eCourse just for you. In More Than Weeds: 5 Common Plants to Forage for Food and Medicine you'll learn that identifying plants is all in the details.
Using common plants with which may be someone familiar you'll learn beginner botany skills that you will be able to use as you move forward. You'll gain confidence to use these plants for your family in food and safe, home remedies. Get started now!
Recipes That Use Elderberry
Supercharge Your Elderberry Syrup
How to Use Elderberry to Make a Tincture or a Liqueur 
Meyer Lemon Roasted Pears with Elderberry Glaze
Chocolate Elderberry Ice Cream
Beverages
So, what great ways have you found for using elderberries?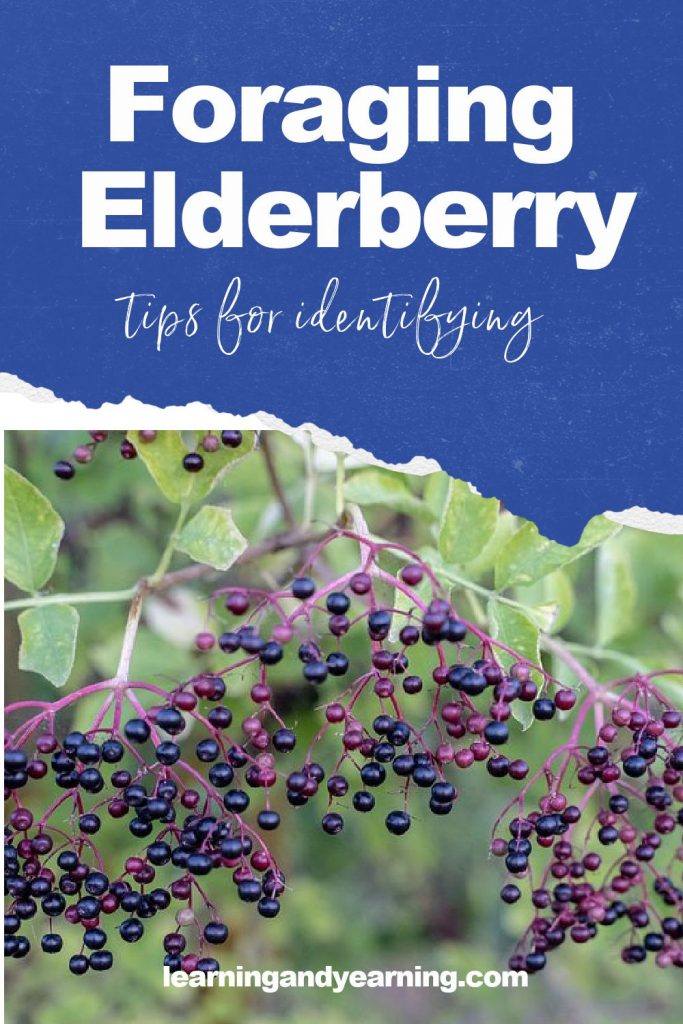 Thank you for visiting Learning And Yearning. May "the LORD bless you and keep you; the LORD make his face shine upon you and be gracious to you; the LORD turn his face toward you and give you peace." Num 6:24-26