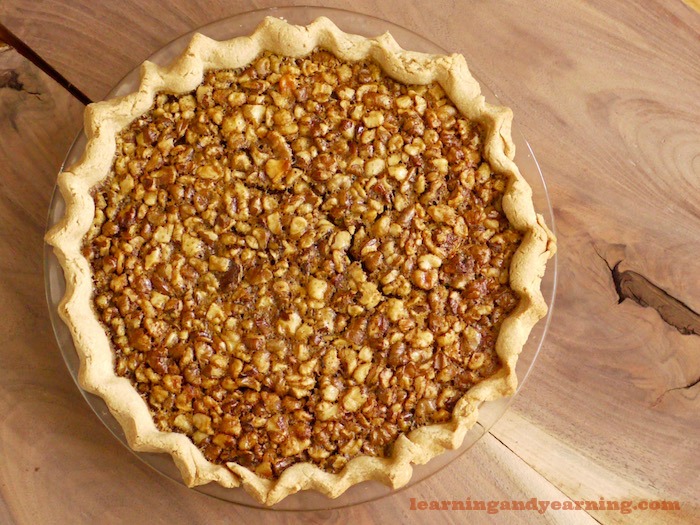 Two of my favorite things are fall hikes, and pie. I probably like pie more than hiking, kayaking, gardening, and foraging. And I adore hiking, kayaking, gardening, and foraging. We live on a quarter acre lot and don't grow black walnuts. But black walnut trees grow along some of the trials I frequent. In the fall, I hike, and gather nuts, and I get pie. Black walnut pie.
Identifying Black Walnuts
DISCLOSURE: In order for me to pay my blogging expenses, I may receive monetary compensation for my endorsement and/or link to products mentioned on this blog. As an Amazon Associate I earn from qualifying purchases.
Black Walnut trees (Juglan nigra) are found growing in sunny area in most central and eastern parts of the United States. It is a deciduous tree that often grows to 130 feet.
The bark of the black walnut is deeply ridged and forms a diamond pattern. Its leaves are compound and are arranged alternately on the stem.
Gathering black walnuts is the easiest part of the process. When ready in the fall, the nuts will just fall to the ground. There are tools available to help collect them if you are so inclined. I go into detail concerning harvesting, hulling, curing and cracking black walnuts here.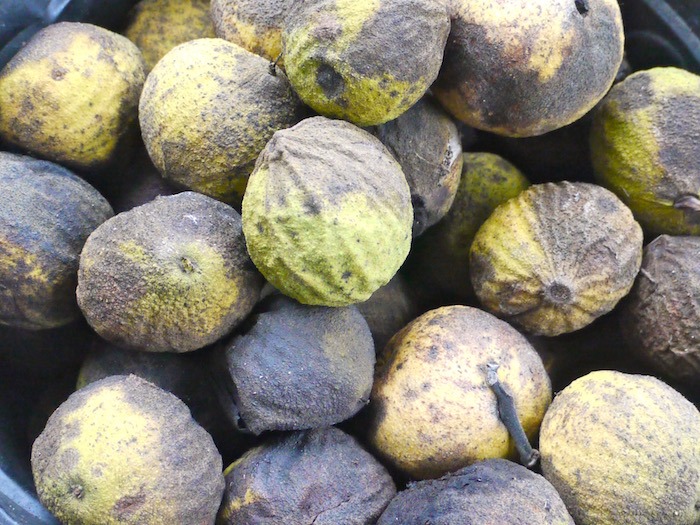 Using Black Walnuts
Although the taste is quite different, black walnuts may be used to replace English walnuts in any recipe. They can replace other nuts as well and I've taken my pecan pie recipe and replaced the pecans to make this black walnut pie. It's really delicious.
More Than Weeds
A Foraging eCourse for Beginners
Are you interested in foraging, but a bit hesitant because you don't trust your own abilities? I created a mini eCourse just for you. In More Than Weeds: 5 Common Plants to Forage for Food and Medicine you'll learn that identifying plants is all in the details.
Using common plants with which may be someone familiar you'll learn beginner botany skills that you will be able to use as you move forward. You'll gain confidence to use these plants for your family in food and safe, home remedies. Get started now!
Instructions
For the Crust
Mix flour and salt. Cut in butter until the butter is the size of peas.

Sprinkle in water, 1 tablespoon at a time.

Mix with a fork until the flour is moist and it forms a ball. Don't over mix.

Shape into a flattened round on a lightly floured surface. Roll until the pastry is 2" larger than an inverted 9" pie plate.

Place pastry in pie plate. Fold and roll pastry edge under and flute as desired.
For the Filling
Preheat oven to 350°F. Place rack at the lowest position in your oven.

In a large bowl, beat eggs.

Add maple syrup, coconut sugar, melted butter and vanilla. Blend well.

Stir in black walnuts. Pour into the pie shell and bake for 35 – 40 minutes until golden brown and the filling is set.
Notes
* For easier digestion and fantastic flavor soak and dry the black walnuts ahead of time. Place 2 cups of nuts in a bowl. Add 1 t of sea salt and cover the nuts with water. Stir to dissolve the salt. Allow to sit for 6 – 8 hours. Drain and dehydrate in a dehydrator or in your oven at just under 150 degrees for 8 – 12 hours, or until completely dry and crisp.
More Fall Foraging Posts You'll Love
The Forager's Guide to Plant Identification
How to Harvest and Crack Black Walnuts
Hunter's Pie with Jerusalem Artichoke
Make Your Own Lacto-Fermented Grape Juice from Wild Grapes
Make Your Own Apple Sugar from Wild Apples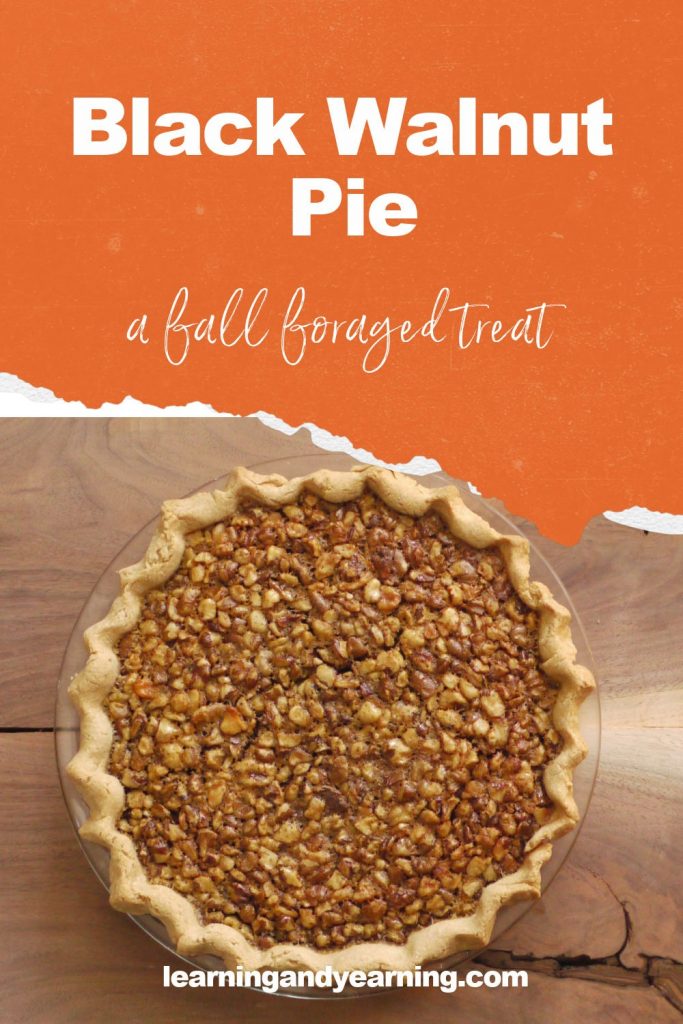 Thank you for visiting Learning And Yearning. May "the LORD bless you and keep you; the LORD make his face shine upon you and be gracious to you; the LORD turn his face toward you and give you peace." Num 6:24-26