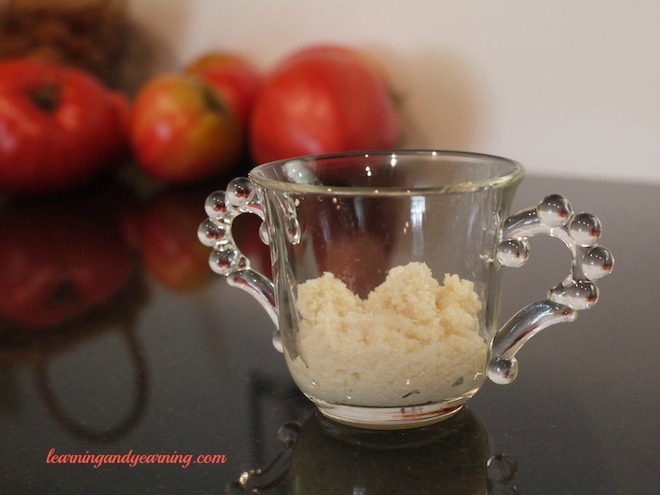 I remember my mom making homemade horseradish. It's a vague memory, but there were large roots, vinegar, a blender, and a pungent scent. Horseradish meant fresh kielbasi, and I loved fresh kielbasi. I still do. Smoked, not so much.
I planted horseradish last fall for the first time, and it is thriving, so I thought I'd dig up just a small piece of root and try my hand at lacto-fermented horseradish, a delicious condiment.
DISCLOSURE: In order for me to pay my blogging expenses, I may receive monetary compensation for my endorsement and/or link to products mentioned on this blog. As an Amazon Associate I earn from qualifying purchases.
Instead of using vinegar, the horseradish is fermented so that it will be probiotic rich, just like the honey mustard I made recently. I took a cue from that recipe and used whey in my recipe for lacto-fermented horseradish.
How to Grow Your Own Horseradish
Horseradish is a hardy, easy to grow perennial grown from root cuttings. Farmer's Markets often carry horseradish in the fall, or ask a friend who's growing it for a piece of root.
Plant your cutting in loose soil with some added compost. The top of the root should be about 2″ below the soil. Keep it watered during dry spells; mulch helps to conserve moisture.
Wait for a frost to kill the leaves before harvesting in the fall. Ok, I admit it. I couldn't wait and harvested mine after only a light frost. I also only took a small piece of root to allow the plant to gain a strong foothold.
Horseradish can be invasive, so plant it in an area where it won't choke out other plants.
Of course, if you aren't interested in growing  your own horseradish, you can still make your own by purchasing roots from a Farmer's Market. Some grocery stores even sell the root.
I made my horseradish on my back porch so that I'd have good ventilation. I remember how pungent it was when my mom was making it.
More Posts on Lacto-Fermentation
Fermented Strawberry-Rhubarb Soda
Two Ways to Make Homemade Yogurt Without a Yogurt Maker
Make Your Own Fermented Sauerkraut
Fermentation Weights: 10 Ideas For Keeping Your Ferments Submerged
Have you ever made your own horseradish? What's your favorite way to use it?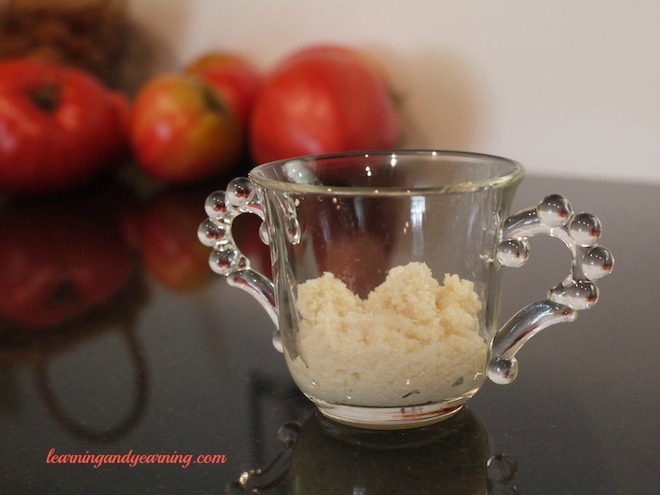 Homemade Lacto-Fermented Horseradish
Instead of using vinegar in the recipe, the horseradish is fermented so that it will be probiotic rich!
Print
Pin
Rate
Ingredients
1

cup

horseradish root

scrubbed, peeled and chopped

1

teaspoon

sea salt

1/4

cup

whey *
Instructions
Process the ingredients in a food processor until smooth. Add more whey if needed to keep the ingredients moving.

Place in a jar, and cover tightly.

Cover with a dishtowel and allow to ferment on your counter for 2–3 days, and then refrigerate.

It's ready to use on meats, in deviled eggs, or mixed with ketchup for a cocktail sauce.
Notes
*Strained from yogurt or milk kefir.
Thank you for visiting Learning And Yearning. May "the LORD bless you and keep you; the LORD make his face shine upon you and be gracious to you; the LORD turn his face toward you and give you peace." Num 6:24-26