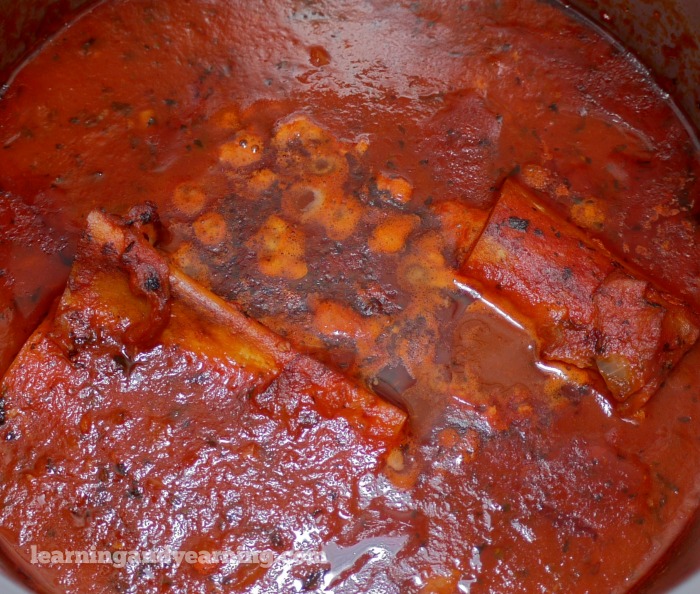 I don't have a drop of Italian blood in me. My Aunt B, who is now 90, learned to cook from her Italian mother-in-law. She is a fantastic cook and her sauce is superb. An Italian friend of mine calls her 'Aunt Meatball' because he thinks her cooking is so authentically Italian. Aunt B's secret? She would not dream of making tomato sauce without beef bones and bone marrow.
Why Beef Bones and Bone Marrow in Tomato Sauce?
Is it worth the trouble to put beef bones and marrow in homemade tomato sauce? Absolutely!
First of all, beef bones and marrow give sauce a rich flavor that just can't be accomplished any other way.
Secondly, beef bones help to thicken your sauce. If you've ever made beef broth and let it cool you'll notice that it becomes gelatinous. That's because beef broth is rich in collagen, and that same quality helps it to thicken tomato sauce.
And most importantly, you get all the benefits of consuming bone broth in your delicious tomato sauce. Tradition tells us that broth is nourishing. Made from beef bones and bone marrow, science has assured us that it is rich in collagen, vitamins, minerals and amino acids.
Here's how I make mine; it's almost as good as Aunt B's.
More Posts You'll Love 
Hearty Marinara Sauce Recipe from Two Cloves Kitchen
Beef Bone Broth with Roasted Bones
Roasted Tomato Sauce – Easiest Sauce Ever
Growing Tomatoes From Seed to Harvest 
Lacto-Fermented Green Tomatoes
Homemade Tomato Sauce With Beef Bones
There are so many reasons to put beef bones and bone marrow in your homemade tomato sauce. It's not only delicious, but really nutritious!
Print
Pin
Rate
Instructions
Roast the beef bones in a 350°F oven for 45–60 minutes.

While the bones are roasting, sauté the chopped onion in olive oil or tallow over low heat. When the onion begins to become translucent, add the minced garlic and sauté a minute or two longer.

Add the remaining ingredients, including the roasted bones when they are done, making sure to add every last drop of drippings from the pan to the tomato sauce.

Simmer slowly for several hours. The gelatin from the bones and the chicken feet will help to thicken the tomato sauce and give it wonderful flavor.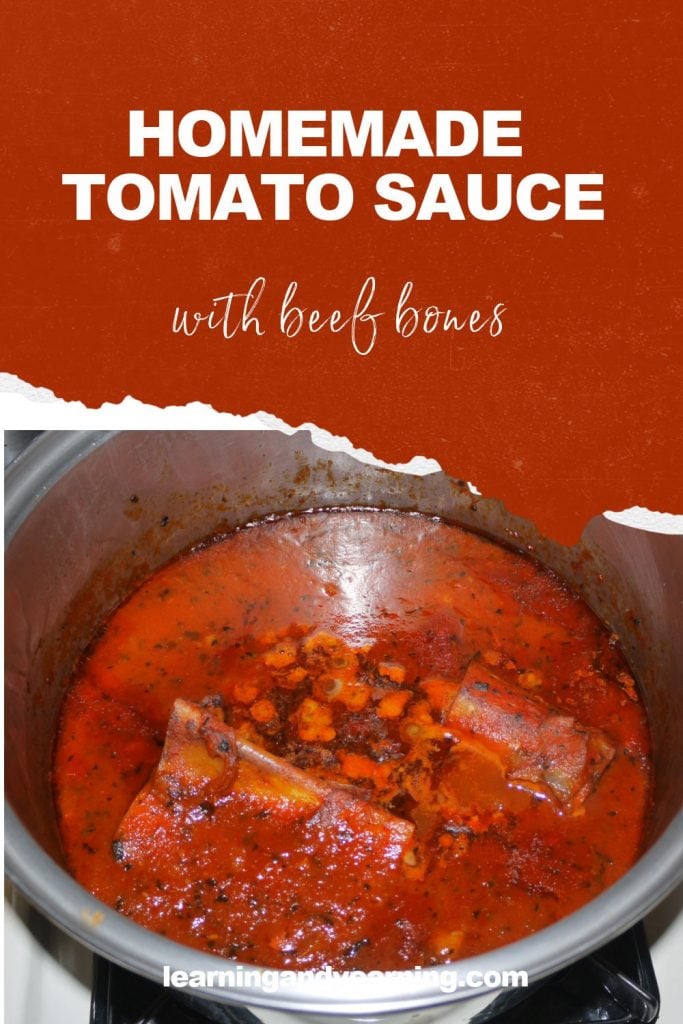 Thank you for visiting Learning And Yearning. May "the LORD bless you and keep you; the LORD make his face shine upon you and be gracious to you; the LORD turn his face toward you and give you peace." Num 6:24-26