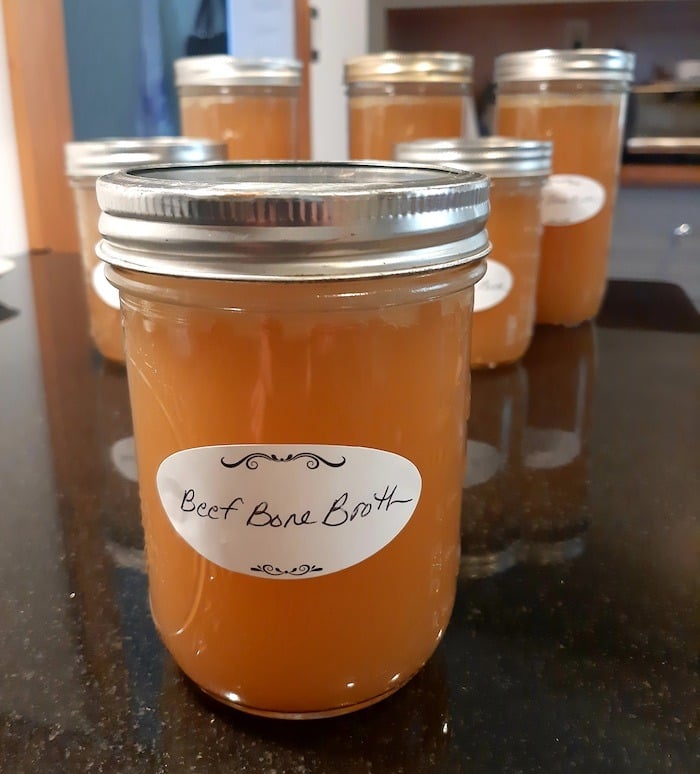 Beef bone broth, or stock, is the amazing foundation for delicious soups, stews, and gravies. Yes, it can be purchased packaged, but there is nothing like the aroma and taste of homemade broth slowly simmering on the back burner.
Difference Between Stock and Broth
First, let's try to clear up a very cloudy subject – are stock and broth the same? Unfortunately, it depends on who you ask. Most trained chefs will tell you that stock is made from bones, and broth is made from the muscle meat of an animal. In truth, the terms stock and broth are often used interchangeably.

If you are familiar with the real food movement and The Weston A. Price Foundation, you will likely know and use the term "bone broth". It just rolls off the tongue so nicely. The beef broth we will be discussing here is definitely made with beef bones – I recommend using those from grass-fed cows.
Why Make Bone Broth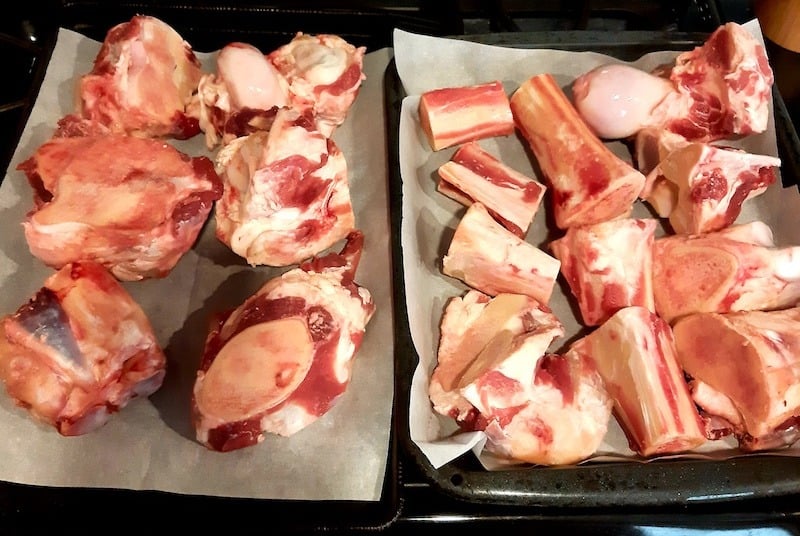 In the preface to Nourishing Broth: An Old-Fashioned Remedy for the Modern World, Sally Fallon Morell says:
DISCLOSURE: In order for me to pay my blogging expenses, I may receive monetary compensation for my endorsement and/or link to products mentioned on this blog. As an Amazon Associate I earn from qualifying purchases.
Today we are witnessing an epidemic of chronic disease that threatens to unhinge our modern world – cancer, arthritis, allergies, digestive problems, mental disorders, and even new types of life-threatening infectious illness. Bone broth, rich in the elements of cartilage, collagen, and healing amino acids, can provide protection from these ailments, can serve as an important element in recovery, and can nourish and enrich our lives in many ways.


Sally Fallon Morell
In addition, making beef bone broth

Why Roast the Beef Bones First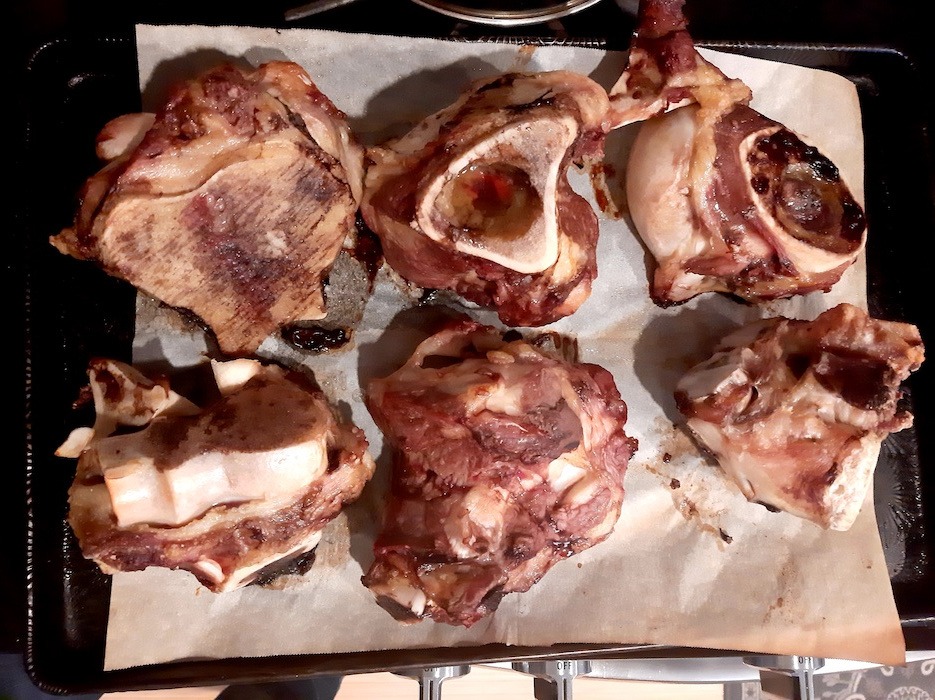 Roasting your bones caramelizes them, giving them (and your stock) a rich, deep flavor. Yes, you can make bone broth without roasting the bones first, but taking this simple step first is really worth it.
How to Make Beef Bone Broth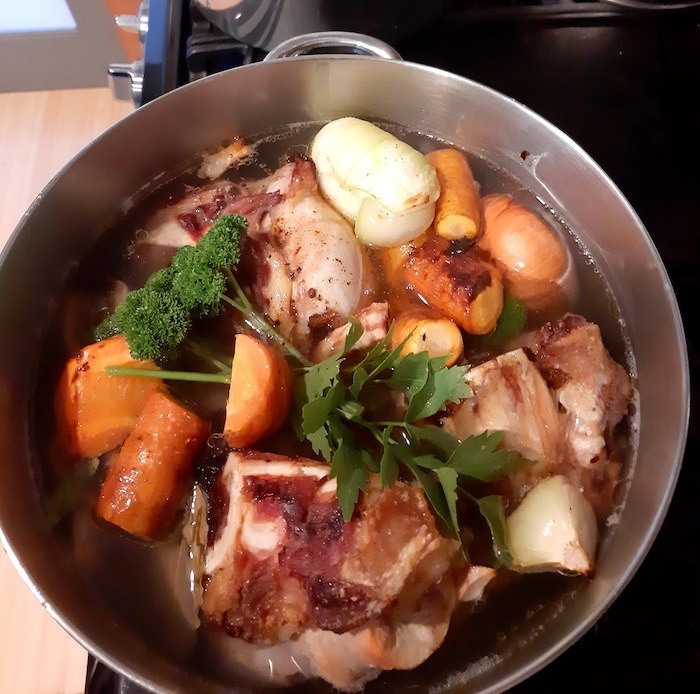 While roasting the bones is an optional step, it really does make a difference in the final broth.

If possible, choose bones that are high in marrow from animals that were grass-fed and grass-finished.
Preheat your oven to 425°F.

Then place the bones in a single layer on a parchment lined baking sheet and roast for 30 – 40 minutes until browned.

As a special treat, feel free to remove a few bones at the 20 minute mark and dig out and eat the marrow. (It's amazing on sourdough bread). Then return the bones to the oven to finish roasting.

Add the roasted beef bones into a stock pot along with vinegar, cold water, onions, carrots, celery, parsley, bay leaf and peppercorns.

Slowly simmer for 12 – 24 hours. Strain, cool, and store in jars.

The full recipe with ingredients is in the recipe card below.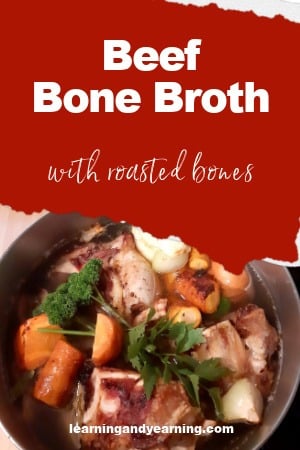 What if the Broth Doesn't Gel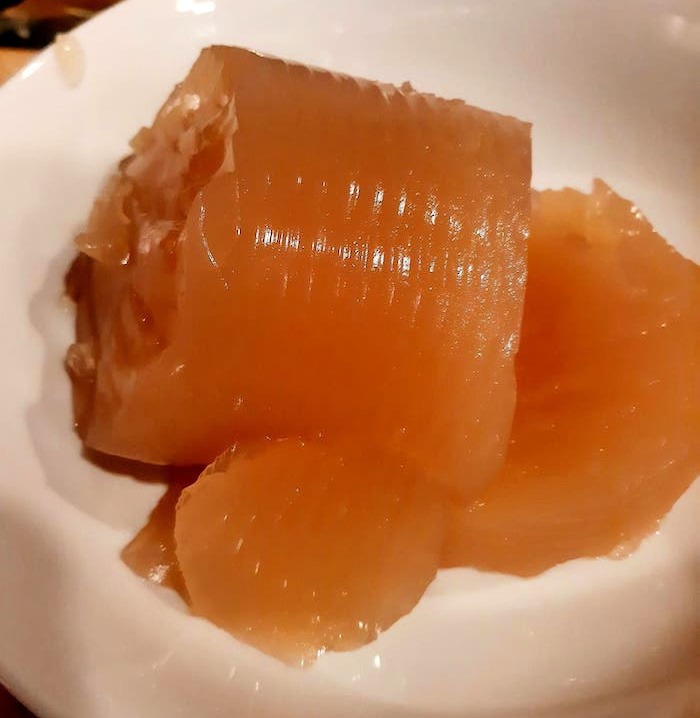 Because of the collagen in beef bones, the resulting stock or broth will produce gelatin and be rich in protein.
There are a few things you can do to help insure your broth gels if you've had problems in this area:
add more neck bones
reduce the amount of water
turn the temperature to medium-low (or even low) and let it barely simmer
make sure to cook for at least 12 hours, but not more than 24
add some chicken feet as long as you don't mind chicken in your beef broth
And don't forget, if your beef broth doesn't gel, it's still perfectly fine to use.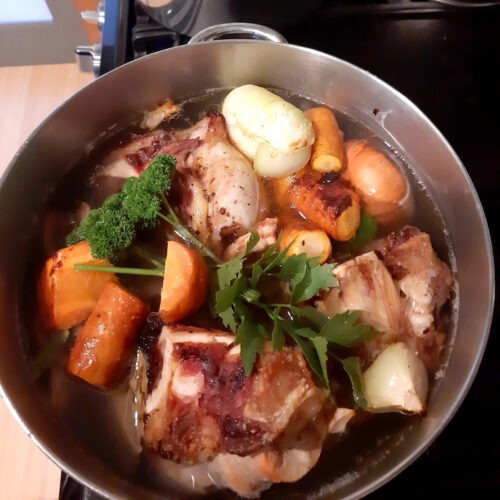 How to Make Beef Bone Broth with Roasted Bones
Make a delicious, nourishing beef bone broth from roasted bones.
Print
Pin
Rate
Ingredients
4

pounds

beef marrow bones, neck bones and knucklebones

1/4

cup

apple cider vinegar

4

quarts

cold water

2

onions

cut in half with skin on

3

large carrots

cut in 4

3

celery sticks

cut in 4

fresh parsley sprigs

1

tablespoon

whole black peppercorns
Instructions
Place beef bones in a single layer on a parchment lined baking sheet.

Roast for 30 – 40 minutes until browned.

Add the roasted beef bones, along with drippings, into a stock pot along with vinegar, cold water, onions, carrots, celery, parsley, bay leaf and peppercorns.

Slowly simmer for 12 – 24 hours occasionally skimming any scum that forms. Add water to keep bones covered if needed.

Remove bones with tongs and a slotted spoon.

Strain the stock into a large heatproof bowl.

Refrigerate overnight. The fat will solidify at the top and can easily be removed.

Transfer the stock to containers and keep refrigerated for up to 5 days, or freeze.

Alternatively, to pressure can, heat stock to boil. Ladle into mason jars, leaving 1" head space. Wipe rim. Center hot lid on jar. Apply band and adjust until fingertip tight. Process in a pressure canner at 10 pounds pressure 20 minutes for pints and 25 minutes for quarts, adjusting for altitude. Remove jars and cool.
Thank you for visiting Learning And Yearning. May "the LORD bless you and keep you; the LORD make his face shine upon you and be gracious to you; the LORD turn his face toward you and give you peace." Num 6:24-26