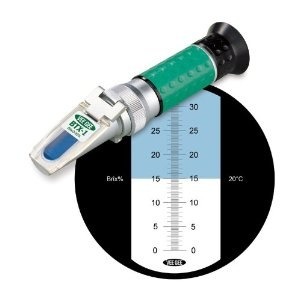 Do you remember the Stanford report this past summer that found that organic produce was no healthier than standard produce in terms of nutrition? Well, that made me wonder if there was a way to test the vegetables from my own garden for nutrient density. Testing for nutritional values requires expensive, sophisticated equipment, but I stumbled upon a simple, reliable way to measure brix – and high brix generally means high nutrition. Brix, or technically 'degrees brix' is measured with a refractometer, a hand held optical instrument that bends light as it passes through a liquid. As I understand it, the correlation between high brix numbers and nutrient density is generally quite strong. According to the Weston A. Price Foundation, "Brix measures a combination of sugar, amino acids, oils, proteins, flavonoids, minerals and other goodies."
Being the awesome guy he is, my husband gave me a refractometer for my birthday last week. It's extremely easy to use. Two drops of juice from a fruit or vegetable is all that is needed to test for brix. The liquid is spread on the refractometer's lens; you look through it towards a light source and read the scale to get the brix number. The leaves of garden plants may also be tested. An easy way to extract the juice is by using a garlic press. Brix charts are available which help you to determine if the number you come up with indicates poor, average, or excellent quality of the produce you are testing.
DISCLOSURE: In order for me to pay my blogging expenses, I may receive monetary compensation for my endorsement and/or link to products mentioned on this blog. I am a participant in the Amazon Services LLC Associates Program, an affiliate advertising program designed to provide a means to earn fees by linking to Amazon.com and affiliated sites.
High brix gardeners recommend a weak acid soil test and a microbial test. The lab that tests the soil will then recommend amendments and possibly microbial inoculation. Weekly foliar feeding is also a part of the regimen. I am not against this protocol, per say, but I know that the average gardener can neither afford, nor has the time for this. I'm hoping to learn alternative ways to achieve high brix so that I can recommend this to those I work with as a Master Gardener.
Gardening for me, has grown from hand-digging to no-dig lasagna gardening. We are now moving into wood-chip gardening, a la Back to Eden gardening. Both lasagna gardening and wood-chip gardening are forms of sheet composting, and both would be considered Back to Eden gardening. Be sure to watch the free, online documentary Back to Eden, available here.  In one part of the film, visitors to Paul Gautschi's garden are picking produce and eating it. Everything about their reactions says "high brix" to me. The produce is heavy, juicy, and delicious. Although our garden is not yet what Paul Gautschi's is, I am anxious to test the produce grown in our wood chips to get the brix count.
One of the reasons that produce today is tasteless is because our soils are often mineral deficient. Generally, the amendments recommended by high-brix gardeners are minerals. Another avenue I am pursuing in order to achieve a lower cost way to high brix is using plants in the garden which are mineral accumulators. Comfrey, for example, has long roots which bring minerals from deep in the soil up into its leaves. Its leaves are then used as fertilizer to re-mineralize the soil. This is fairly new to me, and I may be over simplifying it, but my nose will be in the books this winter so that I can learn more.
Can you tell that gardening excites me? There is always something to learn and the rewards are so delicious! Do any of you have experience with high brix gardening? Do you use a refractometer? The one I received for my birthday seems very high quality; according to Amazon, it cost around $100. I see them available for as little as $30. Have you used a less expensive brand? Has it worked well for you?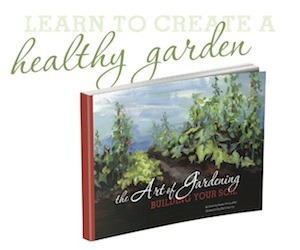 To learn how to build a garden that builds healthy soil, be sure to check out my eBook The Art of Gardening: Building Your Soil. You really can become a better gardener, and you really can grow healthy, nourishing produce. It's all about the soil! Click here to buy now.
Thank you for visiting Learning And Yearning. May "the LORD bless you and keep you; the LORD make his face shine upon you and be gracious to you; the LORD turn his face toward you and give you peace." Num 6:24-26