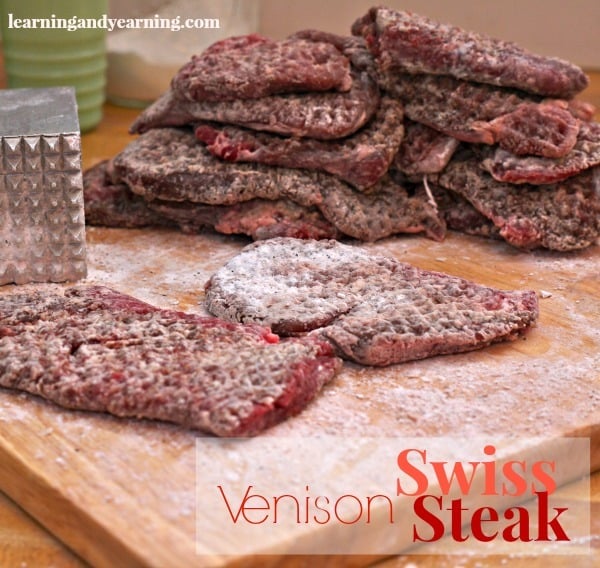 It's hunting season in our neck of the woods and time to give thanks for more meat for the freezer. Swiss Steak is just about our favorite way to eat venison. Pounding the meat, and cooking it in tomatoes both serve to tenderize it. Venison Swiss Steak makes a hearty winter meal and is really great served with mashed potatoes.
Venison Swiss Steak
DISCLOSURE: In order for me to pay my blogging expenses, I may receive monetary compensation for my endorsement and/or link to products mentioned on this blog. I am a participant in the Amazon Services LLC Associates Program, an affiliate advertising program designed to provide a means to earn fees by linking to Amazon.com and affiliated sites.
Ingredients:
2 pounds of boneless venison steak
1 cup of arrowroot (or flour) seasoned with sea salt and pepper
lard or coconut oil
4 cups of chili sauce*
Procedure:
Dredge the meat in the seasoned arrowroot. Using a meat tenderizer, pound the steak until it is approximately 1/4″ thick, adding more arrowroot as necessary. Brown both sides of the meat in lard or coconut oil in a heavy skillet which has been heated to medium-high. As each piece is browned, add it to an oven proof casserole dish. Pour the 4 cups of chili sauce over the meat. Cover and bake in a 325 degree oven for 1 1/2 – 2 hours until the meat is tender.
*I use chili sauce which I have canned using the recipe from my 1972 Ball Blue Book using apple cider vinegar and organic sugar. You may find a very similar recipe here.
Do you eat venison? What's your favorite way to cook it?