Now that gardening season is over, Mike and I enjoy watching a good farm-to-table cooking show in the evening. We learn, we laugh, we get inspired. Sometimes a new dish ends up on the table the next night. 
Here are a few of our favorites.
A Chef's Life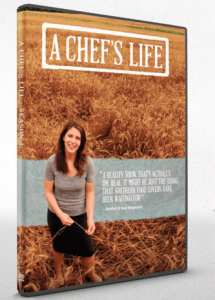 DISCLOSURE: In order for me to pay my blogging expenses, I may receive monetary compensation for my endorsement and/or link to products mentioned on this blog. I am a participant in the Amazon Services LLC Associates Program, an affiliate advertising program designed to provide a means to earn fees by linking to Amazon.com and affiliated sites.
Chef Vivian Howard grew up in eastern North Carolina. She and her husband were working in some of the finest restaurants in NYC when her parents offered to help them open their own restaurant. There was a catch, though; Vivian and Ben would have to open the restaurant in her hometown where she had vowed never to return.
A Chef's Life is a fun farm-to-table cooking show. You'll visit the local farms where the restaurant Chef and the Farmer sources their food and get a feel for what it's really like to own a restaurant.
Vivian is re-learning Southern cooking and you'll learn right along with her as she re-creates traditional down-home meals. This girl is full of personality; I think you're gonna' love her!
A Chef's Life airs on PBS, or may be viewed for free if you're an Amazon Prime member.
The Mind of a Chef
The Mind of a Chef is another program available on both PBS and Amazon Prime. It follows different chefs around the world and attempts to find out what makes their style unique.
Not all The Mind of a Chef episodes are farm-to-table. Episodes 9 – 16 in Season 3, though, are about Chef Magnus Nilsson of the world-renowned Swedish restaurant Fäviken.
I struggle to find the words to describe how much I love learning about this chef, his methods, and the incredible experience of dining at Fäviken. Located in the northern wilderness of Sweden, meals at Fäviken are hyper-local, an incredible accomplishment for an area that is frozen half the year.
A dinner at the 12 seat restaurant may include fermented vegetables, fish, wild game, foraged fare, or meat and produce from local farms, depending on the season.
This one's not to be missed!
Chef's Table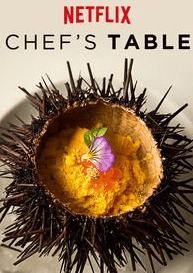 As far as I know, Chef's Table is only available on Netflix. There are 6 episodes, each covering a different international chef.
Having visited Stone Barns Center for Food and Agriculture outside of NYC, I was excited to see an episode on it's Blue Hill Restaurant Chef Dan Barber.
And Chef's Table is where I was first introduced to Chef Magnus Nilsson (see The Mind of a Chef above).
You'll also meet Chef Francis Mallmann of Argentina. The title of Mallmann's cookbook, Mallmann on Fire perfectly describes what you'll experience as you watch him cook in this series.
Chef's Table shows more personality and more personal life that some of the other farm-to-table cooking shows I've recommended. And you won't always like what you see, even if you're crazy about their style of cooking.
The Farm
Ian Knauer spent 10 years traveling the world in search of the best food. He found it on his family's nearly 300 year-old Pennsylvania farm.
Each episode of The Farm focuses on a different ingredient – dairy, or beer, for example. And each course contains that ingredient. Cooking in his farmhouse's Colonial-era kitchen, he takes you through the steps needed to make the dish yourself.
During the program, you'll visit the farm's beehives, gardens, and fields, and maybe even learn to milk a cow.
The Farm also airs on both PBS and Amazon Prime.
What's So Great About Prime Membership
Are you an Amazon Prime member? If not, then you may not be aware that there are 5 areas of Prime benefits.
First, free 2-day shipping on any product with the Prime logo displayed. That's most items on Amazon. And if you choose a slower shipping method, you'll receive a $1 credit towards any video that is not free.
Prime video – think Netflix. The offerings are different than Netflix and there's always something interesting to view. Like 3 of the 4 farm-to-table cooking shows I've mentioned above.
Prime music – the music available for free download to your Amazon music app is incredible.
Prime photos – unlimited photo storage with your membership.
Kindle lending library – borrow one Kindle book per month for free with over 800,000 titles from which to chose.
Why am I recommending Amazon Prime? Well, first, I use it frequently and genuinely love it. And secondly, as a blogger, affiliate relationships are one way that I pay blogging expenses like site hosting and email services. Signing up for Prime through my affiliate link doesn't cost you anything, helps me to earn a few dollars, and is sincerely appreciated. Win-win, right?